Who was Clarence Lawson? Horrifying past of Sharon Stone's grandfather who molested her and sister behind locked doors
In her new memoir 'The Beauty of Living Twice', Stone revealed they would find themselves locked in a room with their maternal grandfather Sharon Stone and a photo of Sharon with her sister Kelly Stone (Getty Images)
Memories of sexual abuse haunt forever... Icy sex goddess Sharon Stone might be the ultimate diva in a million eyes but she too — like many of us — has lived a life of struggle. Spilling the beans on her childhood, the 63-year-old joins the list of celebrities who have opened up about harrowing incidents of sexual assault in the #MeToo era. Star of movies like 'Basic Instinct' and 'Catwoman', the actress penned down secrets from her past in a new memoir 'The Beauty of Living Twice'.
One of the most shocking confessions was that she and her sister Kelly were sexually abused as children by their grandfather. In the book, she revealed they would find themselves in a room with their maternal grandfather, Clarence Lawson. Their grandmother would lock the door and leave them there alone... to be abused. Amid the startling claims, here's a glance at Stone's childhood, her parents and her traumatic past.
RELATED ARTICLES
Sharon Stone was 'tricked' into removing panties for Basic Instinct scene, told to 'f**k co-star for chemistry'
Who are Sharon Stone's children? Heartbreaking moment when 'Basic Instinct' star told her 3 sons she was 'raped'
Sharon Stone: Living with her family
On March 10, 1958, Sharon Vonne Stone was born to Dorothy Marie (née Lawson) and Joseph William Stone II. Her mother was an accountant and father worked as a tool and die manufacturer and factory worker. Second of four children, the exceptionally bright and outspoken young girl grew up with her elder brother Michael (1951), younger brother Patrick (1965) and sister Kelly (1961).
Naturally blonde, Stone has often spoken about her Irish roots and once divulged that her ancestors arrived in the United States during the Great Famine. At 5, she had already entered second grade and skipped many more grades during her schooling, thanks to her IQ of 154.
"When I withdrew from college," she said in an interview with The New Yorker, "I had two very interesting discussions: one with my accounting teacher, who constantly called me 'Stone, you mental midget,' and the other one with my writing teacher, who said, 'I don't want you to quit, because you're meant to be a writer.'" In 1975, she passed out from Saegertown High School in Saegertown, Pennsylvania and then clinched the crown of Miss Crawford County while attending Edinboro University of Pennsylvania.
Who was Clarence Lawson and how did he die?
For a long time, Sharon Stone never told anyone about her maternal grandfather, Clarence Lawson. Aided by their grandmother, he used to molest the two girls after their grandma would trap the girls in a room when they visited, starting when they were just toddlers. When Stone was 14, he died of a heart attack.
Recounting her fears even after his death, she said she looked into the casket to make sure he could no longer hurt them. "I poked him, and the bizarre satisfaction that he was at last dead hit me like a ton of ice," she wrote. "I looked at (Kelly) and she understood; she was 11, and it was over." When asked if she discussed the horrifying details of sexual abuse with her family members before publishing the book, she told The New York Times in an interview that she and her sister made this decision "together".
Revealing more from the haunting past, she told The New Yorker, "My grandfather threatened to kill me constantly. Even though I shared a room with my sister, we had separate childhoods, because I couldn't talk to her. And she doesn't want to talk to me right now. My mom is really great, she's here with me, and she helped me through this. My sister referred me to my trauma therapist, so she has really helped me a lot, but I believe my sister deserves the time and space to come to her own story. Since I've had these new trauma sessions, I haven't spoken to Kelly, but I have written to her and let her know what has happened to me and what I now understand about my own abuse — and what I didn't understand."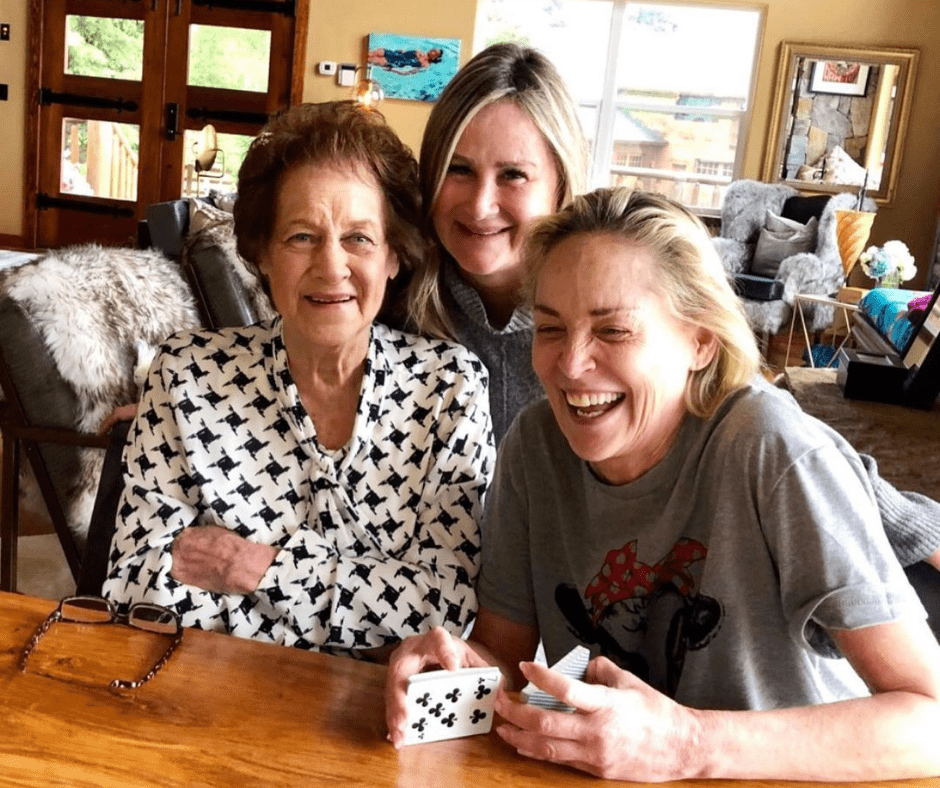 The whole I-don't-really-want-to-talk-about-it-directly kind of thing
"I believe that the point of my book is that it narrates a rather regular life. I don't think that my life is exceptional, except that I ended up being a movie star. This book could be written by a lot of other people that grew up in a small town," Stone said.
Telling her mother about the abuse was one of the hardest things for the two. She said in The New York Times interview, "We spoke to my mother and at first she was very stoic and wrote me a letter about how disconcerting all this information was. The whole pious, horrified, I-don't-really-want-to-talk-about-it-directly kind of thing.
Explaining how a conversation with her sister helped her, she added, "Then my sister got loaded when my mom was staying with her and really went for it with my mom. And my mom had a major breakthrough. When I finished the book, I read it to my mother over a three-day period. And I had the flu at the time. I was in bed and she got in bed with me as I finished the book, and then I recorded an hour and a half of her talking. And then I rewrote a lot of the book. That's when I dedicated the book to her."
'I'm not even going to call myself a victim'
Remnants of the horrifying abuse have stayed with Stone over the years. During the New Yorker interview, when she was asked about witnessing her grandfather's sexual abuse of her sister, Kelly, and how that shaped her, Stone said, "It isn't specifically about my sister. The girl in the room was wearing the dress that I wore when I went to get my I.Q. test when I was five. I did more trauma therapy since I wrote the book, and we can't say that it was my sister."
"What we know is that it was a big trigger moment for me, that I saw a kid in my dress being abused. I don't know—was it me seeing me? I came to understand that my abuse started really, really young. When the breakthrough happened in my therapy, I just started screaming, 'Who does that?', because I had had such a mental block that someone could abuse such a young child. Once I got through that, I realized that I didn't know who was in that room. So I'm not sure about that incident now."
She added, "I'm not even going to call myself a victim. I'm going to call myself a survivor. I am going to be proud of my own survival, proud of my own ability to move forward, proud of being able to talk to my own mother and get her to talk to me. She's eighty-eight years old, and, last year, she went to my kids' school. They asked her about her childhood, and she said, "'I was living in someone else's house. I was their maid and laundress. I walked two miles a day to school. I had two skirts and two sweaters. I had nothing. This is what my life was.'"
Sharon Stone's revelation comes shortly after she disclosed how her producers once told her to sleep with co-stars to create better chemistry, and a director who "wouldn't direct me because I refused to sit in his lap."

Talking about her thoughts in those moments, she told The New Yorker, "Quite frankly, I think trying to escape my grandfather all the time gave me some skills about getting away from people. I can smell it coming. I could explain to them that I wasn't smart enough or talented enough to do that while playing the part, that I didn't have the extra time to try to create sexual allure with my co-stars. Or that there must have been a nice girl where they grew up, and I was that girl. Depends on who I'm talking to. I think they try to put it down to, 'Maybe, if the actress sleeps with someone, everything else will fix itself.' They think that you can just fix it by fucking somebody. Honestly, grow up."