Sex & Modern Slavery: Activist-survivor Nissi Hamilton reveals her 'path to recovery was re-victimization'
In an exclusive interview with MEAWW, Dr Nissi Hamilton, CEO of A Survivor's Voice of Victory, opened up about the life-altering experience and shared her journey of survival (Getty Images)
Sex & Modern Slavery is a campaign focused on the issues of human trafficking within the sex industry in the US. Over the next few days, this column will feature stories on the aspects of the illicit business and the role of the society in mitigating the issue.
Every year, across the world, millions of women and girls fall prey to traffickers. They are held captive against their will ensnared by force or coercion or deceived by promises of a better life. Victims of trafficking live through each day, marred in pain and suffering even reluctant to escape in fear of the consequences. Traffickers take the time to groom their victims to the point that they are brainwashed to think they are doing what is best for them. Human trafficking is a lucrative trade and while it is prevalent, it operates clandestinely, which makes it difficult to estimate just how many people fall victim to trafficking. But what is certain is that human trafficking of any form is a heinous crime. A vast majority of identified trafficking victims are women and girls, and at least three out of four are trafficked for sexual exploitation.
MEA WorldWide spoke with Dr Nissi Hamilton, CEO of 'A Survivor's Voice of Victory'. She is a political activist, a Navy veteran, a sexual abuse counselor, and a survivor of human trafficking. She opened up about the life-altering experience and shared her journey of survival, and how she went on to become an activist for victims of human trafficking. Her words are a testament to her incredible strength and resilience and indicate the need for urgent action to prosecute perpetrators and support survivors and victims on their road to recovery.
Dr Hamilton was 14 when she was trafficked from her neighborhood. Coerced into servitude by a man that she thought was her boyfriend, she spent five years in captivity with three different traffickers who had traded her among each other and escaped the life at 19. She had been working three jobs at the time, two of which were inside Greenspoint Mall in Houston, Texas. "I would always get to work super early to be on time because I had to make a certain quote for my pimp, who I thought was my boyfriend", she said. On one occasion, she was approached by a Navy recruiter who asked her what she had been doing there, to which she replied with the truth. He had been trying to recruit her for the Navy for four months prior to that meeting, and when she narrated her story to him he was taken aback. He had immediately realized she was trafficked and took her information to stay in touch with her.
"One day when I had decided that enough was enough, I had to strategize a getaway. So, my Navy Recruiter told me to come to the mall an hour earlier to take my ASVAB (Armed Services Vocational Aptitude Battery) test and I did. It was just a practice test to see if I could manage taking the real test. I did well in my practice test that he made me believe that I could pass my main test," she explained. She then pretended that she to go to work that day, but in reality, she was away from work to turn in all of her paperwork that same day. Once she passed the test, she immediately signed an 8-year military contract. "I did not tell my trafficker anything for 4 months that I was enlisted into the military. I remained the bottom b***h and loyal because I knew that I was going to leave and never return," she added.
Dr Hamilton was forced into human-trafficking by a 'Romeo pimp', who drew her into slavery under the pretense of a relationship. "In my mind, I thought I was his girlfriend at 16-years-old and he was 28-years-old," said Dr Hamilton. While she had never heard of the term human trafficking then, she knew what it entailed when someone would set someone up for sex to get paid. "To me, this was my world and in this world, this is the best that life has to offer me," she revealed. "I was a prime real estate to my abuser. I was the perfect victim," she added. The perfect victim, in this case, would be someone who on one comes looking for if they came up missing. "I was groomed physically and psychologically on how to master adulthood without consequences because I had a big daddy. I was extremely co-dependent. I was a slave and my pimp told me what I could and could not do. I didn't make those decisions. I was never allowed to make any decisions," Dr Hamilton divulged. Her trafficker forced her into marrying him after he got wind about her plans to leave.
Her ordeal lasted five long years and she wanted out from this life. "When you are truly ready to be set free, it's all that you think about. You become laser-focused on positive outcomes versus negative ones. You start to test limits when you see freedom as an option. You start to push boundaries and challenge other people's ideas and thought processes," Dr Hamilton shared how she began thinking about her escape from captivity. "I started wanting to know more than what I was seeing mainly because the clients that my pimp chose for me were extremely intelligent businessmen. The conversations got lengthy, the taste and quality of food was advanced, the travel and the experiences of culture started to become a problem for me because I only knew one way and that was to shut the f**k up and bend over," she continued. She didn't know she would have to do more, but she managed to convince her trafficker that she needed to sound more cultured for the clientele or he would risk losing customers coming back. So, he allowed her to go to school.
"I came home from the military. I had been heavily equipped with ideas, thoughts about my future, and dreams of being free," Dr Hamilton said. She continued the relationship with her trafficker, while his father even helped her get a job. She gave him her money to keep him calm, so he wouldn't have a hunch of her plans to leave. But the Navy had given her a $20,000 bonus that he wasn't aware about. She found an apartment and bought herself a car. After her position at his father's company was solidified, she left her trafficker and took off. At her job, she informed her supervisor about her condition and her co-workers helped her by raising money and donating items to her. "Another one of my co-workers sent me to an attorney to tell them my story and I officially filed for a divorce," she added.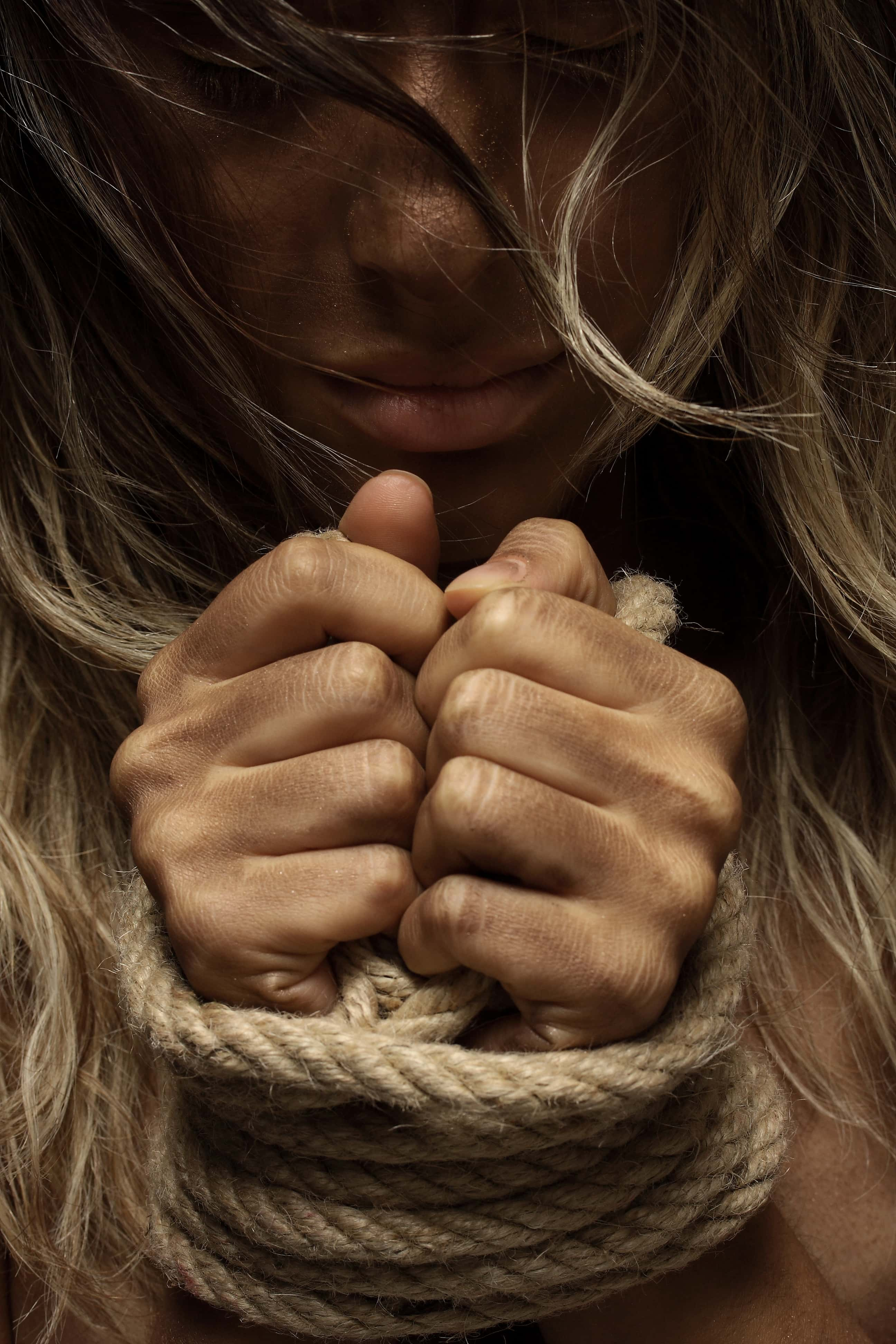 The first few days or months after escape are an extremely difficult time. Healing and rehabilitation from a time spent enduring a trauma bond is hard to get over. "You end up finding reasons why it's ok to keep a mutual friendship with the person who was abusing you for years," Dr Hamilton elucidated. In her mind, some days she would ponder over how they were equals because she was pregnant and now the mother of her abuser's child. She was gutted that she would have to deal with him for the rest of her life because they shared a child.
"I worked very hard to keep him from my daughter but our issue was a family court issue, not a criminal issue. So no one heard me when I said that this is my abuser. I was ignored and told to collect child support," she recounted. She was forced to deal with the fact that her abuser and the men that she was forced to sleep with faced no consequences for what they did to her. Her abuser was her husband, and by law, it was wrong to incriminate your spouse. "It was never dealt with. My pain, my hurt, and trauma was my path to recovery. My path to recovery was re-victimization," she said.

Since going through her own traumatic experience, Dr Hamilton knows why it is imperative to speak up against the crime and render support to survivors in need. She especially draws focus to the fact that victims as young as 14 years old are trafficked almost every day. She estimated from 2017-2018 Texas data that by 2031, there could be 200,000 plus victims, who could go on to have 200,000 children, who could be potential victims. It is a vicious cycle. "Who protects them? Who speaks up for them? If I don't do this now, who will? Every day I ask myself, 'who was here first that didn't correct this uncharacteristic human behavior before me?'" she added.
She pointed out that this topic is with regard to slavery, which is still relevant and deserves our attention while posing some pertinent questions. "Can we really take another dangerous underground organization not paying taxes in the near future? Not being on the radar, so that they can take our children and then they are to never be found? To force the idea on tax-paying citizens that selling children is a hustle?" In response to these questions, she added, "It's the fastest way to get $150,000 to $200,000 a year without doing anything for it. We are adjusting to criminal behavior as a new way of life and no one is upset or surprised anymore. No one seems to care that children are the new commodity and that they are being sacrificed illegally."
Victims are often reluctant to seek help because of the traumatic bond that they have been forced into by their traffickers, or certain threats made towards them that has sparked fear for their life and safety. But Dr Hamilton explained, "The longer you stay in, the harder it is to get out. Freedom is scary because it requires you to think about you and it's hard to think about you when you have lived life with no boundaries when everything was a constant sacrifice and there was no limit on how many times you were violated," she expressed.
"When you stand back and look at your life and realize that you have been living a lie, you have been performing and your pimp is your taskmaster, not your lover, then you will get a peace that passes all understanding. You will either take that peace and break out or you will take that peace and say it is a sign from God the reason why you should stay." She continued, "You can't be in your feelings when you are trying to escape, because when you are in your feelings your discernment is impaired. There is strength in knowing what you think about you because it's not what people say about you that's going to get through this. It's what you say about yourself that will help you get through."
While we know what sex trafficking means and entails, there are many misconceptions surrounding this component of human trafficking. Dr Hamilton shared some facts that most people would know about sex trafficking. "Sex trafficking requires three people. The buyer, the seller, the slave", she said. "There must be clear and consistent evidence of someone trading you for anything including money, sex, power, or things. With sex trafficking, someone brokers a deal for you and the price is up to them, not you as the victim."

Her journey has been painful and traumatic, but with her courage and conviction, she has overcome her difficulties and now advocates for anti-human trafficking. It is important for her to speak up about this pervasive problem and on behalf of survivors. "Human trafficking can happen anywhere at any time with anyone," she said. "When Black girls are trafficked, there is a biased narrative that it happens to us because we deserved it. We were being fast, we were grown before our time or that it is supposed to happen to us because our mothers brought us up that way. It is so dangerous to assume that Black girl survivors aren't stepping up to the plate to rescue our own or others too."
"We haven't been included in this fight for a long time and I think that it is high time that we start talking about how human trafficking is affecting the African American community", she added.
If you or someone you know may be a victim of trafficking, call the national human trafficking hotline at 888-373-7888 or text "HELP" to 233-733.