'RHONJ' Season 13: Who is Laura Jensen? Margaret Josephs' BFF turned enemy joins cast with some tea NEW JERSEY, USA: On 'The Real Housewives of New Jersey,' a shocking rumor about Melissa Gorga is about to be exposed. Before that, let's learn about Margaret Josephs' ex-best friend, Laura, who is the source of the rumor.
'RHONJ' Season 13 is off to an exciting start! Jennifer Aydin and Teresa Giudice announce in a preview of the February 14 episode that they've heard some startling facts from Margaret Josephs' former best friend. Viewers are about to hear a familiar name that appeared a few years ago, and Margaret had nothing kind to say about them. So, who exactly is Laura?
RELATED ARTICLES
'RHONJ' Season 13: Jennifer Aydin calls Dolores Catania 'trash' and 'lowlife', 'mourns the loss' of friendship
'Can sure spin a narrative': 'RHONJ' fans slam Melissa as she calls Teresa 'fake' over leaked texts
Who is Laura Marasca Jensen?
Margaret called her childhood friend Laura a "snake" in 2022 after accusing her of meeting with Teresa and Jennifer to get placed on the show. "Happy Sunday everyone I am so sorry to write this but Laura Jensen who is on this group text and I have brought into our group has unfortunately attempted to insert herself in my employment and contacted and met with my cast mates Jennifer Aydin to [undermine] me," Margaret wrote to her 'RHONJ' castmates in a leaked group text. Margaret then told the gathering that if they "choose to associate with her," they should exclude her. "I know this is very Housewives of me, but we should all know when there is a snake in the group, I hope none of you revealed anything to this BEAST," she said in the text.
Reality Blurb shared an image of the Instagram account Deux Moi, which had posted a text from an insider confirming the disagreement. Laura had reportedly gone on a cast trip to Dublin with the housewives and sat on the aircraft alone. Margaret was reportedly furious about how Laura was being recorded and did not want to be around her old buddy. Another source claimed to have communicated with Laura, who claimed to know a lot about Margaret Josephs. According to the source, Bravo producers favored Margaret in the editing room, and she was the one who initiated the adultery story about Jackie Goldschneider's husband, Evan Goldschneider.
Margaret revealed to Deux Moi that she had sent the group a text, accusing Laura of betraying her in order to get cast in 'RHONJ' Season 13. Margaret insisted she had nothing to conceal and had lobbied for Laura to be on the show for two years. Laura claimed that because Bravo didn't want her, she sought to present herself as Margaret's adversary instead.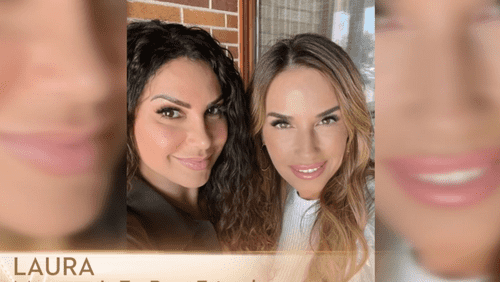 Teresa and Jennifer learn shocking details From Laura
It all begins when Jennifer and newbie Danielle Cabral phone Teresa to inquire about Margaret's lunch date. Teresa says, "It went really well" and she's "really happy". Teresa informs the woman that she apologized to Margaret for her actions last year, and while she didn't get an apology, she believed the conversation went well. Teresa describes it as "a breath of fresh air" for the ladies.
Jennifer then inquires whether Margaret inquired about "that girl Laura" with Teresa. Teresa answers, "No," before Danielle asks who Laura is. "Laura [Marasca Jensen] is Margaret's ex-best friend," Jennifer explains. "They had some sort of falling out and this woman, Laura, was trying to get in touch with me and Teresa to just tell us stuff."
Jen claims she "was very suspicious of the whole thing," but she doesn't elaborate on what information she was given. "I know who this woman is — she's been at multiple parties. She was very adamant that she had stuff that we would want to hear. And then I was thinking: had this been Margaret, would she talk to somebody that really wanted to tell her something about me and Teresa? Absolutely, Margaret would do it."
"She basically told us everything that Margaret had told her," Teresa informs Danielle.
"Did she talk about anyone else, or just Margaret?" Danielle inquires, but Teresa and Jennifer remain silent. They merely give one other a naughty smile.
According to prior reports, Margaret's buddy gave the information regarding Melissa Gorga reportedly cheating on Joe.
'The Real Housewives of New Jersey' airs every Wednesday on Bravo at 9.pm ET.
Share this article:
'RHONJ' Season 13: Who is Laura Jensen? Margaret Josephs' BFF turned enemy joins cast with some tea