'Giving Nigeria nasty reputation': Author Reno Omokri slams Uju Anya over 'hideous' claims that Queen caused civil war
'(Queen Elizabeth II) was a symbol. She was not the initiator of the policies of the British government,' said Reno Omokri SAN FRANCISCO, CALIFORNIA: Best-selling Nigerian author Reno Omokri said he was "absolutely mortified" by the "hideous" claims made by Uju Anya after the Carnegie Mellon professor said the Queen ignited the Nigerian Civil War. Omokri said Anya is unaware of the country's history and is distorting facts to create bitterness in those who are ignorant of it. "I was absolutely mortified by the hideous and historically inaccurate things that were said about the Queen and her family by a Nigerian woman living in America, whose name I will not dignify by mentioning," Omorkri, who is also a priest and lives in San Francisco, wrote in an op-ed.
"Let me tackle what the death of Queen Elizabeth II reveals about Biafra," he added, referring to the once-separatist state. "It shows us as a people, we are not aware of our history, and because we are not aware of our own history, we have distorted it, such that propaganda and pseudo history has been orally passed down from one generation to another, feeding unfounded bitterness that is destroying those who harbor it, and having no effect on those whom they are embittered."
READ MORE
The first and ONLY time Queen Elizabeth II broke royal protocol
'There is no strict science around it': Queen Elizabeth II died of 'broken heart' after losing Prince Philip, claims doctor
What did Uju Anya say?
Uju Anya, who had previously said she hopes the Queen dies an "excruciating death", said that the monarch wore a crown made of "blood diamonds" and that her palaces and riches were funded by "our blood". Anya also claimed the Queen was directly responsible for the Nigerian Civil War and the death of millions. The Queen died at Balmoral on Thursday, September 8, aged 96.
"This was a ruler. The very crown she had on her head signified the fact that she's a monarch was made from plunder. Diamonds. Blood diamonds," Anya, 46, told the podcast 'This Week In White Supremacy'. "The throne that she was sitting on is a throne of blood. So you cannot say that she's just this little old lady or this figurehead that really had nothing to do with anything and it was just the British government without relating it directly to her because she was directly benefiting, her very position as a monarch, the palace she lived in... were all paid for by our blood." She added, "People expected me to be calm or to be... when the person who literally paid money for bombs and guns and military supplies to come and massacre your people is dying, you're not supped to dance."
Anya is an applied-linguistics professor at the Pittsburgh university. Her mother is from Trinidad and her father from Nigeria. She said in the past that she is "a child of colonization" and that Britain's role in the Nigerian Civil War shaped her perspective. Anya told The Guardian that before she was born, her mother was forced to flee Nigeria during a civil war in which Biafra separatists sought autonomy for an ethnic minority -- Nigeria's Igbo people. The minority, from the country's south, faced persecution and pogroms in the north.
The UK government, which sided with its counterparts in Nigeria, supplied guns to fight off the separatists. Anya claimed half of family members died in the tragedy. The war ended after more than 30 months. Omokri, however, pointed out that the Queen only served a ceremonial role in the UK government and had no role in the arms deal.
'You are giving Nigeria a very nasty reputation'
"Please let us stop pretending as if the late Queen Elizabeth II came to Nigeria and ignited a war," Omokri wrote, stressing that it was instead "ignited by a series of unfortunate events that began with the cold-blooded murder of 22 people from the Northern, Western, and Mid-Western regions by people of mostly Eastern region origin, which led to a counter coup by Northern Nigerian military officers on July 29, 1966, and the unfortunate pogrom of 66-67."
"It is only those who are ignorant about how the British government works that will blame the late Queen for the actions of the British government," he added. "She was a titular and ceremonial head of state, whose actions were limited to appointing the candidate who has won election directly or indirectly as prime minister, and declaring open the government." "She was a symbol," he said. "She was not the initiator of the policies of the British government."
"And even the British government is not to blame for the Nigerian Civil War," he continued. "We must learn to take responsibility for our own actions. That was the result of the ill-advised January 15, 1966 coup. These are the facts that we all should address, rather than blaming Queen Elizabeth II for a war she did not cause, not had any way of stopping."
"We have all forgiven and moved on," he concluded. "Yet, you want to reopen these old wounds and make them cancerous by blaming Queen Elizabeth II 50 years after the war? Leave the woman and her family to grieve in peace." Omokri added, "By celebrating the Queen's death, you are giving Nigeria a very nasty reputation that will affect all of us, not only you. We cannot afford to be seen as a nation with anti-British and American sentiments, when we are not able to get a better deal from China and Russia."
Uju Anya's previous attacks on the Queen
A few days back, Anya Anya called the Queen a "representative of the cult of white womanhood". In an interview with The Cut, 46-year-old Uju Anya said "half of (her) family was slaughtered with guns and bombs that this Queen sent to kill us."
"Queen Elizabeth was representative of the cult of white womanhood," Anya said. "There's this notion that she was this little-old-lady grandma type with her little hats and her purses and little dogs and everything, as if she inhabited this place or this space in the imaginary, this public image, as someone who didn't have a hand in the bloodshed of her Crown."
In an earlier tweet, Anya wished the Queen a painful death. "I heard the chief monarch of a thieving raping genocidal empire is finally dying," Anya said in the now-removed tweet. "May her pain be excruciating."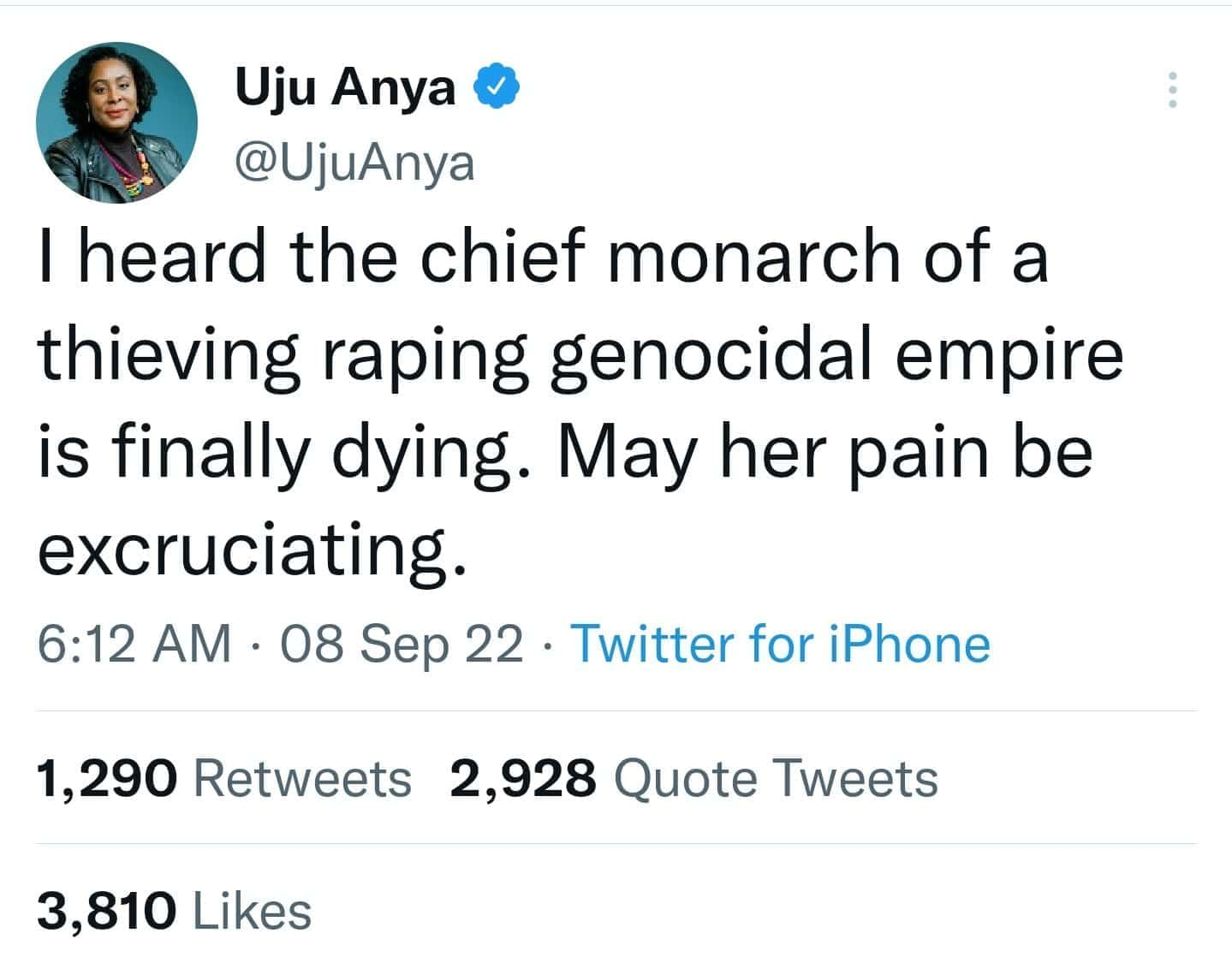 Defending her tweet, she has now said that she stands by what she said. "In my tweet, I did not wish her dead. I did not tell anyone to kill her. I said nothing except wishing her the pain in death that she caused for millions of people. There's not going to be any apology from me. I stand by what I said."
"'Speak no ill of the dead' is a weapon that's leveled against the oppressed to silence them, to lionize oppressors, and to sanitize their history. What respect am I supposed to have for her, for her family?" she added. "Oh, well, her family is mourning her. My family is mourning as well." Anya also claimed she received racist and misogynistic emails following her tweet.
In a statement, Carnegie Mellon University told the Daily Mail it does "not condone the offensive and objectionable messages." "Free expression is core to the mission of higher education, however, the views she shared absolutely do not represent the values of the institution, nor the standards of discourse we seek to foster," a spokesperson said. However, Anya remains employed at the varsity.
Share this article:
'Giving Nigeria nasty reputation': Author Reno Omokri slams Uju Anya over 'hideous' claims that Queen caused civil war