Charli Johnson: Girl, 9, saves mother's life using CPR after getting instructions from medic over phone
Drew Hebbron from the Queensland Ambulance Service awarded Charli Johnson a certificate of appreciation for bravery and composure Charli Johnson saved her mum's life after taking instructions from medic on a phone (Screenshot/[email protected] Australia)
GOLD COAST, QUEENSLAND: A nine-year-old Queensland girl saved her mother's life by performing CPR as an emergency dispatcher delivered instructions over the phone. Charli Johnson's heart-rending emergency call with dispatcher Anne Barklimore reveals how the Gold Coast girl kept calm despite her mom Sharon collapsing after becoming unconscious last month at their home in Helensvale on the northern Gold Coast, reported Daily Mail.
The call also revealed Charli was able to remember her address and phone number, before being calm enough to perform the life-saving feat. "My mum woke up at 6.30 this morning," Charli told Barklimore. "She was throwing up. I had to make my own lunch and everything." "She was asleep all day. She just got up, opened the door, she kneeled to the ground and just fainted", Charli said in audio released by the Queensland Ambulance Service on Friday, August 19.
READ MORE
Hero mom fights off pedophile who broke into 12-yr-old daughter's bedroom in middle of the night
Journee Nelson: Video of Florida girl, 9, punching robber to save her mom goes viral
Barklimore instructed Charli to do CPR after the girl revealed things could be taking a turn for the worst. "I don't know. I think she's just stopped breathing," Charli said. Barklimore responds by telling her "Listen carefully, I'll tell you how to do resuscitation." "Place the heel of your hand on the breastbone in the centre of the chest ... pump the chest hard and fast," she said. "Count out loud so I can count with you, I need you to keep doing the compressions over and over. Don't give up." Charli, who's in Grade 4, can be heard whispering, "one, two, three, four", as per the instructions.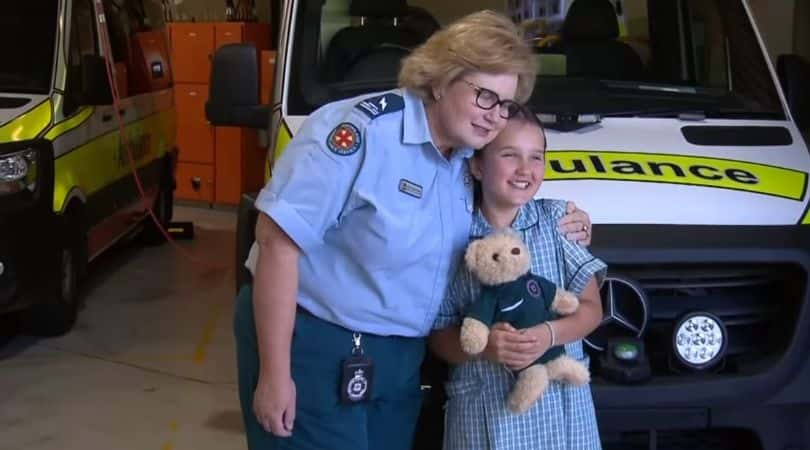 The pair counted through the compressions together and Barklimore told Charli that her mother would be proud of her. Eventually, Charli's mom can be heard making noises in the audio as an ambulance approached the scene. On Friday, the school girl met up with Barklimore and the paramedics who attended to her mother. "You've done a really good job helping your mum today," Barklimore said before adding, "I'm so proud of you and your mum is going to be so proud of you." Drew Hebbron from the Queensland Ambulance Service awarded the young girl a certificate of appreciation for bravery and composure.
Sharon explained she was sick earlier that day as a result of a viral infection, which caused her to collapse. "I thought something was wrong, so I knew what to do," Charli said of the moment she found her mum laying prone. "It was a bit scary, especially doing CPR on my own mum." Barklimore said Charli's ability to stay calm "helped the process so much more." "Charli was so calm and composed and knew to answer the questions directly and that's so important," she said, 7News reported.

Share this article:
Charli Johnson: Girl, 9, saves mother's life using CPR after getting instructions from medic over phone