Who is Princess Anne's husband Timothy Laurence? How romance with vice admiral began after Mark Phillips divorce Princess Anne will be attending the funeral of her father, Prince Philip, which will take place on Saturday, April 17. The Princess Royal is slated to attend the ceremony with her husband, Vice Admiral Sir Timothy Laurence.
Laurence is Princess Anne's second husband, following the end of her first marriage with Mark Phillips, an Olympic gold medal-winning horseman for Great Britain. Here's all you need to know about how their romance sparked after a heartbreaking divorce.
RELATED ARTICLES
Zara Tindall wants Meghan to leave mom Princess Anne alone after 'racist royal' claims: 'It makes her blood boil'
Prince Philip death: Princess Anne wears black outfit for first royal engagement since father's demise
Who is Princess Anne's husband Timothy Laurence?
Vice-Admiral Sir Timothy James Hamilton Laurence, KCVO, CB, CSM, ADC is a retired Royal Navy officer and the second husband of Princess Anne, the only daughter of Queen Elizabeth II and Prince Philip. Laurence, who was born 1 March 1955, was equerry to the Queen from 1986 to 1989.
Laurence was born in Camberwell, South London, and is the son of Commander Guy Stewart Laurence, RN who was also a salesman for a marine engine manufacturer, and his wife Barbara Alison Laurence (née Symons). He has a brother, Jonathan Dobree Laurence who is three years senior to him.
Cricket captain, college paper editor and ship commander
The 66-year-old was educated at The New Beacon Preparatory School and then at Sevenoaks School, Kent. He attended the University of Durham on a Naval Scholarship and graduated with a Bachelor of Science upper 2nd class honours degree in geography. During his time at university, Timothy edited the student newspaper, 'Palatinate' and served as captain of his college cricket team. The Palatinate is one of Britain's oldest student publications, having published its first edition on 17 March 1948.
After leaving Durham, Timothy became a respected member of the Royal Navy, being promoted to midshipman in 1973, and acting sub-lieutenant in 1975. After completing his initial training at the Britannia Royal Naval College, Dartmouth, he was promoted 10 months early to lieutenant while being posted to HMS Aurora, a Plymouth-based frigate, in March 1977. He was attached to other ships including the HMS Vernon and the minesweeper HMS Pollington.
He served as navigating officer of the Royal Yacht HMY Britannia, where he would eventually meet his future wife, and the destroyer HMS Sheffield. He went on to become a captain on 30 June 1995, and until 1996 commanded the frigate HMS Cumberland.
Laurence was promoted to rear admiral and appointed Assistant Chief of the Defence Staff with responsibility for Resources and Plans in July 2004. On 30 April 2007, he was promoted to vice admiral, and appointed Chief Executive of Defence Estates (since renamed Defence Infrastructure Organisation, as of 2008).
Stolen letters
The vice admiral met Princess Anne while serving as an equerry to Queen Elizabeth II in 1986, during a time that rumors about her failing 15-year marriage with Captain Mark Phillips were making the rounds. Philips was a lieutenant in the 1st Queen's Dragoon Guards, and they had met in 1968 at a party, but their marriage had soured and the couple were rarely seen in public together and were both romantically linked with other people. They shared custody of their children, Peter and Zara Philips, and Anne filed for divorce in April 1992.
Anne met Laurence, who is five years her junior, during his time as commander in the Royal Navy, while he was serving on the Royal Yacht Britannia. Their relationship developed in early 1989, three years after he was given the office of honour by the Queen. The same year, Buckingham Palace confirmed four intimate letters written by Laurence to the Princess Royal, as recovered by The Sun. The paper claimed it had anonymously received letters written to Anne, "all in the same black-ink handwriting," and apparently stolen from the palace, as reported by People.
The paper maintained discretion by not revealing the contents of the missives or their mysterious author. After an investigation by Scotland Yard was launched, the people found relief in a statement by the Palace, which read: "The stolen letters were addressed to the Princess Royal by Commander Timothy Laurence, the Queen's Equerry. We have nothing to say about the contents of personal letters sent to Her Royal Highness by a friend which were stolen and which are the subject of a police investigation." Laurence had always been a favorite with the royal family, having been chosen to be one of three personal advisers to Anne's Charities Trust.
Marriage
The couple had a low-key wedding at Crathie Kirk near Balmoral Castle in Scotland, on 12 December 1992, with approximately 30 guests who attended the private marriage service. The Church of Scotland, rather than the Church of England, allowed remarriage of divorced persons at the time. Princess Anne thus became the first royal divorcée to remarry since Princess Victoria Melita of Saxe-Coburg and Gotha, granddaughter of Queen Victoria.
"Anne's second ring has a slightly smaller sapphire accompanied by two diamonds on either side," a representative of 77 Diamonds Anna Buyers told Express.co.uk, of the ring which features a sapphire in a cabochon cut. For the wedding ceremony, Anne wore a white jacket over a cropped-to-the-knee dress and a spray of white flowers in her hair.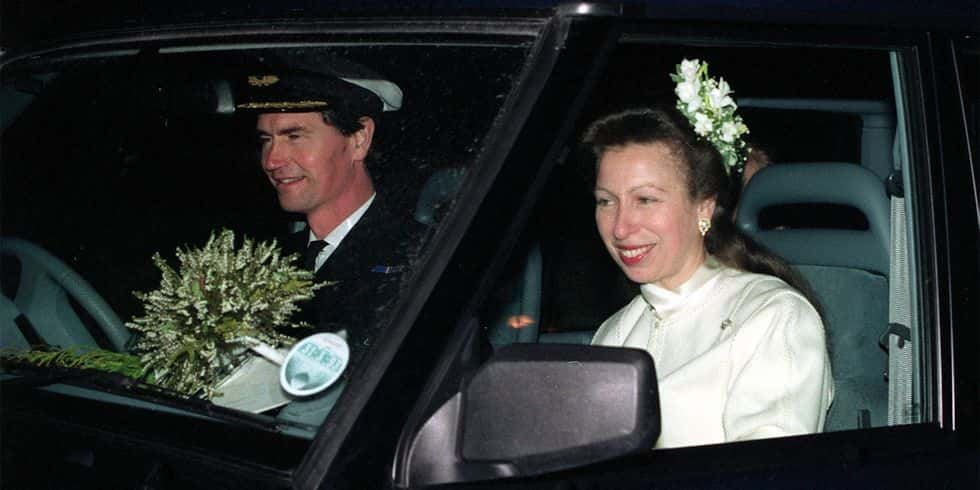 Laurence received no peerage, and the couple leased a flat in Dolphin Square, London. He was, however, knighted by the Queen as a Knight Commander of the Royal Victorian Order June 2011. They presently reside between their country estate Gatcombe Park in Gloucestershire and London, where they have an apartment at Buckingham Palace and St James's Palace.
Share this article:
Who is Princess Anne's husband Timothy Laurence? How romance with vice admiral began after Mark Phillips divorce