Peppa Pig Theme Park Florida: What are the attractions and how much do tickets cost? The long-awaited Peppa Pig Theme Park designed for kids ages 6 and under is opening in Winter Haven at Legoland Florida on February 24. The attraction is based on an English television show featuring Peppa Pig and her younger brother George is the perfect place for any Peppa Pig fan and their family.
"I feel like every single parent on the drive home from Peppa Pig Theme Park is going to have that adorable picture of the kid passed out in the car seat because this is just a beautiful park with interaction everywhere", said Kelly Hornick, head of marketing and communications at Peppa Pig Theme Park. "Here, the little ones get to have a day just for them: The entire park is really crafted with them in mind."
RELATED ARTICLES
SAINT DOLLY: Dolly Parton to pay FULL tuition for all staffers working at Dollywood
Colorado amusement park Glenwood Caverns shuts down after girl, 6, dies at drop ride
What are the attractions at Peppa Pig Theme Park?
Visitors of the Peppa Pig Theme Park will be treated to the entire Peppa Pig experience, with lots of Florida theme park touches, including the Muddy Puddles Splash Pad, Granddad Dog's Pirate Boat Ride, Grampy Rabbit's Boat Adventure, Mister Bull's High Striker, and Daddy Pig's Roller Coaster.
1. Daddy Pig's Roller Coaster
Take your fun family day to the next level when you join Daddy Pig on an unexpected adventure ride in his newly cleaned red car. But watch out, Mr. Bull is digging up the road, and Daddy Pig knows a shortcut! And don't forget to fasten your seatbelt! Wheeeeeee!
2. Grampy Rabbit's Dinosaur Adventure
Welcome to Grampy Rabbit's Dinosaur Park! Parents can ride along with their little explorers on this epic dino quest that will take you whizzing past smoking volcanoes and through pre-historic mountains.
3. Grandad Dog's Pirate Boat Ride
You and your little ones can enjoy a boat ride with Grandad Dog as you set sail for Pirate Island, to dig for buried treasure and build your own sandcastles on its sandy beaches!
4. Mr. Bull' s High Striker
Test your strength on Mr. Bull's hammer and bell ride! Once the hammer hits the bell on Mr. Bull's High Striker, you and your family will lift straight up to the sky. Be prepared for a surprise because, after all, what goes up, must come down on this kid-friendly drop ride! Stand back, everyone!
5. Peppa's Pedal Bike Tour
Pedal your way through the icy mountain and the pine woods on Peppa's Pedal Bike Tour. Enjoy all the sights, smells and sounds of the great outdoors!
6. Peppa Pig's Balloon Ride
You won the Fun Fair raffle! Now you and your family can soar, 'flying high, in the sky', above the clouds with Peppa Pig in Miss Rabbit's hot air balloon! Hold on tight and enjoy the amazing views of Peppa Pig Theme Park from the very top of this family-friendly aerial carousel ride!
7. Muddy Puddles Splash Pad
Have an oinktastic time with Peppa and George doing their favorite thing: jumping up and down in "Muddy Puddles"! This lively play area has spouting fountains, slides and other watery surprises to keep the play super splashy and fun! (Don't worry these "Muddy Puddles" are cleaner than the ones on TV.) Getting wet has never been so much fun!
8. Rebecca Rabbit's Playground
Jump, hop, crawl & climb in Rebecca Rabbit's Playground. There is so much for little ones to do and see as they explore the rabbit burrows and discover the carrots in this outdoor active play area.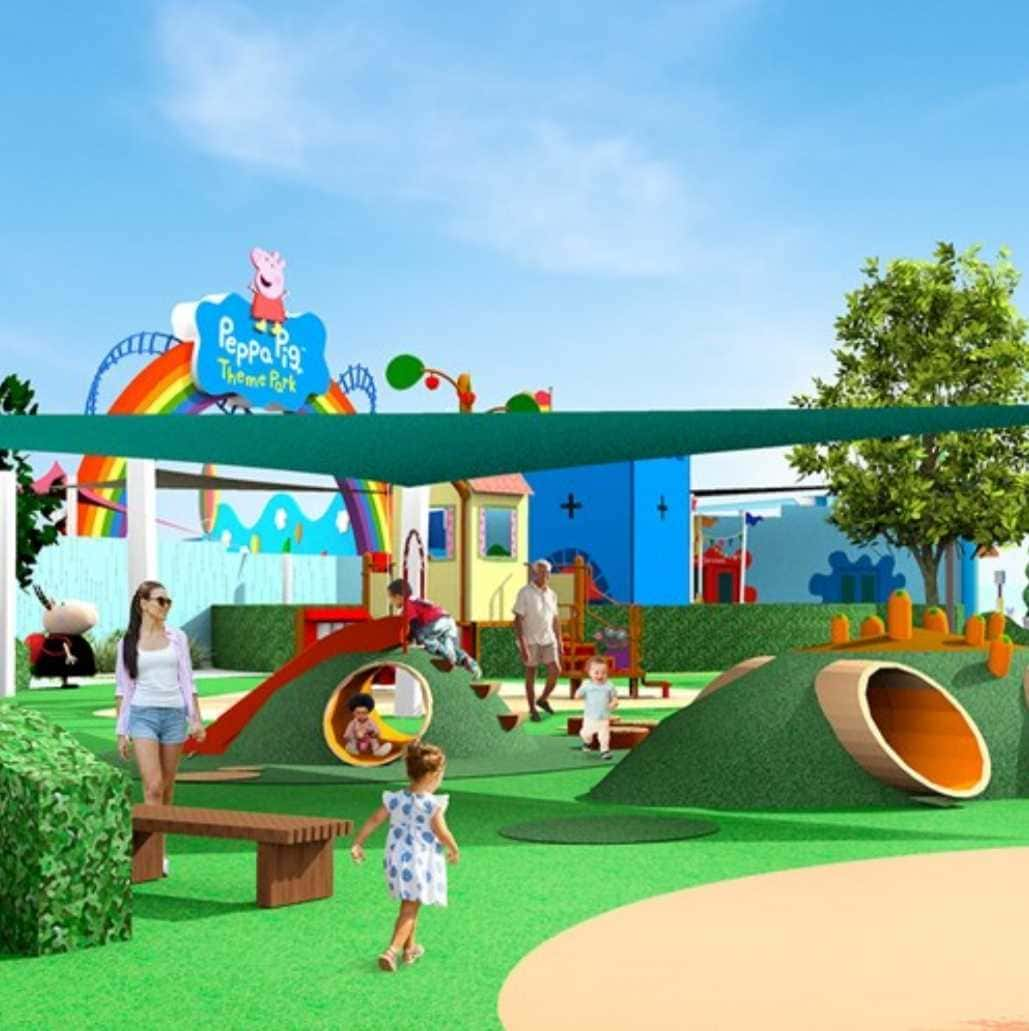 How much do Peppa Pig Theme Park tickets cost?
Families can purchase single-day discounted tickets for $30.99 online. When purchased on the date of arrival, single-day tickets will cost $34.99. Admission to Peppa Pig Theme Park can also be bundled with admission to Legoland Florida Theme Park as a two-park, two-day ticket, starting at $134.99 when purchased online in advance.
A limited number of Peppa Pig Theme Park annual passes are on sale for $74.99 plus tax. The annual pass comes with free parking and discounts on additional admission tickets for a year starting on February 24 or the date of purchase. Legoland in a press release said an early booking incentive gives families a third night free when they book two nights at one of the destination's hotels.
Disclaimer: The illustrations and the information about the rides are taken from the Peppa Pig Theme Park website.