A bitter-sweet ending on Sunday night made for a pensive Monday morning. Thanks to the grand finale of 'Outlander' season 4, we are entering 'Droughtlander' with ample burning questions, even though we did not ask for it. All we wanted was to avoid cliffhangers, but Roger MacKenzie and Brianna Fraser reuniting in the scenic River Run after days of hurt and heartbreak, wasn't the only happy ending we hoped for.
The short-lived union was interrupted by Red Coats visiting Jamie Fraser at Aunt Jocasta's River Run, to task the Scottish Highlander of killing his revolutionary godfather, Murtagh Fitzgibbons. What happens next? Season 5's premiere has not been announced yet, but we hope it answers these many, many, cliffhangers.
1. Frasers' reaction to Roger and Brianna's reunion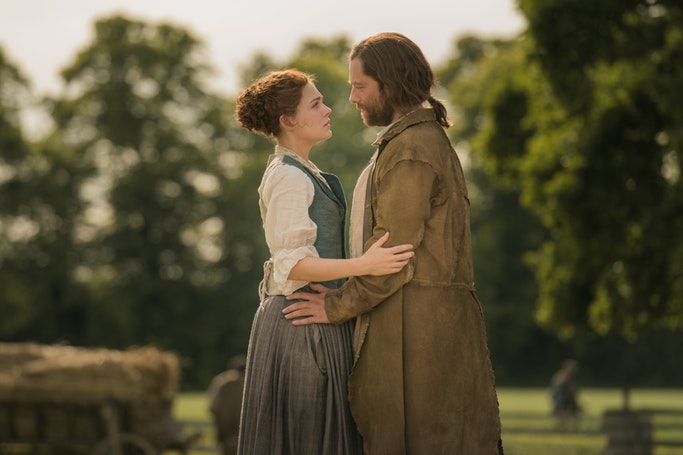 Well, not exactly a cliffhanger, but we would like to know. Before Roger met Brianna, he was rescued by Claire and Jamie Fraser from the Mohawks of Shadow Lake. After telling him everything about Brianna's rape and pregnancy, and giving him the choice to accept or reject his part in Brianna's fate, we come to know that he chose to walk away when he did not accompany Jamie and Claire to River Run.
Brianna was heartbroken, and so were we. She spent days confined to her room with her newborn baby, and the already traumatized Bree could have easily suffered from postpartum depression. Her loving parents and family were always by her side, and when she finally gathered strength to venture out of her dark room and dine with her family, Roger showed up.
He made it to River Run the day Brianna was about to head to Frasers Ridge, so there was a high possibility he could have easily missed the chance again, well, because of his own delayed response and inability to make up his mind. Anyway, the reunion worked for the ending, but we missed seeing the reaction of the Frasers, especially after Jamie Fraser affirmed his daughter did not deserve a "coward."
2. Is Stephen Bonnet still alive?
The question as to whether the villain Stephen Bonnet is alive or not has been looming since episode 12, and it looks like it will continue throughout the 'Droughtlander' period. When Jamie enquired about Bonnet, Murtagh told him Bonnet had died in the explosion set by Fergus Fraser and his team of revolutionaries, when they hatched a plan to sneak Murtagh out of jail.
However, it is to be noted, Bonnet did manage to lay his hands on a fallen bunch of keys before the blast, but because the explosion was rather quick and Brianna and Lord John Grey almost did not make it, it is of massive doubt if the pirate did. 
3. Whose baby is it?
Brianna gave birth to a baby boy, and Roger came back to call the baby "our child," but fans are curious who the baby's father is. Truth be told, Lord John Grey and even Brianna's father, Frank Randall has made it clear that blood-relation does not matter when it comes to being a good parent. It does not matter to us either, there's a new MacKenzie for us in season 5!
4. What about Fergus and Marsali?
The dynamic couple set the jail alight with dynamite, but what happened next? Did they make it to Frasers Ridge as they had planned? Season 5 come already!
5. What's next for Murtagh and Aunt Jocasta?
An unexpected love story out of the blue, or let's say a glass of whiskey, when Murtagh and Jocasta hooked up after a heated argument, fans had mixed reactions to the scene. But well, as 'Outlander' taught us, love is love.
The concerning finale had Jamie Fraser, ordered by Governor Tryon, to find and kill the revolutionary Murtagh Fitzgibbons. As Jamie looks concerned and conflicted, there's so much to look forward to in season 5, since even the book readers are clueless about this plot, because unlike on-screen, Murtagh died long ago.
Disclaimer : The views expressed in this article belong to the writer and are not necessarily shared by MEAWW.