Orlando Bloom admits he spied on Cate Blanchett and had a massive crush on her when they were filming 'Lord of the Rings'
Orlando Bloom says he was walking around spying on Cate Blanchett from the corner of the room, in a non-creepy way Orlando Bloom (Source:Getty Images)
Orlando Bloom has always had his eyes on the big stars it seems, owing to his track record with supermodel Miranda Kerr and popstar Kety Perry, but what is not a very widely known is that, before them, it was Cate Blanchett who had captured the actor's intrigue.
The secret came out on Monday's episode of 'The Late Late Show with James Corden' where the 41-year-old Bloom joined Blanchett, 49, and chimed in the confession of his massive crush on her during the filming of The Lord of the Rings. Speaking about his first impression of Blanchett, who played the role of Galadriel, Bloom, who played Legolas, admitted: "I can't think... I had such a crush. I had the biggest crush on you."
Don't worry, it wasn't embarrassing at all for Bloom as Blanchett jumped to his defense and said, "Well, it was your character!" But Bloom seemed pretty determined in his stand. "No, it was me!" he insisted.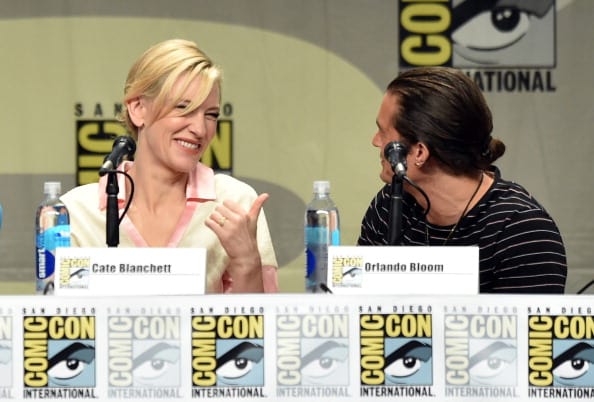 Sadly, the crush wasn't mutual, but that was only because Blanchett had no clue who he was for the entirety of her three-week-long stay on the sets of the movie. "I didn't recognize you, because the first time I saw you, you had hair — like Fabio hair and blue eyes," she recalled. "And then I just saw you — who is this really cute guy out of drama school — and I didn't put two and two [together]."
But Bloom being Bloom just happened to be "walking around spying on her from the corner of the room — in a non-creepy way."
But luckily for Bloom, someone else has been swooning all over him just the way he was over Blanchett. And that is none other than Corden's mother, Margaret. His family decided to be in attendance as the talk show has been filming all week in London. While his father Malcom was busy filming the program from his seat, his mother seemingly was busy behind the scenes.
"She's backstage with Orlando Bloom. Well,, he's on her list," Malcolm said of his wife. "Mom and I have been married so long we both have these lists of celebrities we'd be allowed to keep company with, should our paths ever cross. I believe in America they call it a hall pass."
And it was quite gushy between the two, with Bloom feeding Margaret fruit while lounging in a robe and whatnot. But Malcolm had no complaints; "I'm fine with it because Cher's going to be here tomorrow," he joked. "She's on my list."
---
Guess who else is going gaga over Bloom, though? It's an easy one. His on-again-off-again girlfriend Katy Perry.
"They know each other's patterns and the communication between them has improved, so their relationship is thriving," a source spilled to ET last month. "They are happier than they've ever been and feel in time they will be ready to be more public about their love for one another and can plan for a future."
"They are talking about a future wedding, but they are taking it slow," the source added.