'Normal People': Why show's depiction of mental health and therapy is staying with fans long after watching it 'Normal People', BBC's and Hulu's latest joint adaptation of Sally Rooney's novel of the same name is being lauded for its portrayal of sex and mental health. For the former, it's easier to point out why, the scenes are intimate and most importantly, all sex scenes prioritize consent. The issue of mental health is perhaps present throughout, but it is the tenth episode that truly depicts why the show takes mental health seriously.
In Episode 10, Connall Waldron (Paul Mescal) starts going for therapy after he spirals into a deep depression on learning of the suicide of his high school friend, Rob Hegarty (Eanna Hardwicke). Connall pulls away from his girlfriend, Helen Brophy (Aoife Hinds) who breaks up with him eventually. The only person Connall feels he can talk to is Marianne Sheridan (Daisy Edgar-Jones), his former girlfriend, who at that point was in her study-abroad year.
Towards the end of the episode, Connall speaks to a counselor and begins to open up about the burdens he has been harboring and his loneliness after moving to Dublin for college from his home. In the one-shot, six-minute scene Paul Mescal breathtakingly portrays Connall's pain in a nuanced form, this is especially important to note because Connall is generally someone who finds it hard to open up about what he's thinking -- something that is shown in the series and written beautifully in the original novel.
"In school, I definitely felt that feeling of isolation or whatever," he says. "People seemed to like me. Here, I don't think that people like me that much. Like Rob, my friend who … I wouldn't say that we clicked on a very deep level or anything but we were friends. I wouldn't say that we had a lot in common in terms of interests, or anything and definitely not politically but we never really examined that."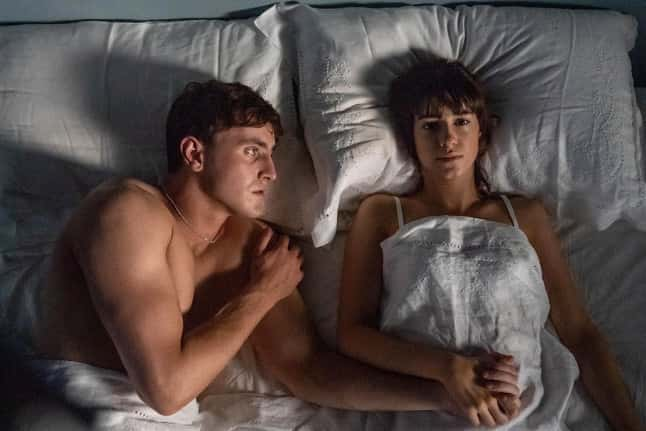 He continues, "But that stuff didn't really matter in school, because we were in the same group of friends, so, you know. And he did some stuff that I wouldn't have been a fan of in terms of, like, with girls, but we were 18, you know, we acted like idiots. I think I felt a bit alienated by that stuff."
Connall goes on, "And, I think I thought if I moved here I'd fit in better. I thought I'd be with more like-minded people but that just hasn't … I left Carricklea thinking I could have a different life. But, I hate it here and I can never go back because those friendships are gone and Rob is gone and I can't see him again. I can't get that life back."
What is remarkable about these words is that there are scores of millennials who would identify with Connall -- moreover, television does not normally allow its male characters to be vulnerable, especially on sensitive topics such as suicide and loneliness, but 'Normal People' does not shy away from it.
But it's not just Connall's pain that we are shown. Marianne, whose late father was abusive towards her mother, whose brother is now abusive and whose mother does nothing to stop that abuse also deals with issues throughout the show. Sure, the series' depiction of BDSM might need some work, but it could be because the writers wanted to focus on how childhood trauma manifested in Marianne.
And fans have noticed all the ways in which the show addresses mental health. One fan tweeted, "Can't sleep. Instead, I'm thinking about Connell's therapy scene again. Not sure I've ever seen such vulnerability from a male actor on TV before? I hope there's awards attention for Paul Mescal (Daisy too)." Another wrote, "Ok but can we talk about @mescal_paul
performance in Connell's therapy scene. Another excruciatingly taboo subject portrayed inconceivably, absolutely breathtaking."
One fan opined, "The therapy scene in #NormalPeople where Connell talks about how he wanted to move away from his old life to try and fit in and be happier really resonated with me. And the post-therapy flatness. This is brilliantly written." Another shared, "Just finished #NormalPeople and SPOILER but the scene with him in therapy crying really resonated with me because till now I could not describe what I was feeling but he put it in words. I absolutely broke me. Like that is what I am feeling WORD [FOR] WORD."
A viewer wrote, "Stayed up till 4 am watching #NormalPeople and it is so refreshing to see a series where the central male character expresses raw emotions like love, anger, and grief. He cries, seeks help, struggles with mental health, and talks about it. Hopefully, this will lead to more talking." Another tweeted, "#NormalPeople a big YAAS to highlighting male mental health. Young fellas openly crying and speaking up very much things we love to see and need to continue to destigmatize."
One fan tweeted, "I love that #NormalPeople provides such a raw insight into bullying and how much it really does impact on the rest of your life, as well as the many other themes they raised on mental health and consent," while another shared, "A perfect depiction of how mental health issues can affect young adults and more importantly highlighting how you can always talk when something's bothering you, there's always someone there."
If you are in the US, 'Normal People' is streaming on Hulu. In the UK it is streaming on BBC iPlayer.
Share this article:
normal people bbc hulu mental health male depression suicide fan reactions vulnerability emotions