Mnet's 'Kingdom' Episode 3: Air time, live stream, preview, K-pop lineup of Stray Kids, SF9, ATEEZ; second round 'Re-born' begins
Stray Kids are likely to perform their hit track 'God's Menu' for the first round. SF9, currently at the fourth position, will be performing 'Now or Never' in all probability as seen from the preview Stray Kids to perform 'God's Menu', second round begins with theme 'Re-born' in Kingdom episode 2 (Mnet YouTube)
'Kingdom: Legendary War' has revealed the result of the preliminary battle and the second round 'Re-born' will begin at the end of the third episode. Prior to that, Stray Kids, Ateez, and SF9 will be performing their first-round stages.
Before we go into the preview of third episode, here's a quick recap of episode 2. 'Kingdom' finally revealed the rankings of the 100-second performance battle where Stray Kids emerged as the winner, followed by The Boyz, BTOB, SF9; ATEEZ stood at the fifth position and iKon ranked last. Moving forward with the decision, iKon Ju-ne said, "One of the good things about being last is we have less pressure now that the ranking has been announced."
READ MORE
Mnet's 'Kingdom' Episode 2: Air time, how to live stream, lineup featuring Stray Kids, Ateez, The Boyz and iKon
Where is Stray Kids' Hyunjin? Fans urge JYPE to bring back K-pop star after he was suspended over bullying claims
Date and Time
Mnet's 'Kingdom' episode 3 will be back on April 15 at 7:50 pm KST.
How to live stream/ Where to watch
'Kingdom: Legendary War' episode 3 will be aired from Mnet. The performance stages will be uploaded to YouTube after the performance. Subscribe here to check out all the stages. The episodes are also available on Rakuten Viki after the show airs. Watch Episode 2 here. For the latest episodes with subtitles, click here.
Lineup
All six teams will appear on the next episode but the groups who are yet to perform for the first round will be seen setting the stage on fire.
Stray Kids
Stray Kids are likely to perform their hit track 'God's Menu' for the first round.
SF9
SF9, currently at the fourth position, will be performing 'Now or Never' in all probability as seen from the preview.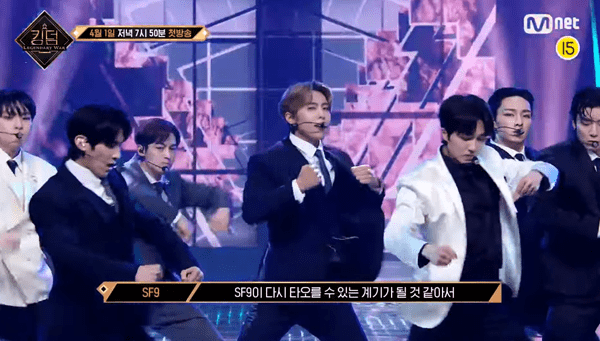 ATEEZ
It is still a mystery what ATEEZ will perform but the fourth generation superstars of K-pop will likely be bringing their A-game back after going to the bottom with the preliminary results.
iKon
YG Entertainment's K-pop group iKon performed 'Love Scenario' plus 'Killing Me' for round one. Watch their performance below
BTOB
BTOB became an instant fan favorite with their first-round performance of 'Missing You'. Watch the stage below.
The Boyz
The Boyz put on a jaw-dropping theatrical rendition of 'No Air (A song of Ice and Fire)' for the first round. Watch it here.
Preview
The third episode of 'Kingdom' will introduce the second round 'Re-born', where the K-pop groups have to swap songs with another group and perform their own rendition of it. Watch the preview of the episode here.