Michigan vs Michigan State: New video shows lone Wolverines player being attacked with helmet in brawl
After the video of Ja'Den McBurrows being attacked was uploaded, four Michigan State Spartans players were immediately suspended ANN ARBOR, MICHIGAN: The rivalry between the Michigan Wolverines and the Michigan State Spartans is never without its hot moments; one particular heated exchange was recently captured in a video clip that has since gone viral online. A brawl broke out in Michigan Stadium's tunnel on Saturday night, October 29, in Ann Arbor after the fourth-ranked Wolverines defeated the Spartans with a score of 29-7.
A post-game brawl erupted as a Wolverines player was being hit with a Spartans player's helmet. Videos uploaded on social media shortly after the incident allegedly claim that Michigan State players were seen shoving, punching, and kicking Michigan's Ja'Den McBurrows in and around a hallway. Linebacker Tank Brown, safety Angelo Grose, defensive end Zion Young, and cornerback Khary Crump were all suspended right away after being seen in the video attacking McBurrows, according to Spartans coach Mel Tucker, reported Daily Mail. Coach Harbaugh, in the meantime, thinks the four should face more severe punishment, saying he "can't imagine that this will not result in criminal charges."
READ MORE
'Ten on one, it was just bad': Wolverines head coach Jim Harbaugh fumes after Spartans ganged up on player
Wolverines' Juwan Howard throws a punch at Badgers' coach, fans say 'he shouldn't be fired'
In the most recent footage, it appears that a Spartans player swings at a Wolverines player and strikes him with his helmet. The video shows Spartans gathering around the Wolverines player, McBurrows, who appears to be by himself.
"Michigan State University football core values include integrity, discipline, unselfishness, toughness and accountability," stated Tucker, who made the choice after "reviewing the disturbing electronic evidence." Jim Harbaugh, the coach of Michigan, reportedly stated on Saturday night that one of the players, whom he did not name, may have a broken nose because of the unruly brawl.
Harbaugh stated, "Two of our players were assaulted. I saw on the one video. 10 on one. It was pretty bad. It needs to be investigated." Deputy police chief Melissa Overton claimed that a joint investigation between Michigan State police, the University of Michigan's athletic department, and the football team is now in progress.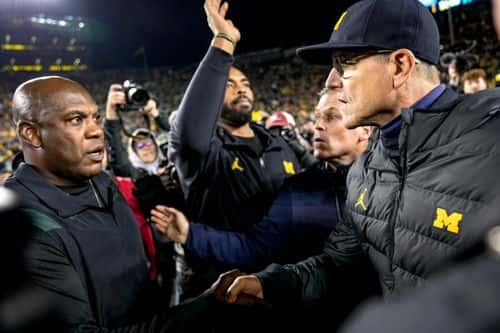 Overton stated on Sunday, October 30, that "the investigation takes some time." Tucker claimed that the university is cooperating with law enforcement, Michigan State and Michigan campus leadership, the Big Ten Conference, and others to evaluate what transpired, including identifying additional players and contributing causes.
Tucker stated, "The initial student-athlete suspensions will remain in place until the investigations are completed. The health and safety of our student-athletes, coaches, personnel, and the Spartan community remain our priority. You have my promise that we are committed to fairness, transparency and accountability, and that we will continue to take appropriate action in this matter."
Samuel Stanley, the president of Michigan State, issued a formal apology for the 'violent' altercation earlier in the day. He said in a statement, "I'm extremely saddened by this incident and the unacceptable behavior depicted by members of our football program."
"On behalf of Michigan State University, my heartfelt apology to the University of Michigan and the student athletes who were injured. There is no provocation that could justify the behavior we are seeing on the videos. Rivalries can be intense but should never be violent," Stanley concluded. "The conference is currently gathering information, will thoroughly review the facts, and will take appropriate action," the Big Ten stated in a statement.
Share this article:
Michigan vs Michigan State: New video shows lone Wolverines player being attacked with helmet in brawl