Melania kisses Trump after addressing Florida crowd, slays in cheetah-print dress and Louboutin pumps Melania Trump appeared alongside her husband, President Donald Trump, at a campaign event in Tampa, Florida, just days ahead of the 2020 presidential elections on November 3, wearing a black and white ensemble that made her stand out from the crowd.
Although the first lady was largely absent from her husband's rallies in the past, especially after she contracted the coronavirus earlier this month, she is now recovered and hitting the campaign trail in support of the POTUS. On Thursday, October 29, she was seen alongside Trump in an attire that attracted a number of eyeballs. She opted for a statement outfit choice that one could not go wrong with, a cheetah print sleeveless midi dress cinched together with a pleated leather belt. As for footwear, the former model chose to go for a set of black So Kate pumps from Christian Louboutin.
Melania's fashion statement was not the only thing that made headlines for the day. Her resounding endorsement of her husband's administration and his policies also made quite the wave. She told the crowd to reelect Trump, touting his foreign policy record and domestic achievements in his first term as the president. "President Trump chooses to move this country forward. This country deserves a president with proven results, not empty words and promises," Melania told the crowd as it chanted "Four more years."
She also told the maskless crowd in Tampa that her husband and his team was "working on not only destroying the virus and building back the economy, they are focused on creating ways for people to safely stop isolating and safely gathering with friends at a safe distance." The crowd chanted "we love you" as she walked on stage with her husband and cheered as the first couple shared a kiss at the end of Melania's brief speech.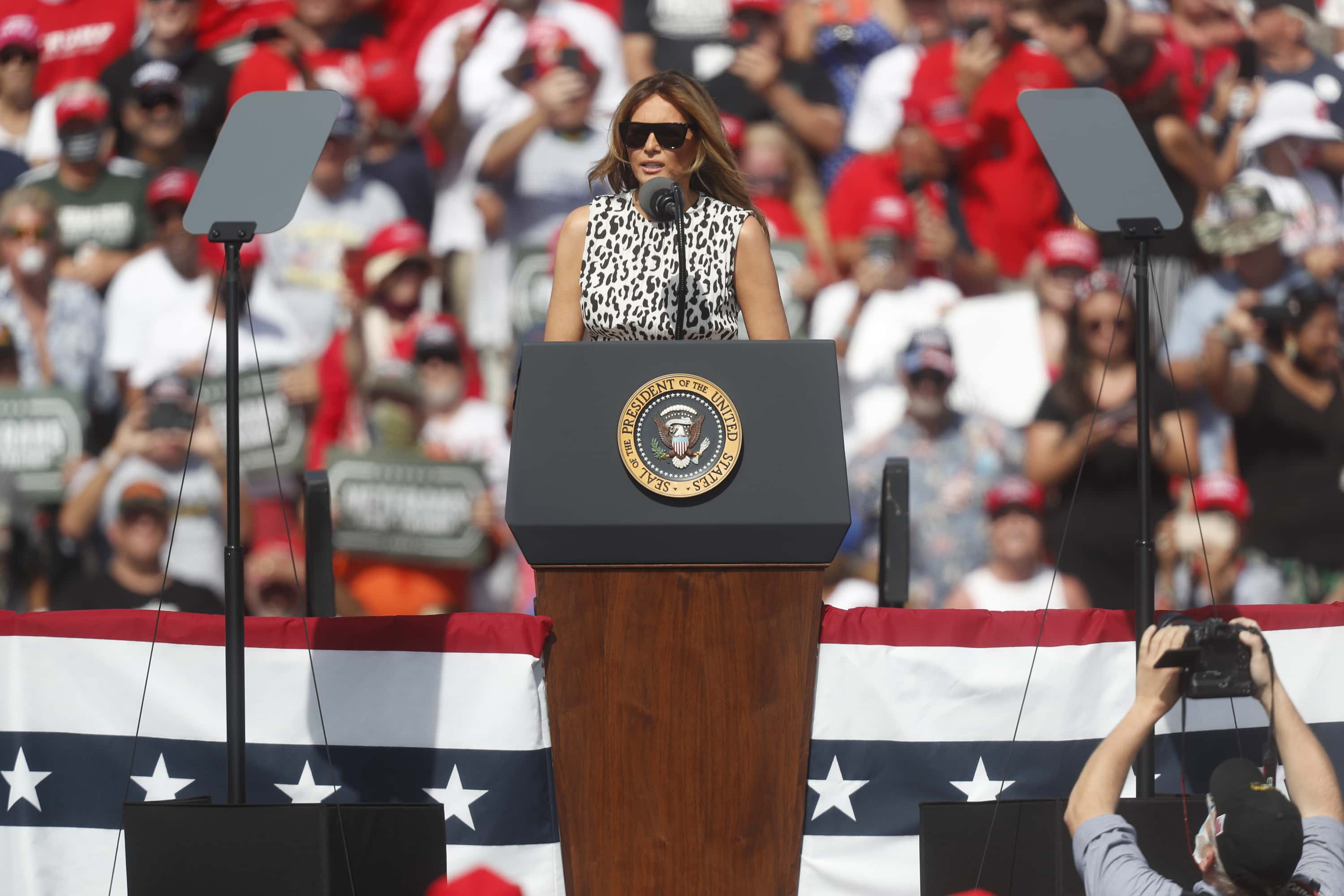 Just a day before, Melania was seen sporting a military-esque trench coat designed by Michael Kors which sells for around $250 while heading to Pennsylvania where she gave a speech. The coat has some classic details and gold hardware. The trench coat is similar to her Alexander McQueen military-inspired look that she had sported at the Republican National Convention speech. The mother of one was seen sporting the Michael Kors trench which she had paired with Saint Laurent sunglasses and a pair of metallic bronze Christian Louboutin stilettos.
Melania, while speaking about her husband's achievements during his presidency, said at that rally: "Before my husband decided to run for president, the media loved him because they saw the man that I see every day — someone tough, successful, and fair." At that moment, a woman from the rally audience yelled out: "And handsome." The first lady responded to the remark with a smile and said: "I agree."
The former model continued: "A man who has a very big heart and a great sense of humor," adding "Donald loves helping people, and he loves seeing those around him, and his country, succeed." Melania, after landing at the Lancaster Airport near Lititz, traveled to Atglen, Clester County for the speech to campaign for Trump at a key battleground state his election faceoff with Democratic nominee Joe Biden.