Melania Trump comes into own with killer style statement: "It's a jacket. There's no hidden message" Melania Trump has time and again proven that she is anything but the typical First Lady. This week, she just made our conviction stronger.
The 48-year-old former model flew to Texas in order to assuage the political storm surrounding the separation of immigrant children from their parents.
However, Melania's choice of attire left several critics spellbound as she boarded her plane - a chic olive green jacket emblazoned with the words "I really don't care. Do U?". The $39 Zara outfit left the liberal media and political class outraged and overshadowed her stated desire to reunite the children with their parents.
The Slovenian-born first lady, considered by many to be the most enigmatic of presidential wives, picked the dress for less than $40 off Zara's shelves - a rather modest and unusual buy for the wife of a billionaire, leaving the internet shuddering and spawning a million memes and wondering why she wore it in the first place.
---
Many liberal opponents of Trump as well as those on his side are chinwagging over Melania's decision to don the particular jacket. Questions are flying around the liberal gossip table: Was it a message meant for President Trump for sleeping with a porn star after their son was born? Could it have been a reproach to the "fake news" establishment, as the president tweeted later?
"Thank you so much for having me today. I'm glad I'm here and looking forward to meeting the children," Melania said, sitting at a table with the health and human services secretary, Alex Azar, at a center in McAllen, Texas.
"I'd also like to ask you how I can help reunite these children with their families as quickly as possible," she added.
Critics complained that whatever the reason was behind Melania's choice of garment, it was insensitive and inconsiderate to the children who were allegedly separated from their families.
Claire Thomas, New York Law School professor who has defended undocumented children in US immigration courts, said,"I thought at first it might have been fake and no way could this have been real. Why would anyone do that?"
On the other hand, the first lady's spokeswoman, Stephanie Grisham, said there was nothing hidden about the big font graffiti-style lettering scrawled across Melania's jacket.
"It's a jacket. There was no hidden message," she said.
When she returned from her visit, back to Joint Base Andrews, she donned the same jacket as she alighted the aircraft to the dismay of her outraged critics. Maybe that was the point of the jacket - she really doesn't care about the naysayers.
The presidential wife made a rare political statement commenting on the said issue this week, saying that she hated to see families separated, thus calling for a bipartisan immigration reform to prevent such situations.
As usual, Democrats refused to share the blame, pointing directly at the Trump administration's "zero tolerance" policy announced by Attorney General Jeff Sessions earlier this week.
"It was incredibly brave of her," said Jeanne Zaino, professor of political science at Iona College. "She is establishing her own voice on these issues and it is a voice that is not echoing her husband's voice or the Republicans."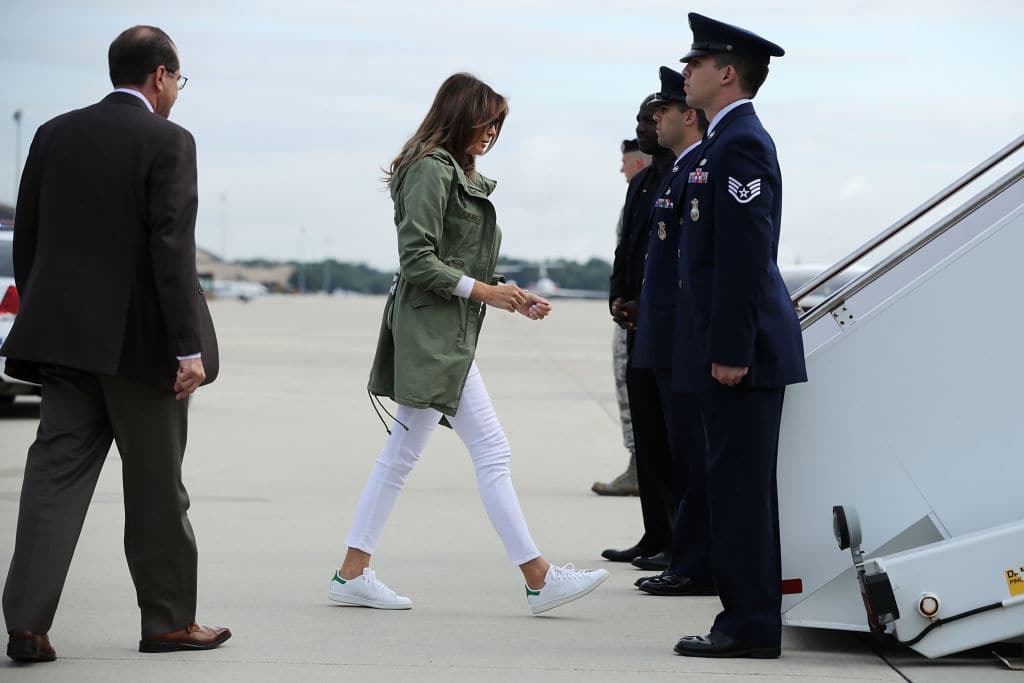 It is being said that Melania was instrumental in culminating the president's executive order banning the separation of children from their parents.
"Melania is almost closer to the first lady in some of the TV shows... like 'House of Cards'... where the first lady is a lot different from the traditional first lady," mused Zaino. "She is a fascinating figure."
As the border crisis was unfolding in Texas, Melania was slammed once again by her haters Tuesday for tweeting about her tea with the Queen of Spain, Letizia, and their "time together focusing on the ways we can positively impact children."
The mainstream media left no stone unturned in painting the White House black. New York Times branded Melania's tweet a "tone-deaf, Marie Antoinette-ish statement." CNN blared from its megaphones, claiming that her favorability rating had fallen 6 points, from 57 percent to 51 percent according to an independent poll conducted by the outlet.
"By and large I don't think the American people know her," says Myra Gutin, a Rider University, New Jersey professor and author of "The President's Partner: The First Lady in the Twentieth Century".
"Her advocacy on the part of children separated from their families is not controversial, it is a human response to an inhuman situation," she said.
Having said that, it is not the first time that a presidential wife has sparked controversy - Michelle Obama, Betty Ford, Barbara Bush, and of course, Hillary Clinton, are no strangers to the hue and cry.
"If the public saw her every day over the course of the last six months and there were two or three faux pas, maybe they wouldn't stand out so much," says Katherine Jellison, Ohio University history professor.
An expert on first ladies, Jellison added: "But the fact that she is seen less than other first ladies makes every appearance a story in and of itself, then these missteps are magnified."
Share this article:
melania trump flips the bird political correctness does things own way outrage immigration jacket texas first lady