Meghan McCain tells Vice 'Go f**k yourselves' for saying many Marines are neo-Nazi Meghan McCain slammed a media outlet for suggesting that many US Marines are neo-Nazis, in the wake of the harrowing Kabul explosion that left at least 13 Marines dead. In turn, the internet is asking McCain to take her own advice, calling her out for being just not cut out for the job of journalism.
McCain, who recently had an unceremonious exit from her four-year-long talk show stint on The View, has been a controversial political commentator for her far-right views and constant criticism of Joe Biden. She recently made headlines for slamming Vice President Kamala Harris' weeklong trip to South East Asia as the Veep honored McCain's late father US Senator John McCain at the spot he was shot and taken a war prisoner in 1967. Continuing with her criticism of the Democratic White House Administration on social media these days, McCain, however, ends up being criticized often for her controversial opinions. And this time, Twitter did not shy away from the mockery.
RELATED ARTICLES
Meghan McCain talks 'identity politics' on The View, Internet says her 'only qualification' is father John McCain
Meghan McCain returns to 'The View', fans say ratings went up when she was gone: 'Bring back Ana Navarro'
It all began with McCain ripping the media outlet Vice for suggesting that the US Marine Corps are primarily filled with neo-Nazis. The since-deleted tweet from the media house read "While many vets are being outed as far-right extremists, one branch keeps popping up when it comes to neo-Nazis: The United States Marine Corps." The tweet included a link to a Vice article, headlined: "Why Are So Many Marines Neo-Nazis?" And this seemingly left McCain infuriated, as the former talk show host retweeted the Vice tweet, writing: "Go fuck yourselves."
Vice's articles and tweets arrived after suicide bombers caused two explosions outside Kabul's Hamid Karzai International Airport and at a nearby hotel as thousands of civilians and troops attempt to evacuate people from the Taliban-seized country. The explosion is believed to have left at least 73 people dead, with some 13 of them reportedly US Marines.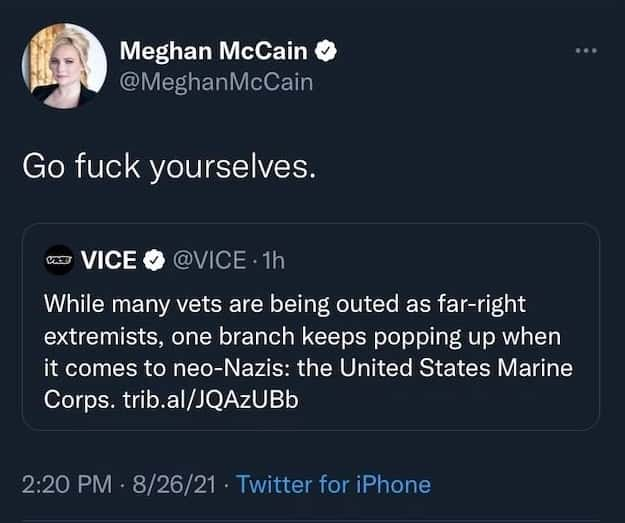 "Two suicide bombers assessed to have been ISIS fighters detonated in the vicinity of the Abbey Gate at Hamid Karzai International Airport and in the vicinity of the Baron hotel, which is immediately adjacent," Pentagon General Frank McKenzie said in a statement, adding: "The attack on the Abbey Gate was followed by a number of ISIS gunmen who opened fire on civilians and military forces. At this time we know that 12 US service members have been killed in the attack and 15 more service members have been injured." And even though McCain considered Vice's tweet distasteful amidst all the chaos, social media thinks she simply cannot take harsh criticism.
Replies slamming McCain's long-criticized 'snowflake' nature poured in, in the reply section under her tweet slamming Vice. "She can push her poop out but can't take it like an adult. Admit it girl, you are just not up for this journalist job. Stay home and watch Freedom, or whatever it was that you called her," wrote one user. Another chimed in asking, "Journalism job? Does she have a degree in journalism and can she be non-partisan to report the truth?"
Some accused McCain's concern over the military of PR purposes. "It's true though. There were a lot of military connections in the January 6th riots. If you cared about the military for things other than PR, you'd be concerned too," wrote one user. Others mocked her apparent lack of power to take criticism, tweeting: "Such a mature and thoughtful journalistic response. Keep working on that Fox audition." Some were of the opinion: "You need a job lol". And while some suggested, "JFC, Megan….you are absolutely out of control. Seek medical attention," others declared: "I think you should follow your own advice, Princess."
---
She can push her poop out but can't take it like an adult. Admit it girl, you are just not up for this journalist job. Stay home and watch Freedom, or whatever it was that you called her.

— GaGa (@rsuek1956) August 26, 2021
---
---
Journalism job? Does she have a degree in journalism and can she be non-partisan to report the truth

— Kathy Jones 🇺🇸💙 (@KathyJo394) August 26, 2021
---
---
It's true though. There were a lot of military connections in the January 6th riots. If you cared about the military for things other than PR, you'd be concerned too.

— Tyler 🏳️‍🌈 🌐 (@Tylspn) August 26, 2021
---
---
Such a mature and thoughtful journalistic response. Keep working on that Fox audition.

— Kevin - No Unity without Accountability (@worlddrumNC) August 26, 2021
---
---
JFC, Megan….you are absolutely out of control. Seek medical attention.

— Pamela Charbeneau (@pacharbeneau) August 26, 2021
---
---
I think you should follow your own advice, Princess.

— EILUJB (@Va2021J) August 26, 2021
---
Share this article:
Meghan McCain tells Vice 'Go f**k yourselves' for saying many Marines are neo-Nazi trolled