What is Matt Gaetz's net worth? Inside Trump's favorite congressman's fortune, childhood house and wealth Florida congressman and loyal Donald Trump supporter Matt Gaetz often make news for his support for the former president. Just like his idol, Gaetz has a ton of family connections, unorthodox real estate deals, and of course a whopping net worth.
The New York Times reported that the Justice Department was investigating charges against Gaetz dating two years ago. According to the charges, Gaetz had a sexual relationship with a teenage girl, 17, whose travel he allegedly paid for. If Gaetz persuaded the girl to cross state lines to have sex with him, he'd have violated a number of federal anti-sex trafficking statues, offenses that often result in serious prison time.
RELATED ARTICLES
Who is Joel Greenberg? Matt Gaetz faces sex trafficking probe as pal is accused of 'sugar daddy relationships'
Did Trump ally Matt Gaetz have sexual relations with 17-year-old girl? Trolls say 'you Gaetz what you pay for'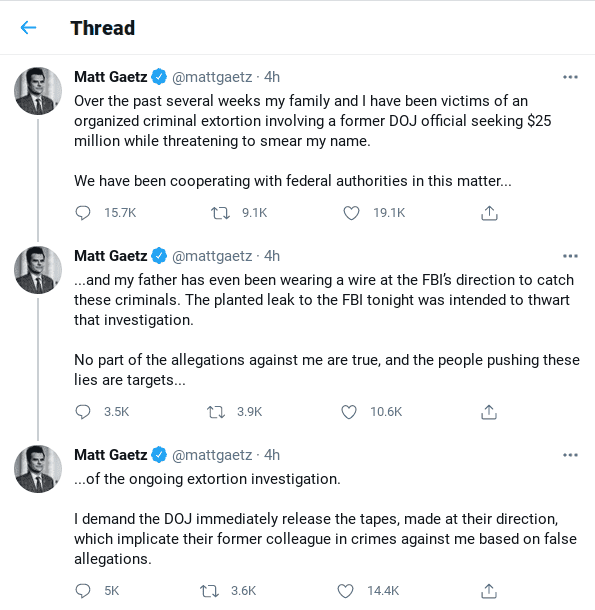 Shortly after the news was published, Gaetz claimed in a Twitter thread that the sex trafficking allegations against him aren't true, and in fact had been intentionally planted as part of a criminal extortion scheme whose perpetrators included a former Department of Justice official.
Gaetz went on to claim that he and his father, former Florida state senator Don Gaetz, were participating in an FBI sting operation to catch the extortionists, and called on the Department of Justice to release the tapes his father made while wearing a wire at their direction.
Matt Gaetz
Gaetz was born on May 5, 1982, in Hollywood, Florida. Gaetz, a member of the 116th Congress, is currently serving his second term in the US House of Representatives. He is a member of the House Armed Services Committee and the House Judiciary Committee. His work in Congress focuses on national security, veterans' affairs and adherence to constitutional principles. From Florida to DC, Gaetz has lived up to his reputation as an outspoken conservative firebrand.
He has been a prominent voice for fighting to advance Trump's America First agenda for the United States on the House floor, on television, or directly to his constituents during "Open Gaetz Days" and town halls. Gaetz has been a tireless defender of Trump and his vision for the United States. He has earned nicknames such as the "Trumpiest Congressman in Trump's Washington" by GQ magazine and "the Trumpiest Congressman" by Rolling Stone, which he considers badges of honor.
What is Matt Gaetz's net worth?
Gaetz began serving as a member of the US House of Representatives from Florida's 1st district in January 2017. His district covers much of the Florida Panhandle including Pensacola and his home of Fort Walton beach. In 2010, he reported his net worth to be more than $1M, although he only earned $29,000 that year. In 2016, his personal financial disclosure showed Matt had a net worth closer to $500,000.
Several reports suggest that Gaetz grew up in the house used in the Jim Carrey film 'The Truman Show'. Today, the house is decorated with a sign confirming that it's the Gaetz family home and also the picture-perfect house from the movie. One person even tweeted the pictures saying: "Today I learned matt Gaetz grew up in the house used as Truman's home in the Truman show!!! his parents still live there!!" He is currently living in a house situated at Fort Walton Beach.