Who was Mark Clark? Real story of Black Panther member assassinated with Fred Hampton who 'knew' he would die It was 1969. On a cold December predawn, a heavily armed assault was hurled onto the Black Panther Party in a coordinated effort between the Illinois State Attorney's Office, Cook County Police Department, the Chicago Police Department and the FBI.
It had been snowing. Armed with a map, cops burst through the doors and showered a series of bullets. Deborah Johnson — Fred Hampton's fiancée — recalled the horrific events, "I remember it like it was yesterday. The police knocked on the door (around 4.35 am) and Defense Captain Mark Clark (who headed up the Black Panther's Peoria chapter) answered the door by saying, 'Who is it?' The police said, 'Tommy.' And Mark responded, 'Tommy who?' Then the police responded back, 'Tommy gun.' After that, the police kicked in the front door and started shooting. And Mark was killed instantly."
RELATED ARTICLES
Was William O'Neal murdered? The mystery behind tragic death of FBI Informant inside the Black Panther Party
Where is Deborah Johnson now? Real story of Fred Hampton's fiancée Akua Njeri whom cops 'grabbed by the hair'
A lot is known about Fred and Deborah, but Clark's identity has faded over the years. Here's the real story of the Black Panther Party member who died that night.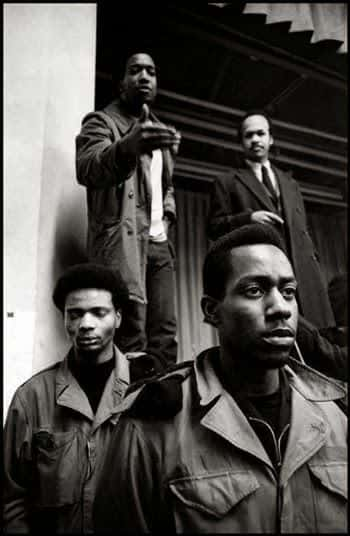 Who was Mark Clark?
Born on June 28, 1947, Clark grew up in Peoria, Illinois, with his father Elder William Clark — who was the Pastor of the Greater Holy Temple Church of God in Christ in Peoria — and mother Fannie Bardley Clark. From a very early age, he was drawn toward social causes and played an active role in the National Association for the Advancement of Colored People (NAACP).
Talking about his participation in the civil rights organization, former president of state John Gwynn recalled in a December 1969 interview with the Chicago Tribune, "He could call for order when older persons or adults could not."
Clark studied at Manual High School and then attended Illinois Central Junior College in Peoria. However, he could not complete his graduation. In an old interview, his sister Elner revealed he "liked the process of learning but didn't like school, so most of his knowledge came from his own efforts." Fondly remembered as a "quiet leader" and a "thinker", he went from church to church to find a building to house a free breakfast program.
Did Mark Clark know he would be murdered?
When Chicago Police stormed into Fred Hampton's apartment at 2337 W Monroe Street, Clark was the first to be murdered at the age of 22. The bullet shot hit him in the heart and he died on the spot. Reports say that the single round fired was said to be a reflexive death convulsion after the raiding team shot him — the only shot the Panthers fired as compared to 99 bullets from the cops.
In a shocking confession, family members and close friends told newspapers that Clark had a feeling he would not live for long in Chicago. If reports are to be believed, he told them that he might not see them again.
"He had a feeling for people and placed them above himself," said one friend. Many others reminisced how he always urged others to do the "right thing". Some police officers even admitted that "Mark Clark was not a criminal".
The movie 'Judas and the Black Messiah' will release in theaters and on HBO Max on Friday, February 12, 2021. It drops at 12 am PT or 3 am ET and is available for streaming on HBO Max for 31 days. The subscription costs $14.99 a month.
Share this article:
Mark Clark Fred Hampton assassinated raid 1969 Judas and the black messiah real story death