Marco Murillo Jr: 'Helpful' teen, 13, stabbed during brawl with other teens outside Chik-Fil-A in LA LOS ANGELES, CALIFORNIA: A 13-year-old teenager was reportedly stabbed to death during a brawl outside a Chick-Fil-A recently. In a press statement on January 13, the LAPD requested assistance from the public in identifying Marco Murillo Jr's killer.
At the junction of 7th Street and Flower Street at 5.40 pm on January 11, cops "observed a physical altercation involving several juvenile males." Murillo had been stabbed in the abdomen when responding officers arrived. The police phoned for an ambulance and "immediately provided medical treatment." The teenager was taken to a nearby hospital, but he died.
READ MORE
Woman accused of killing two little boys, 2 and 5, after bodies found in home
Girl, 3, dies after getting trapped in washing machine at home after door shut automatically
"The investigation at scene revealed that Murillo and the suspect were involved in a verbal dispute, which quickly escalated to a physical dispute. During the dispute, the suspect stabbed Murillo with an unidentified cutting instrument. The suspect ran from the scene, eastbound on 7th Street," police said, as per PEOPLE.
According to ABC 7, Murillo's mother, Lorena Lopez, claimed that her son was approached by a group of male teenagers while at the Chick-Fil-A on 7th Street and Flower Street. "As far as I know my son's never seen these guys a day in his life. My son's never seen these guys. I've never seen them," Lopez said.
Murillo's aunt, Alexis, remembers him as "a good kid, with good intentions and a good soul." Amanda Patterson, a family friend said that Murillo "was so loved." She reportedly said, "He was 13. He was so helpful and wonderful." Encouraging the suspect to surrender, she added, "It's the right thing to do. The mom doesn't deserve to bury her 13-year-old son."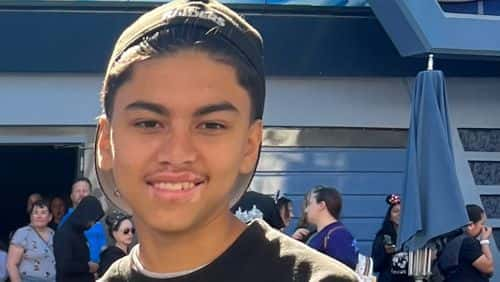 The murder suspect, who is still at large, is described as a male teenager between the ages of 14 and 17, White or Hispanic. He has a medium build, the police said.
The 13-year-old's family set up a GoFundMe, which has already raised about $2,000 of its $5,500 target. "A wonderful kid with a very bright life ahead of him. He enjoyed spending time with his family and always did his best to make everyone proud. The most thoughtful kid you can think of with the sweetest heart. He made an impact in everyone's life that he ever met, a soul too kind for this earth," the post read.
Anyone with information is urged to call Detective Gonzales at the Central Bureau Homicide of the Los Angeles Police Department at (213) 996-4142. Calls should be routed to 1-877-LAPD-24-7 on the weekends and outside of office hours (1-877-527-3247).
Share this article:
Marco Murillo Jr: 'Helpful' teen, 13, stabbed during brawl with other teens outside Chik-Fil-A in LA