Man chopped up his girlfriend's body before flushing it down the toilet
A man who hammered his girlfriend to death chopped her body into pieces and flushed them down the toilet confessed four months after the murder via a text message to his cousin. (Source: Police Department/Getty Images)
A man who hammered his girlfriend to death chopped her body into pieces and flushed them down the toilet has been found guilty of murder.
Dean Lowe, 33, armed himself with rocks and a pole and killed his 32-year-old girlfriend Kirby Noden in their basement apartment.
Lowe claimed that the woman was alive and not dead, she was spraying her blood around their one-bedroom apartment in Marazion, Cornwall because she left him for another man.
Prosecutors told the Truro Crown court that the man committed the murder somewhere in January 2017 but it only came to light four months later when Lowe confessed to his family in Cheshire about his heinous act.
He contacted his cousin through a text message which said, "She's dead and has been chopped up and put down the toilet and in the bins down the road," a report in the Independent said.
Lowe's family reported the crime to the police and he was arrested at their flat. The police said the home had barely been altered since the murder.
Lowe admitted to the police that he killed Noden and flushed her body parts down the toilet but later denied it and pleaded not guilty to the murder.
A jury of six men and six women convicted him on Thursday after the hearings went on for over nine hours.
Speaking after the trial, Detective Inspector Ian Ringrose of Devon and Cornwall Police said Lowe had put Noden's family through "living hell" by not telling about the remainings of her body.
"Lowe had made certain disclosures in the Facebook messages and to the arresting officer to suggest that he had killed Kirby, disarticulated her body and disposed of her remains," he said. "The forensic examination of the scenes supported this and that there had been a sustained attack on Kirby and that Lowe was the person responsible for that assault."
The body remains of the woman were never found and an intensive investigation has been deployed to confirm the death.
"This has required extensive nationwide and international inquiries," he added. "Miss Noden's family have been put through a living hell with Lowe not disclosing where he disposed of Kirby's body and denying all knowledge in court.
Lowe added to their upset by insisting that Kirby was still alive."
He claimed that he last saw her between 10th and15th of January, that she left him for another man and was living in South Africa.
However, the prosecution said Lowe beat Noden to death and then disposed of her body. She is presumed to have been dead by 14 January, when Lowe attempted to use her bank card to withdraw money from an ATM.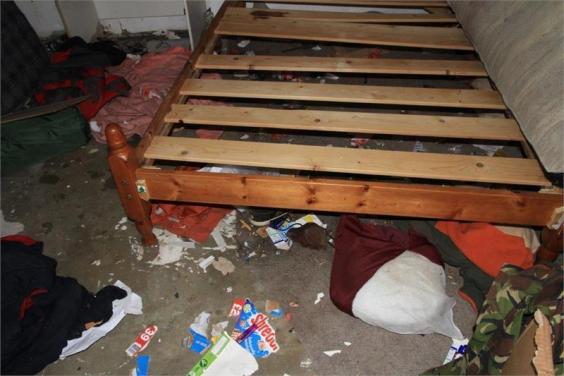 "Having killed her, the defendant moved her body, probably in pieces, and cleaned up the worst of the blood and cutting away the worst of the carpet," said prosecutor Paul Dunkels. "For four months, from mid-January to mid-May, he lived in the flat in the state it was in.
He said, "No one other than the defendant knew what had happened to Kirby Noden for five months until May of last year when the defendant began to send text messages to members of his family in Cheshire that there has been a body on the floor of the flat which he had cut up and put into bins and down the toilet."
The Jurors saw a series of text messages between Lowe and his cousin.
"She's dead and has been chopped up and put down the toilet and in the bins down the road.
"Either I'm getting set up or I've murdered Kirby. I had a blackout, hazy memory and woke up with a body on the floor. I am scared so I just got rid."
"I put the body in the bins down the road. I remember the binmen finding all the meat and didn't know what it was. The carpet was lifted because of the body matter.
"It took a week to get rid of the body, it was horrible. Head's gone. I know what I saw, it was real, it seems real. Either Kirby dead or set up."
In his evidence, Lowe told jurors he had known Noden since they were children because his father and her mother had been friends.
The couple, natives of Winsford in Cheshire, started a relationship at 25, later moving to Torquay together before becoming homeless and walking the coast path to Cornwall and ending up in Penzance.
The couple were homeless and even lived in a tent before. Lowe described this as a bad time because they had been "homeless quite a lot, drinking on the streets, taking drugs and trying to forget bad memories".
Sentencing was adjourned until next week at Exeter Crown Court.
In a statement, Noden's family said, "Dean Lowe has taken away from us something totally precious, and although we welcome this verdict, it will never replace our loss.