Lorna Tucker's documentary on Vivienne Westwood is a fascinating story on the punk designer's untold life
The beauty of Tucker's documentary lies in its telling of a story that's gentle, kind and empathetic towards the subject. Vivenne Westwood backstage ahead of her show during the London Fashion Week Men's June 2017 collections on June 12, 2017 in London, England. (Getty Images)
Dame Vivienne Westwood is an icon not just in the world of fashion but also in other universes that collide with it. She is undoubtedly an influencer of the punk movement, an imposing figure in environmental activism and Westwood's clothes, modeled after an aesthetic that's rebellious and irreverent, is an inspiration to women who live lives that are, in many ways, au contraire.
Lorna Tucker's documentary on the British fashion designer, aptly titled 'Westwood: Punk, Icon, Activist' explores these facets of her life in a narrative that's delightful, engaging and intimate, even if the subject of the documentary- Westwood herself- looks nonchalant throughout the interview process. She says at the start of the documentary, "I think what you will have to let me do is let me just talk and get it over with."
At the heart of Tucker's documentary lies the question: who is Westwood, the designer who became mainstream by creating subversive fashion? The answer, the film seems to say, lies in an investigation of her private and public life spanning over four decades. 'Westwood: Punk, Icon, Activist' adds layers to Westwood's personality by diving into her past, exploring her childhood in a working-class family in Britain, her struggle for money, Westwood's infamous relationship with Sex Pistols' manager, Malcolm Mclaren and her partnership with husband Andreas Kronthaler. The second half of the documentary focuses on her activism, her brand and her vision of the world.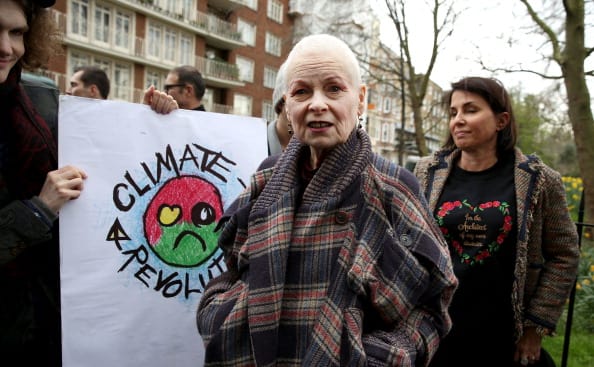 However, these two different worlds are woven together to lend meaning to Westwood's identity and ultimately, celebrate her life. Tucker, a London-based filmmaker, said in an interview with Meaww that she wanted the film to be fun even as she captured the hardships that underlined the British designer's life early on. What she really wanted to project was a rags-to-riches story of a woman who didn't stop doing what she believed in, and raised eyebrows while she was at it.
It's hard to feel inspired when the subject of the documentary, Westwood, doesn't feel heroic as she narrates her life. Nevertheless, Tucker's admiration of the British fashion designer shines through in the film and later, when she spoke to us. One of the most inspiring aspects of Westwood's life, Tucker said, was how relatable it was. The filmmaker added that she drew strength from Westwood when she was struggling with self-doubt.
Tucker said, "To see someone like her so high up in the industry to battle with herself or the quality of something or wondering if that was the right way to go about it, I could see similarities there." Indeed, the first scene of the documentary captures Westwood's frustration and self-doubt as she prepares her collection for Paris Fashion Week.
The beauty of Tucker's documentary lies in its telling of a story that's gentle, kind and empathetic towards Westwood's personality. In this context, one could easily miss the political themes embedded in it. For instance, 'Westwood: Punk, Icon, Activist' is coded with feminist politics. The designer stands out as an example of a woman who believes she is equal, no matter what society thinks.
"What Vivienne has shown is that she's a true feminist by fighting for what she believed in and she never once sat down and said I'm a female fashion designer or I'm a woman this or a woman that. She said, 'No, this is my voice and it will be heard' and that's what we need to take from Vivienne," Tucker said.
And in doing so, the audience takes away with it a key-hole perspective into the many ideologies that influenced her life as she transitioned from art school to a school teacher, opened a punk shop with former partner Mclaren, stepped into the world of fashion and became an activist. These big journeys, including Westwood's environmental activism which took her to the Arctic on a mission with the Greenpeace, are narrated rather matter-of-factly.
Perhaps that's why the designer issued a statement against Tucker's documentary. She issued a statement, "The Vivienne Westwood documentary set for release this year, Westwood: Punk, Icon, Activist, has been made and produced by a third party and as it stands isn't endorsed by Vivienne Westwood. Lorna Tucker asked to film Vivienne's activism and followed her around for a couple of years, but there's not even five minutes [of] activism in the film, instead there's lots of old fashion footage which is free and available to view online. It's a shame because the film is mediocre, and Vivienne and Andreas are not."
However, Tucker said in response that as a filmmaker, she wanted to make a documentary that was authentic. "Me wanting the film to be made in one way and her wanting the film to be made another way...that's a very common theme when you have a filmmaker making a portrait of an artist. When you're making a film, you have to stand firm and stand up to make the story authentic."
Tucker and Westwood worked on the documentary for three years after meeting in 2008 and the filmmaker said they didn't develop a great friendship but a relationship that was defined by mutual respect. "I look forward to rebuilding that relationship," she added.
Although the designer's review of the documentary wasn't favorable, Tucker's 'Westwood: Punk, Icon, Activist' premiered at the Sundance Film Festival this year and gained critics' praises. Perhaps Tucker's audience appreciated when she didn't question the 76-year-old fashion designer as she spoke in defiant yet reluctant tones about how she stepped into the labels that are now attached to her. That of punk, icon, and an activist.
Westwood: Punk, Icon, Activist is in UK cinemas now and will be released internationally later this year - for more information visit www.viviennewestwoodmovie.com