Living With Freedom | Anna Vasquez, part of the 'San Antonio Four', spent 13 years in prison for a crime she did not commit, her story is her legacy
Anna Vasquez was one of the four women accused of molesting two children in San Antonio back in 1994. The group went on to be famously known as the San Antonio Four. Living With Freedom is a special series by MEA WorldWide (MEAWW) that explores the lives of those wrongfully incarcerated after they are exonerated. Through these stories, we hope to give readers an insight into what it takes to start over.
"If I keep asking you to repeat yourself, it's because I'm in the mountains okay?" Anna Vasquez tells us laughing softly, making sure that we know that she wasn't trying to be rude. To anyone who doesn't know Anna's story, it would probably just sound like small talk but for those who do, it feels like being misunderstood is something she's still learning to live with.
Vasquez was one of the San Antonio Four, a group of women who were accused of sexually assaulting the seven and nine-year-old nieces of their friend, 20-year-old Elizabeth Ramirez, in the summer of 1994.
The four women, 19-year-old Cassandra Rivera, 21-year-old Kristie Mayhugh along with Ramirez and Vasquez, who was 19 at the time, were accused of having an orgy that included the four women sexually assaulting the children by inserting various objects such as tampons while being topless themselves. The alleged victims said that they were threatened with a knife and a gun by the women.
Just sometime before these wild accusations flew and the case caught the eye of many, the four women had come out as gay. The prosecution went at the women in full force. Dr. Nancy Kellogg, a professor of pediatrics at the University of Texas Health Science Center in San Antonio, testified that she had found evidence of a healed scar on the older girl's hymen and that the scar was evidence of sexual molestation. She also speculated in her notes that the acts were "satanic related" in nature. This, coupled with the older girl's testimony that the women molested them repeatedly sealed their fate.
Ramirez was accused of aggravated assault of a child and indecency with a child and was sentenced to 37½ years in prison in 1997. In February 1998, Mayhugh, Vasquez, and Rivera were tried together in Bexar County Criminal District Court and even though the women denied the allegations and told the jury that they spent the week doing routine, mundane things such as shopping and going to Arby's for lunch and were never there all at the same time, they were convicted of the same charges. They were sentenced to 15 years in prison.
By 2000, Vasquez had lost all her appeals and had to be sent to prison to start her time. "Funny as it sounds, it was almost like a relief, to tell you the truth," she tells us. The string of accusations had gone on for too long and the uncertainty of the situation just made it worse than it already was, she recalls. "The never knowing if it would be the last day of freedom for us was a constant weight over our shoulders." She remembers the toll it took on all of them. "After I lost, I told myself 'Okay, I'm incarcerated, I have to begin to figure this out for myself. I know what I'm facing and now I can focus on how to figure this out'," she says, "It was frustrating and stressful."
For someone who believed in the law as she did, this was a letdown that echoed through her existence. "I hoped and I still believed in the law," she tells us, sharing what kept her going through the difficult time. "I still believed that something would turn around. I know I was convicted but I still felt like somebody would see the truth," she says. "It was something that never occurred you know," she says, still in disbelief of what happened.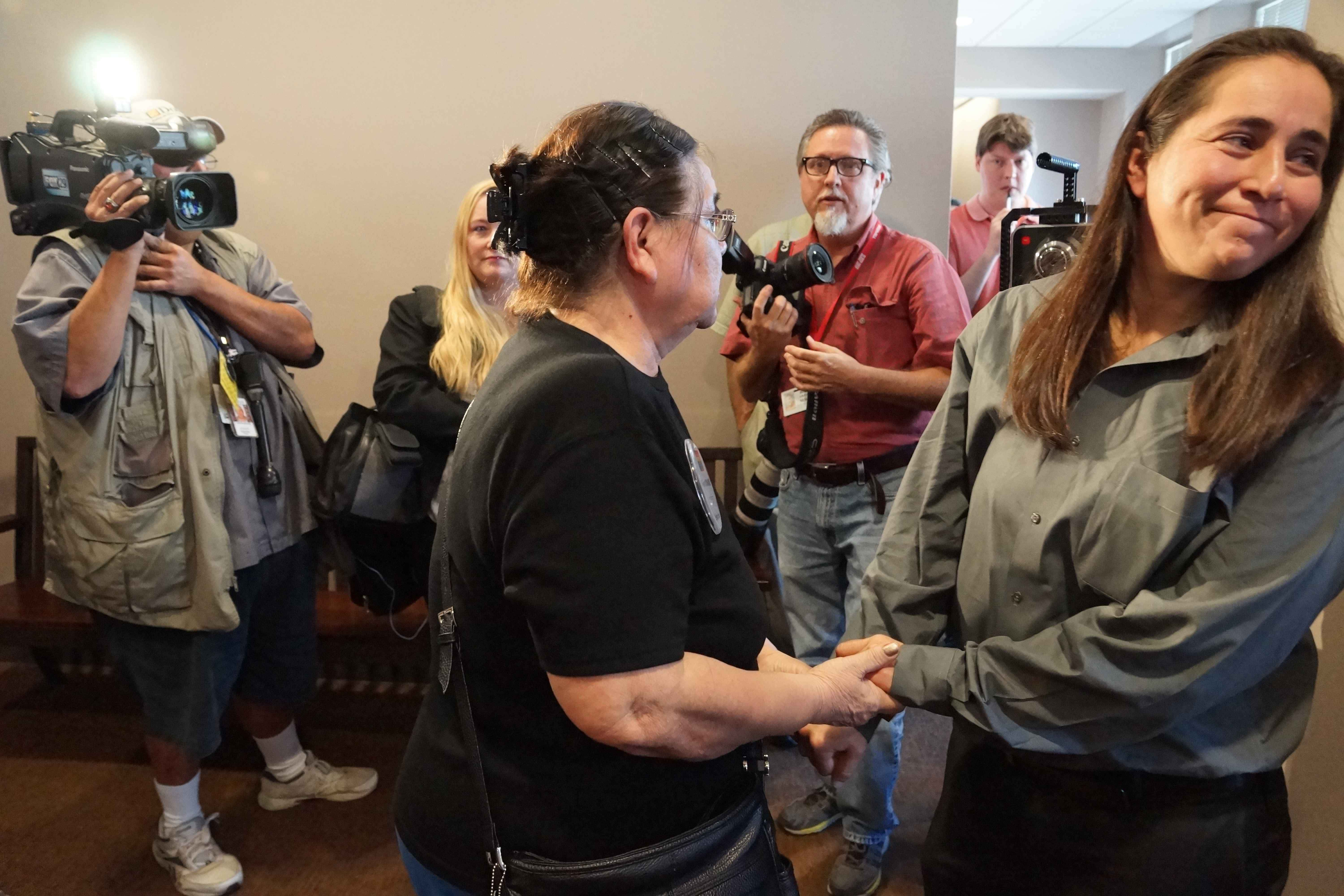 She was scared. She didn't know what to expect, never having any family or friends that had ever gone to prison, much less be locked up the way she was. All she knew was that she had to survive. There were things she saw that changed her forever. From knowing someone who had come in for sexually assaulting a child being raped by a group of women with a broomstick to seeing 17-year-olds beat up 60-year-old women, she shudders at the memories. They will haunt her forever, she says, but you're always walking that fine line and it's all about survival.
"It's just as bad in a women's prison," she says, pointing out that the place had its own "codes". "If you were out here, you would try to do everything to help the elderly lady, but there, if you did, you'd be called a snitch and your life would be in danger," she says.
All that helped her through this dark time was her faith in God and her strength to forgive those who hurt her. "I had support but I would be lying if I said I didn't have doubts and bad days," she says. "I'm just grateful I was able to kick myself up and get out of that depressed mode," she says. A little over two years later, she decided she would move on from the humiliation and the disbelief and begged god for strength. "I was angry at the people who put me away," she says, "but you have to move on from that - all it does is hurt you," she says.
It was only almost a decade later that the San Antonio Four would go on to be exonerated with the charges against them being proven untrue. Stephanie, the younger alleged victim would go on to say that she and her sister had made the false claims after being pressured by their father, Javier Limon after Ramirez rejected his romantic advances. But even years before the truth revealed itself Vasquez says she still didn't blame the children.
"All four of us, we never blamed the children. We knew someone else was behind this," she notes. "Stephanie apologized profusely. It was very brave of her to go against her family and tell the truth," she shares, recalling the time they met after the case was being freshly investigated by the Innocence Project of Texas. The older sister, Vanessa, didn't want to support either party.
But coming out from behind bars was another struggle altogether. She was exonerated in 2016 along with her three friends but was released on parole in 2012 while others were released in 2013. The story also inspired a 2016 documentary that played a crucial role in bringing their truth to the public named 'Southwest of Salem: The Story of the San Antonio Four'.
When she went to jail, there were pagers and beepers and when she came out cell phones were the rage. Her city had grown so much, she recalls fondly and so had the gay community. "They didn't have to hide anymore. They could be affectionate," she says. She wasn't however, free. Because she was on the sex offenders registry, she couldn't be friends with anyone who had a child below 17 years of age, leaving her friendless. It was only in January this year that her record was expunged. "I understand it - if I had a child, I don't want anything happening to them but at the same time it was, unfortunate that I fell under the category," she says.
But nothing could have prepared her for the uphill task, that was finding a job. Things had changed - it was all on a computer and there was almost instant rejection. "It's hard to sell yourself through it," she says matter of factly, especially for someone who has lost 13 years of their life. You check the conviction box and you're done. Thankfully, she had a friend who had some background in HR, who helped her get a job.
She's the Outreach and Education director of the Innocence Project of Texas, she's part of the San Antonio Crime Coalition Board and recently was asked by Houston Mayor Sylvester Turner to be on the board of directors of the Houston Forensic Science Center.
Today, she is stronger than ever. Before she was incarcerated she had wanted to be a nurse, join the military or even become a police officer, so she felt an inkling to be of service. "The scales of justice should be equal and it's not and it should be," she says.