'Legacies' Season 2: Our top 5 favorite moments including return of the OG cast, Vardemus and Josie's Japanese Due to the coronavirus pandemic, many of our favorite television shows had to shut down production early, leaving them to end earlier than expected as the remaining episodes were not shot. 'Legacies' on The CW was one of the shows affected, whereas it was supposed to end with Episode 20 this season, last week's Episode 16 will be the last of the series for a while.
However, showrunner Julie Plec has stated that once production resumes, the show plans to pick from where it left, which is a good thing as 'Legacies' left us with many unanswered questions.
While we mourn the premature end of 'Legacies', we wanted to take a look back at some of our favorite bits through the season, which still featured the monster-of-the-week trope for the most part while bringing back an original villain.
Return of OG cast
Season 2 featured the return of Kai Parker (Chris Wood) from 'The Vampire Diaries' (TVD) and Freya Mikaelson (Riley Voelkel) from 'The Originals'. As it is aptly named, 'Legacies' carries forward the legacies of those shows. Fans loved the return of Freya and Kai, who returned in different episodes. Freya reminded us of how much we miss 'The Originals' which took the TVD universe to new heights, while Kai reminded us how good 'The Vampire Diaries' got in its second half.
Alaric Saltzman (Matthew Davis) getting to behead Kai was a moment we have all been waiting for for years. Moreover, Hope Mikaelson's (Danielle Rose Russell) reunion with her aunt Freya was one of the most emotional scenes of the season.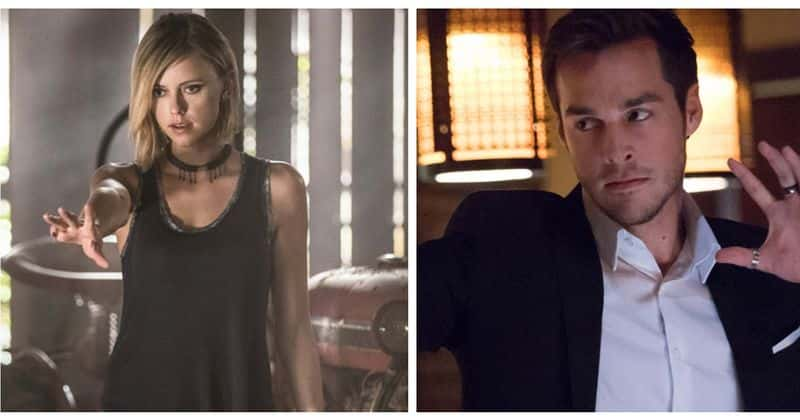 Rupert Vardemus
This is an odd one but it is also based on our hopes for Alexis Denisoff to stick around in 'Legacies' as Rupert Vardemus. When we first met Professor Vardemus, he had taken over as Headmaster of the Salvatore School from Alaric Saltzman.
Though the first Vardemus was actually Ryan Clarke (Nick Fink), Malivore's clay son who was the main villain in Season 1, we meet the real Vardemus later on. Combined with Dark Josie (Kaylee Bryant) and Vardemus's role as an advisor for the students, we got a real 'Buffy the Vampire Slayer' vibe for a minute.
If Denisoff chooses to return as Vardemus, especially now that teachers Dorian Williams (Demetrius Bridges) and Emma Tig (Karen David) have left for good, it would be cool to see actual adults helping the young witches, vampires, werewolves, tribrid, and phoenix to navigate the messy world they inhabit.
Josie speaks Japanese!
In Episode 4 of Season 2 of 'Legacies', aptly titled 'Since When Do You Speak Japanese?', the monster and the monster-hunter that terrorizes Mystic Falls is an ancient Japanese spirit called oni which is being hunted by an ancient samurai.
The samurai only speaks Japanese and just when we thought there was no way the Super Squad to decipher what he was saying, Josie Saltzman effortlessly translates back and forth between the samurai and everyone else.
The moment was especially intriguing as it reflected Kaylee Bryant's (who plays Josie)Japanese ancestry. In an interview with Seventeen magazine, Bryant said, "The reality is that I have been speaking Japanese for quite a while and my grandpa is Okinawan so I've heard Japanese my entire life. And so it was just a lot of fun to have Soji Arai, who is from Japan, and I got to speak and kind of get back into my conversational mode with my language skills that have very much gone very poor over time."
Have you met Ted?
The winter finale of Season 2 of 'Legacies' finally revealed that the villain under the Red Hood was the Necromancer. Of course, by then most of us probably forgot what happened. The next episode, however, showed us how the Necromancer became Ted after Malivore tried to give him another life as a normal person.
But Ted wasn't happy with his new life. He soon turned his new acquaintance, Chad, into his follower and tried to become the Necromancer again. In his quest for revenge and power, the Necromancer killed many.
One of the unfortunate things about Season 2 ending early is that we didn't get to see what the Necromancer's endgame was. In the final episode we saw, he absorbed Josie's dark magic and became even more powerful.
Landon can do more than just burst into flames
Midway through Season 1, we learned that Landon Kirby (Aria Shahghasemi) was a phoenix. This means whenever he is killed, he bursts into flames and a regenerated Landon bursts out of the ashes. Landon, and the rest of us, have been wondering what other powers he could have.
Season 2B felt more like a self-discovery journey for Landon who was tired of being the "damsel in distress" and wanted to do more to help his girlfriend, Hope, to defeat the monsters. In Season 2, Landon also discovered he could fly. In fact, he could turn full Phoenix!
Share this article:
Legacies CW 5 favorite moments of Season 2 return Kai Freya Vardemus Josie speaks Japanese Landon