Kit Harrington and Rose Leslie's Westeros inspired wedding has it all: Guests, castle, romance et al This Westeros wedding will be everything that the Red Wedding wasn't. 'Game of Thrones' stars Kit Harrington and Rose Leslie are on their way to getting married this weekend and what's better? The venue is Scotland. The couple who confirmed their relationship back in 2016 and later announced their engagement in The Times last September, are tying the knot at the grand Wardhill Castle in Aberdeenshire.
As per latest updates, their GoT co-star, Peter Dinklage, who plays the role of Tyrion Lannister on the show, was spotted landing in Aberdeen airport on Friday afternoon all geared up with headphones, a black beanie, and a stylish leather jacket. He is said to have arrived from Belfast along with the show's producer, D.B Weiss shortly after 1 pm.
Accompanying them not so long after was also her reigning highness, the Khaleesi aka Emilia Clarke, who plays the role of Danaerys Targaryen on the show. She decided to keep it casual chic for the arrival all clad in white jeans, shades and an elegant scarf. She is believed to have arrived from Heathrow. But of course, no Stark wedding can be complete without the sisters, Sansa and Arya — aka Sophie Turner and Maisie Williams — both of whom are expected to arrive later in the day.
But what has kept fans thrilled about the wedding ever since the engagement's announcement, is it being a Westeros-inspired affair - set to be delivered by a hooded Benedictine monk from the famous Ampleforth Abbey in North Yorkshire. Father Chad Boulton is supposed to marry the couple.
The couple's romance has been a dream come true for all fans and 'shippers' of the on-screen duo; their engagement announcement in The Times on spurring the gushing more. It read, "MR. K.C. HARINGTON AND MISS R.E. LESLIE. The engagement is announced between Kit, younger son of David and Deborah Harington of Worcestershire, and Rose, middle daughters of Sebastian and Candy Leslie of Aberdeenshire."
Speaking about what made him fall in love with his on-screen flame, Harrington had spoken about how the initial days of their adorable romance while filming in Iceland for Season 2 of Game of Thrones, were the best two weeks of his life. "Because the country is beautiful, because the Northern Lights are magical, and because it was there that I fell in love," he shared in a cover story for L'Uomo Vogue. "If you're already attracted to someone, and then they play your love interest in the show, it becomes very easy to fall in love."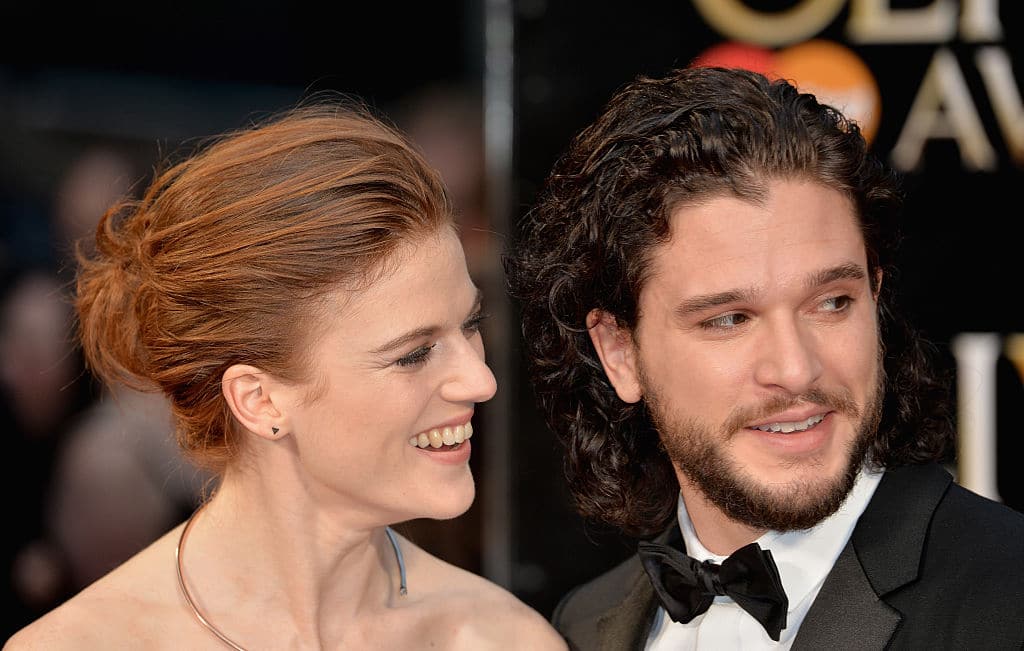 And if that didn't make you go "aww", this sure will. The castle hosting their wedding happens to be the venue of their wedding, has been owned by the Leslie family for a staggering 900. It currently happens to be in the hands of Rose's brother Will. With eight bedrooms and six modern bathrooms, the grand piece of architecture is set in 700 acres of park and woodland in Meikle Wartle. As per Airbnb's listings, it costs £2,200 per night and is next available on June 27.
An imposing entrance hall — all set with an open fireplace and a decorative ceiling that screams grandeur, the castle is sure to turn the wedding into a cozy, yet elaborate affair — especially with its rather snug library and two AGAs in the kitchen. The Wardhill Castle website claims it can accommodate up to 80 guests at the wedding reception in the drawing room or even erect a marquee in its surprise element which happens to be a walled garden hidden in the woods. And that's not all: there's also some pretty impressive prospects of fireworks display on the terrace.
---
Let's just hope the on-screen couple's off-screen wedding goes without a glitch especially considering this is the only chance that ardent fans of the show will get a chance to witness the Jon Snow and Ygritte wedding that never happened, even though it should have. But Wardhill isn't the only castle owned by the Leslies that will welcome guests in for the wedding, as Rose's mother, Candy, is also expected to be hosting guests at the nearby Lickleyhead Castle, which is another ancestral property of the family.
Dating back to the 16th century, Lickleyhead Castle brags of seven bedrooms — each with their own personal attached bathroom, some of which are even tucked away in turrets. The best part? The home can be rented from £600 a night — simple, yet elegant, much like the Starks, isn't it?
Much like Wardhill, this venue is also set up in a pretty little parkland and can easily accommodate up to 14 guests; hint: best venue for super fans of the show to gather around and hold a cozy meeting discussing plots and conspiracy theories!
Its traditional decor is much in accordance with the castles and four posters that fans are accustomed to seeing on the show. And for every last bit of an Iron throne-holding experience, the rooms come with WiFi and their full SkyTV packages.
There's an original medieval open fireplace in the Great Hall too and of course - a snug kitchen complete with an AGA. The surprise element? A beautiful barbeque area with a stream running alongside. Very GoT meets Narnia-esque, indeed!
Share this article:
Kit Harrington and Rose Leslie's Westeros-inspired wedding The guests the castle the romance, et al