Kanye West reveals how close Kim Kardashian was to Clintons, says he was 'shocked' LOS ANGELES, CALIFORNIA: In the midst of Kanye West's latest controversy over 'White Lives Matter', he spoke to Fox News host Tucker Carlson on Thursday, October 6, and took a dig at his ex-wife Kim Kardashian saying he was shocked to learn Kim had a close relationship with the Clintons. Kanye West landed in Los Angles at made his first stop at the Fox station to talk about his controversial 'White Lives Matter' fashion show concept.
During the interview with Tucker Carlson, the 45-year-old rapper made another revelation saying, "I didn't know how close Kim was to Clinton during their marriage. Tucker then asked, "how close was she to the Clintons?" "I mean cell phone away," Kanye explained in the interview. Close enough to say "Tell Kanye to say this, or close enough to use our platforms to push vaccinations," he continued.
READ MORE
Gabriella Karefa-Johnson reveals 'fat phobia jumped out' after being body shamed during Kanye West feud
'You cannot bully me': Bob Marley's granddaughter Selah defends wearing Kanye West's 'WLM' sweatshirt
Kanye said, "It was interesting, friend of mine told me that Kris and Kim had called him because he had influence inside the black community. And had called him to say, to get him to influence people to take the vaccination. And I don't have opinion on that I just wanted to state that as a statement. It was wild that I didn't know how close my own wife was to the Clintons, I didn't know, I didn't realize it at the time." Tucker further asked Kanye if he felt at times like he was being manipulated by political forces through his wife and the rapper responded, "Attempted manipulation, me not saying I liked Trump was a form of manipulation"
Carlson told his viewers that Kanye was surprised to learn after his divorce that "his former wife had a close and secretive relationship with the Clintons, and that they were working on her to influence him to read from the script." The interview aired at 8 pm EDT on Fox News days after the rapper's widespread controversy surrounding 'White Lives Matter' T-shirt, at his YZY fashion show in Paris. His surprise fashion show was widely condemned by fans and fashion industry luminaries and led Adidas to put its relationship with him "under review."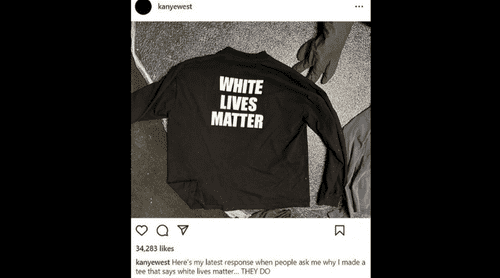 The Yeezy mogul who is currently facing backlash over his 'WLM' clothing line, compared his stunt to Tonya Harding instinctively landing the first triple Axel at the 1991 Olympics of US Figure Skating Championships in Minneapolis. He told Fox host Tucker, "I do certain things from a feeling, I just channel the energy it feels right. Hits using a gut instinct, connection with god and just brilliance." "They asked Tonya Harding how she did the triple flip and she was in so much practice that when it was time for her to skate in a competitive format it just happened. It happened outside of practice that happened in the real format, Kanye added. "That's what's happening. God is preparing us for the real battles. We are in a battle with the media."