Kanye the Confused? Rapper wears MAGA cap with Kaepernick jersey in baffling fashion statement Rap star Kanye West paid homage to both Donald Trump and Colin Kaepernick, two personalities on opposite ends of the political spectrum, in his latest fashion statement, confusing many of his followers as well as critics. The 41-year-old 'Good Life' music producer was spotted wearing a 'Make America Great Again' cap while donning a jersey emblazoned with Kaepernick's name.
Though Kaepernick and other NFL players who have kneeled during the national anthem maintain that their protest is about police brutality resulting in the deaths of unarmed black Americans, that hasn't stopped their critics, including President Donald Trump, from claiming that Kaepernick is disrespecting his flag and country.
The former San Francisco 49ers quarterback was notoriously derided by President Trump, who called him a "son of a b***h" for kneeling during the national anthem. The US commander-in-chief also urged stakeholders and team owners at the NFL to fire all players who refused to respect the star-spangled banner before games.
However, Kanye has a different message for his supporters - telling them they can be free to support any or both of them and not be ridiculed for it. The rap megastar donned his controversial attire during a visit to the Fader magazine office in New York.
Andy Cohn, the outlet's president, shared a photo of Kanye showing him speaking to his staff while playing them some of his new creations, The Sun reports.
That said, Kanye has been quite open about his support for President Trump. He reportedly enraged quite a few of his fans when he expressed his admiration for the US leader. After his visit to the Trump Tower in 2016 following the real estate mogul's landslide election victory, he called the Republican president-elect "my brother".
At the time, he claimed both him and Trump shared "dragon energy" and tweeted: "You don't have to agree with Trump but the mob can't make me not love him." Kanye has voiced his support for Trump ever since he was battling fellow Republicans in the primaries back in September 2015.
Trump was asked to comment on the rapper's frivolous announcement that he would run for the presidential office in 2020, to which the Reality TV star said, "You know what, I'll never say bad about him. You know why? Because he loves Trump. He goes around saying, 'Trump is my all time hero.' He says it to everybody. So Kanye West, I love him."
Earlier this month, Donald Jr., the president's eldest son, caused a stir when he "fixed" Nike's new ad featuring Kaepernick by replacing his face with his father's.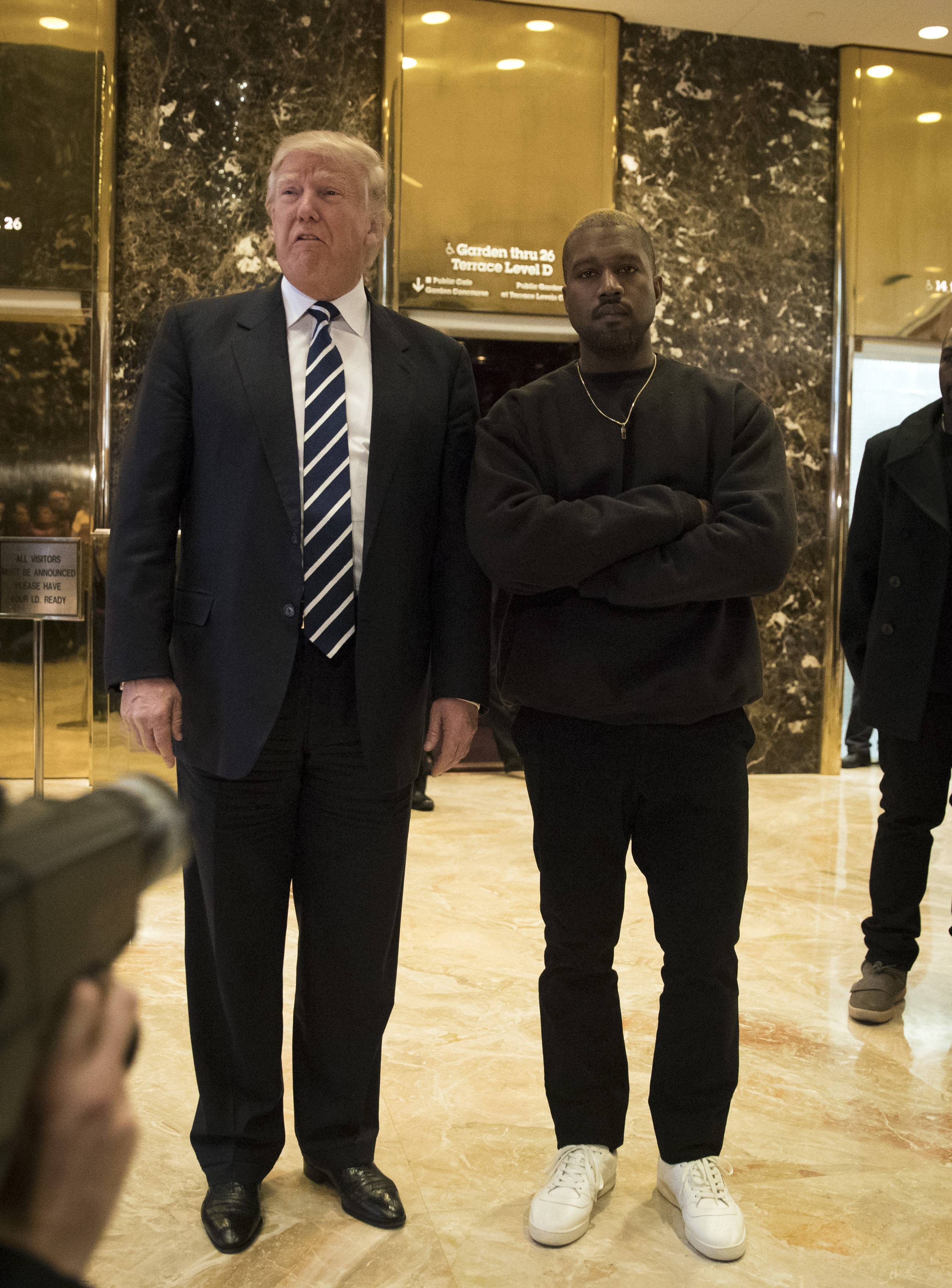 In the original ad campaign, the image featured a grayscale version of Kaepernick's face, reading: "Believe in something. Even if it means sacrificing everything." But Trump Jr. thought the ad was faulty and shared his version on Twitter, captioning his post with a message: "There, fixed it for you. MAGA."
After Nike's initial ad surfaced, several patrons of the brand threatened to boycott its products. Some went a step further and shared footage of themselves setting their gear on fire. However, the boycott backlashed with the #BurnYourNikes hashtag currently heavily populated by those mocking the performance, pointing out that destroying Nike goods that are already bought and paid for doesn't actually hurt Nike's bottom line. In some cases, burning Nikes might inadvertently be advertising for the company.
However, last week, rap sensation Snoop Dogg called Kanye and others supporting President Trump "racist...motherf*****s." In conversation with Sirius XM radio station, the discussion moved to West's politics and his support for the president, prompting the singer to make an angry speech about the US leader.
He said: "[Trump] drew the lines, he drew the motherf*****g lines. If you like [Trump], you're motherf*****g racist." He added: "Kanye too. Don't forget about him too. F*** you too. Throw him in the bag too, because he's right with them motherf*****s."