Escape at Dannemora: Joyce Mitchell, the tailor who helped two murderers in infamous prison break is denied parole Joyce Mitchell, a New York prison tailor who helped two killers escape the Clinton Correctional Facility in Dannemora, has been denied parole for the third time. Mitchell was recently immortalized by Patricia Arquette in the Showtimes series 'Escape at Dannemora'.
A parole board decision released Thursday says Joyce Mitchell will remain behind bars for at least two more years and will be up for parole again in June 2021.
The 55-year-old is currently being held at Bedford Hill. She is serving her seven-year sentence which she was given in September 2015. The reason for the denial of parole was not elaborated.
Mitchell was involved in helping prisoners Richard Matt and David Sweat escape the facility in Dannemora in June 2015. Both were serving life sentences without parole for murder.
They escaped by digging a tunnel out of the prison with the help of Mitchell and prison guard Gene Palmer. Mitchell admitted that she had provided hacksaw blades and other tools to both men. Sweat, who was 38, and Matt, who was 49, were both eventually found.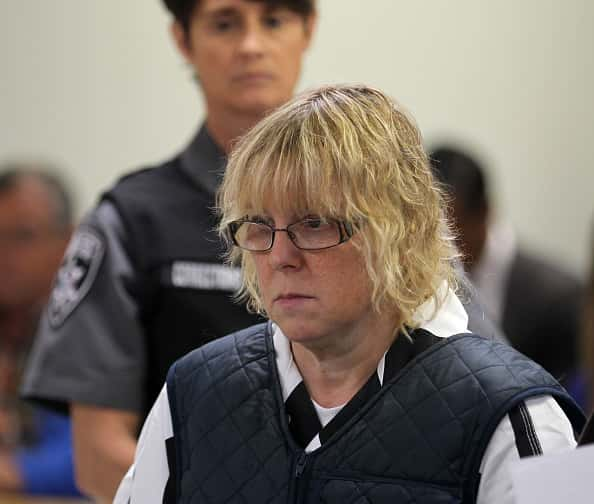 Nearly three weeks after the escape, Matt was found at Malone, New York, where he was shot and killed. Just two days later, Sweat was shot and taken into custody. Sweat was moved to a Special Housing Unit in the maximum security Five Points Correctional Facility in Romulus, New York in July. Their prison break was compared to the one in Stephen King's 'The Shawshank Redemption'.
The Dannemora prison break caught the interest of pop culture. Lifetime's 'New York Prison Break: The Seduction of Joyce Mitchell' was a 2017 TV movie in which Penelope Ann Miller starred as Joyce Mitchell, with Matt played by Myk Watford and Joe Anderson as Sweat. It was directed and written by Stephen Tolkin.
Showtime adapted the story into a multi-part series in 2018 titled 'Escape at Dannemora' which was created and written by Brett Johnson and Michael Tolkin. The series was directed by Ben Stiller and starred Benicio del Toro as Matt, Paul Dano as Sweat and Patricia Arquette as Mitchell. Arquette's bang on performance earned her the Best Actress award at the Critic's Choice Awards that year, along with a Golden Globe.
Oxygen Network premiered a special titled 'Dannemora Prison Break' which featured Bryce Dallas Howard as the narrator.
However, unlike Stiller's show, she denied having consensual sex with the escapees. "I never had sex with them," she told a reporter in an interview with The New York Post, and called Ben Stiller "a son-of-a-bitch liar just like the rest of the world. He doesn't care about the truth. All he cares about is making millions off me. He's an idiot."
"I was stupid. They took advantage of my kindness," she added in the interview, "I wish I could take it all back. If I had to do it over, I would have told somebody."
Share this article:
Joyce Mitchell escape at Dannemora denied parole Patricia Arquette Showtimes series