Joe Biden starts reversing Trump's 'Remain in Mexico' program, to allow asylum seekers to enter US from next week
DHS officials said the first-wave of an estimated 15K asylum-seekers will be allowed to enter the US territory on February 19 President Joe Biden starts process to reverse Donald Trump's 'Remain in Mexico' program (Getty Images)
The Joe Biden administration on Friday, February 12, said it will start processing tens of thousands of asylum seekers who were made to wait in Mexico under a rule of the Donald Trump presidency to get a shelter in the US. Around 28,000 asylum seekers, comprising mainly people from Cuba, Guatemala and Honduras, are facing active cases under Trump's Migrant Protection Protocols (MPP), also known as the "Remain in Mexico" program. It is one of the many policies that the previous administration followed to make humanitarian protection for the immigrants almost impossible.
According to Homeland Security Department officials, the first wave of an estimated 25,000 asylum-seekers in the "Remain in Mexico" program will be allowed to enter the US on February 19. The beginning will be gradual with two border crossings processing upto 300 people a day each while a third one will take in fewer numbers. It is expected that by May end, the entire procedure will end.
RELATED ARTICLES
Is Trump's border wall canceled? Joe Biden revokes emergency order and stops funding for 'unwarranted' move
Joe Biden plans to grant citizenship to 11M illegal immigrants on day 1, ending Donald Trump's restrictions
Joe Biden aide tells 8,000 Honduran immigrants to go back, says 'border situation won't change overnight'
While this is a major step towards dismantling one of Trump era's most consequential policies to deter the asylum seekers from coming to the US, the Biden administration has not publicly identified the three above-mentioned crossings fearing that revealing the names could see them getting overcrowded. Associated Press though cited Henry Cueller, a Democratic representative from Texas, as saying that he knew from official sources that the crossings could be Brownsville and El Paso in the Lone Star State and San Ysidro in San Diego, California.
"The migrants will be given an appointment to cross, tested for Covid-19, admitted to the US, and placed in "alternatives to detention" programs, under which migrants are released into the US but monitored, usually by a social worker, in an effort to encourage them to show up for their immigration court dates. Such programs are humane and relatively low cost compared to immigration detention," Vox reported.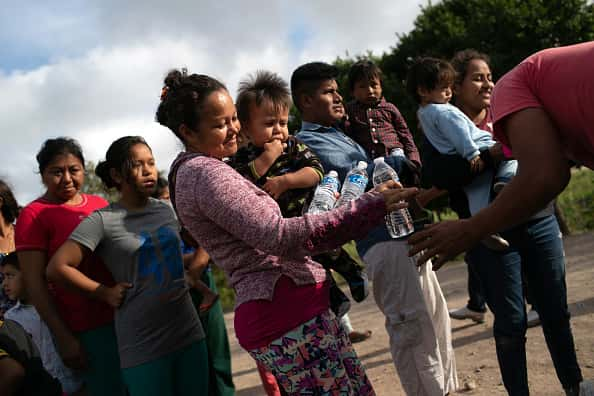 Still, Biden is accused of not acting quick enough
Biden's decision to begin the processing of asylum seekers subject to the MPP program suggests that he is taking the immigrants' issue more compassionately and seriously. However, there are still some immigrant advocates who believe that the new president is not acting quick enough to reverse Trump's policies (despite the fact that he has signed a lot of executive orders already on immigration), including a Centers for Disease Control and Prevention (CDC) order that has allowed Washington to turn away migrants arriving at the US border on reasons related to the pandemic. On Wednesday, February 10, White House Press Secretary Jen Psaki said the CDC's order will remain in place as of now.
---
White House press secretary Jen Psaki says the Biden administration will continue to expel most migrants and asylum-seekers from the US-Mexico border under a Trump-era pandemic policy.

"The vast majority of people will be turned away," she said.

— Camilo Montoya-Galvez (@camiloreports) February 10, 2021
---
---
Asylum processing along the border "will not occur immediately," Psaki said.

She said there have been "incredibly narrow and limited circumstances" in which migrants have been released to wait for their court hearings in the US.

— Camilo Montoya-Galvez (@camiloreports) February 10, 2021
---
---
Pres. Biden ordered the CDC last week to review the expulsions, which were enacted on public health grounds.

Three Trump admin officials said the CDC approved the policy under White House pressure.

One former CDC official said "we were forced to do it."https://t.co/aumFULfKGT

— Camilo Montoya-Galvez (@camiloreports) February 10, 2021
---
More than 71,000 migrants have been subject to MPP over the lifetime of the program as of the end of last month, Vox cited new data from the Transactional Records Access Clearinghouse at Syracuse University as saying.
Before the Covid-19 pandemic set in, asylum-seekers would often have to wait for a long time for getting a hearing. In March 2020, however, the Trump administration indefinitely suspended all their hearings. Having been left waiting for many months in Mexico before their court dates arrived, many migrants enrolled in the MPP decided to return home or were ordered to be deported in their absence. The Biden administration signaled that they wanted to identify those people and admit them to the US for an opportunity seeking protection. Those people who continued to wait in Mexico's border cities remained vulnerable to extortions, kidnapping, rape and other criminal activities. Last month, Biden announced that the US would halt enrolling people in MPP but did not scrap it entirely.