Bill Clinton sleeps during Joe Biden's inauguration speech, Internet lauds former POTUS for 'keeping it real' As Joe Biden was sworn in as the 46th President of the United States at an inauguration ceremony in Washington, D.C. on January 20, one of his predecessors didn't seem too excited by the proceedings. Former President Bill Clinton was caught on camera catching a shut-eye while being seated among fellow presidents, vice presidents, and their families as the events progressed. Eagled-eyed observers couldn't help but notice Clinton in glorious slumber behind his COVID mask as he sat next to his wife, 2016 presidential hopeful Hillary Clinton.
"Bill Clinton wasn't asleep. He was resting his eyes. Chill on Bill," one tweeted. "Bill Clinton getting lulled to sleep by Biden's speech," another added, sharing a brief clip from the event. "Bill Clinton really took the whole "we can all sleep well now" to heart! #InaugurationDay," a third wrote.
"So good it put Bill Clinton to sleep. In Bubba's defense, Jill Biden and the Biden girls look nothing like the former First Lady and Ivanka," one user quipped in response to Fox News' Chris Wallace calling Biden's inaugural speech the "best" he's ever heard. "Bill Clinton always keeping it real. My dude is straight asleep during the speech lol," another added.
The slimmed-down guest list for Wednesday's Inauguration Day was headlined by the Obamas, the Bushes, and the Clintons. Former first ladies Hillary Clinton and Michelle Obama arrived with their husbands at around 10 am local time. As the former first couples arrived, some of the most recognizable congressional leaders also began to show up. Finally, Biden, 78, and his wife Jill Biden exited a motorcade with Vice President-elect Harris, 56, and soon-to-be second gentleman Doug Emhoff. Meanwhile, a number of celebrities were spotted at the events, including Lady Gaga, who sang the National Anthem, Jennifer Lopez, who performed 'This Land is Your Land', Rosario Dawson, and her boyfriend, New Jersey Sen. Cory Booker.
Trump, who didn't attend the ceremony, left Washington DC for Joint Base Andrews in Maryland earlier in the day to speak at a brief farewell ceremony. He later flew to Florida on the Air Force One for one last time. "We have the greatest country in the world, we have the greatest economy in the world, and as bad as the pandemic was we did something that is really considered a medical miracle," he told his supporters. "I just want to say you are amazing people. This is a great, great country. It is my greatest honor and privilege to have been your president."

The 45th President reassured his supporters during his remarks on the tarmac, vowing to always be there for them. "I will always fight for you. I will be watching, I will be listening and I will tell you the future of the country has never been better. I wish the new administration great luck and great success. They have the foundation to do something really spectacular and in a position like it has never been," he said.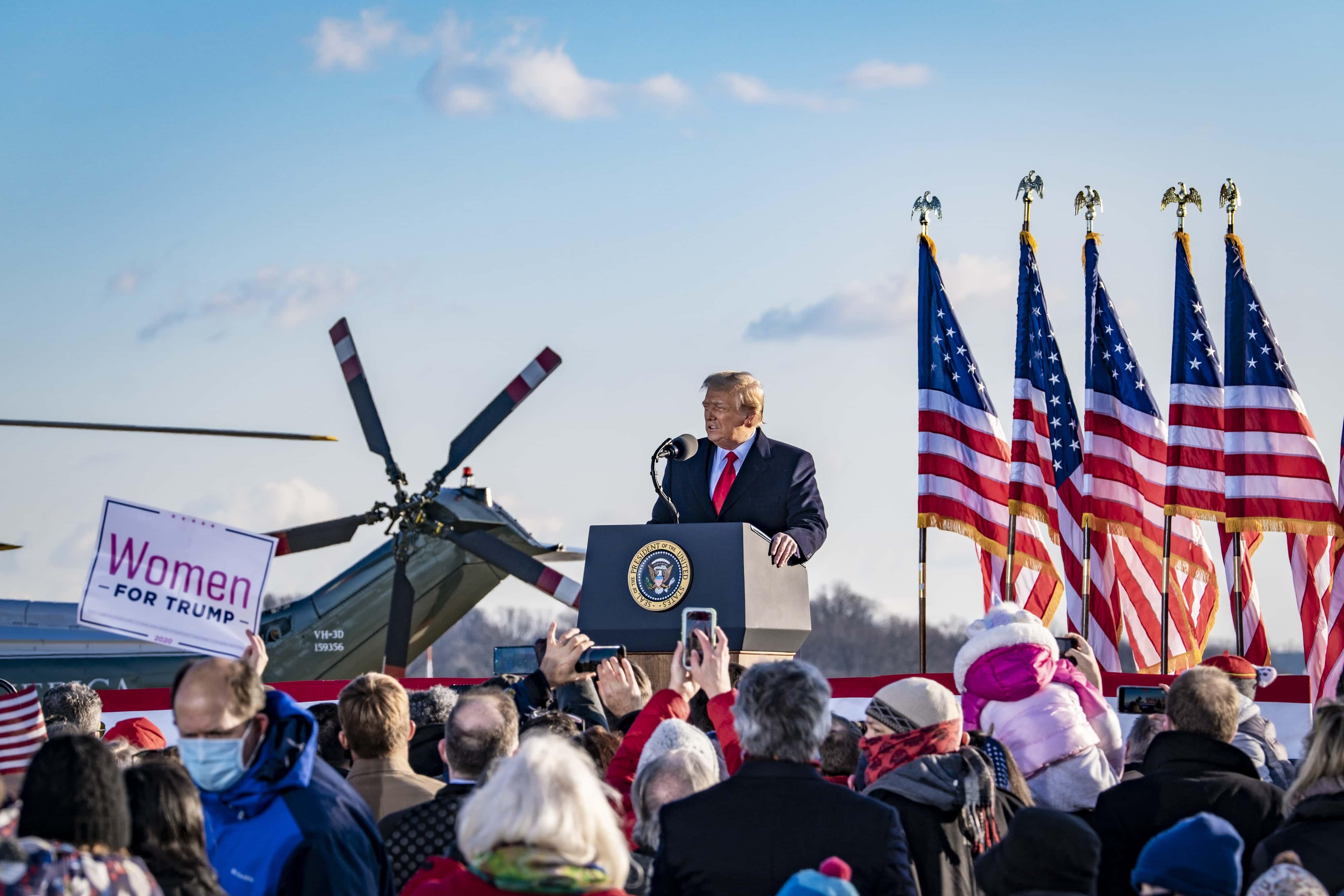 Trump also noted the record-breaking number of votes he received in the election but did not refer to himself as the winner during his speech. "A lot of obstacles, we went to the obstacles and you get 75 million votes in the history of sitting presidents. It is an all-time record by a lot by many millions, really just an honor," he said. In conclusion, Trump promised that "we will be back — in some form" and told his supporters: "Have a good life. We will see you soon."