Jill Biden stunned by swim team chanting 'Dr Biden', flaunts Team USA uniform at Tokyo Olympics First Lady Jill Biden showed her support for Team USA during the Tokyo Summer Olympics by donning their uniform on Saturday, July 24, while attending the 3x3 basketball and swimming contests at Tokyo Olympics 2020.
The wife of President Joe Biden, 70, was seen cheering different US teams at events after hosting a watch party at the US Embassy for the Team USA-Mexico softball game. At the events, she wore an official Team USA Ralph Lauren ensemble along with a matching face-mask. Jill Biden could not maintain her diplomatic calmness after Team USA defeated the No 1-ranked France 17-0 at 3x3 basketball, a sport which made an Olympic debut this year. Despite being seated one row behind French President Emmanuel Macron, Jill was seen jumping to her feet and clapping near the end of the game.
READ MORE
'Jill Biden cares': First lady's 'LOVE' blazer compared to Melania Trump's 'I don't care' jacket
Tokyo Olympics: Trolls mock Jill Biden for polka dot dress at opening ceremony
Regarding her outfit, the FLOTUS said that wearing the official Ralph Lauren-designed Team USA outfit made her "feel like a new kid — a kid on the first day of school," while she delivered her remarks to foreign service officers and their families. She added: "You know how you have all your new clothes, but you didn't wash them — so these jeans are so stiff. So, note to self. I'm really excited for this game aren't you? As you can see, I'm all decked out."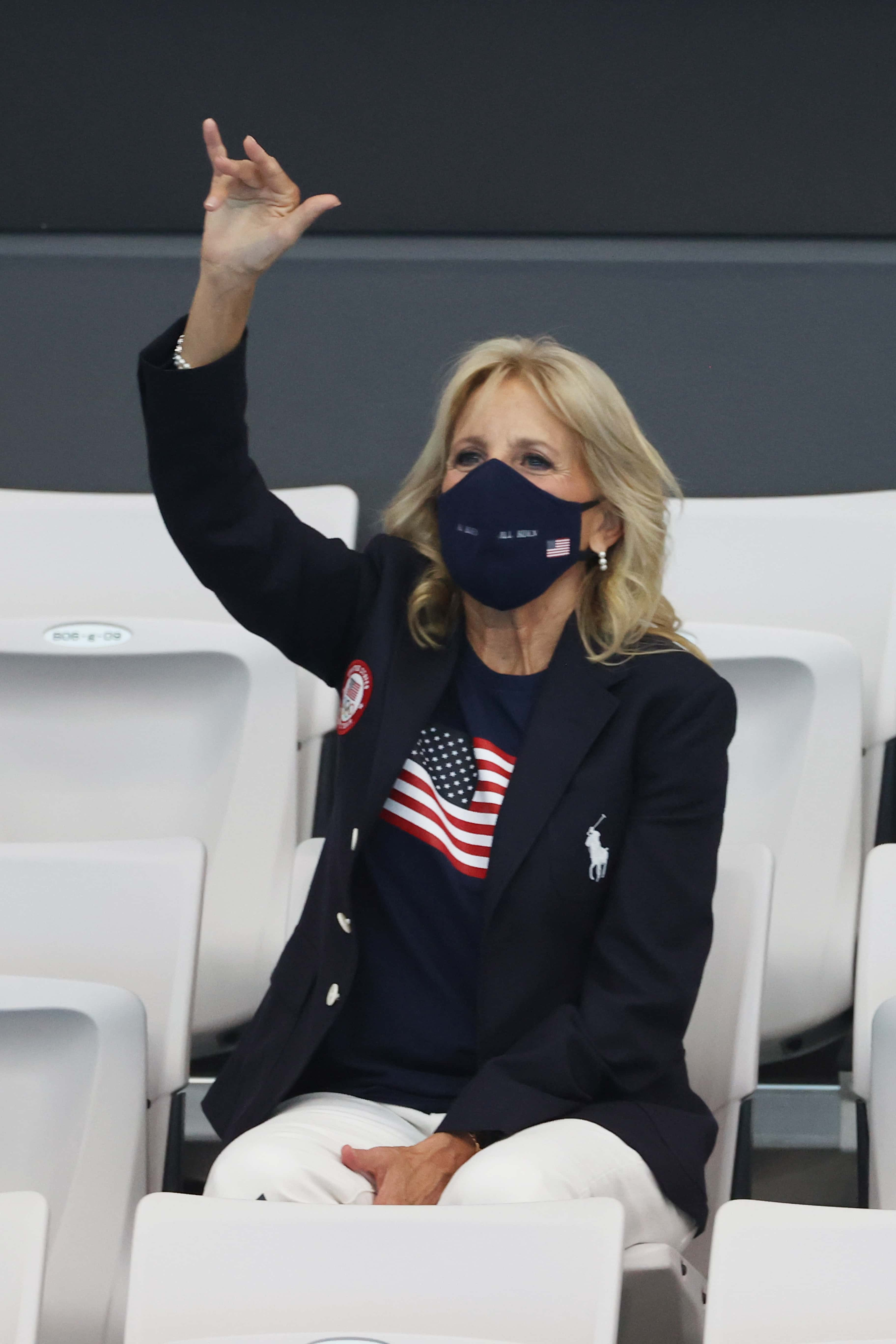 At the end of the game, players got to meet the FLOTUS. 3x3 basketball star Kelsey Plum said about her interaction with the first lady: "We walked over at the end and we just said, 'Yo, thank you so much…' Not 'Yo.' We wouldn't… 'Thank you so much for coming.' Hopefully she enjoyed it and she said she was just really proud of us. So I think that we won her over a little bit."
US swimming team chant 'Dr Biden'
After the basketball match, Dr Biden headed over to the aquatic center where she cheered on the US swimmers during the evening preliminary heats. She happily waved and clapped as several Team USA athletes qualified. The US swimming team, which has ample space to spread out in socially distanced seats above the deck, what with no audience attending, cheered and chanted from the stands for their First Lady. The US contingent waved tiny American flags and pounded red-white-and-blue Thunderstix, while they waited for the session to begin. Many of the members also chanted "Dr Biden, Dr Biden" in a rhythmic fashion and clapped.
The FLOTUS posted a clip of the moment on her official Twitter page, which also showed her yelling "Thank you," back to the team at the end of the chant. "Back at you @USASwimming! U-S-Swimming" the tweet was captioned along with an array of clapping emojis.
The 'Dr Biden' controversy
Dr Biden became the center of controversy, last year in December. Shortly after Joe Biden was declared President-elect, a Wall Street Journal column became the eye of a storm. The column written by Joseph Epstein was titled, "Is There a Doctor in the White House? Not if You Need an M.D." In the column, Epstein wrote, "Madame First Lady — Mrs Biden — Jill — kiddo: a bit of advice on what may seem like a small but I think is a not unimportant matter. Any chance you might drop the 'Dr' before your name? 'Dr Jill Biden' sounds and feels fraudulent, not to say a touch comic."
Following the column and the subsequent Twitter storm it caused, Dr Biden commented on the issue. "That was such a surprise," she said in an interview alongside her husband on 'The Late Show With Stephen Colbert'. "It was really the tone of it that I think that — you know, he called me kiddo. And one of the things I'm most proud of is my doctorate. I mean I worked so hard for it."