Jeffrey Tambor may no longer be LGBT+ poster child, but Netflix's 'Arrested Development' is making sure he is still a comedy icon The #MeToo and Time's Up movements have exposed some of the biggest and most dangerous sexual predators that hid in plain sight – in fact, in the limelight. Most of them fell off the pedestal we placed them on and their career graphs plummeted for good measure as well, one of them being Jeffrey Tambor. Or so, we thought.
Tambor, who is undeniably among the most brilliant actors of our time, made huge strides for the LGBT+ community when he took on the role of Maura Pfefferman, a retired college professor of political science who reveals to her family of three adult children and ex-wife that she identifies as a woman. The show 'Transparent,' which streams on Amazon Prime, contributed immensely in terms of representation, conversation and education with relation to the transgender community.
However, when two of Tambor's alleged victims - Van Barnes, his former assistant, and Trace Lysette, an actress on the series - came forward with stories of how he sexually harassed them, he got fired from the show, with Amazon making it official on February 15, 2018. Tambor himself has announced his decision to leave the show back in November 2017.
A statement from him read: "Playing Maura Pfefferman on 'Transparent' has been one of the greatest privileges and creative experiences of my life. What has become clear over the past weeks, however, is that this is no longer the job I signed up for four years ago. I've already made clear my deep regret if any action of mine was ever misinterpreted by anyone as being aggressive, but the idea that I would deliberately harass anyone is simply and utterly untrue. Given the politicized atmosphere that seems to have afflicted our set, I don't see how I can return to Transparent."
While Amazon made a clear choice about removing Tambor from one of their most popular shows, Netflix did not follow the same path. In fact, he is going to reprise the role of the Bluth family patriarch – and presumably his twin brother - in the upcoming season 5 of 'Arrested Development.' To be fair, Tambor had finished shooting for the series before the allegation saw the light of the day.
Then again, so had Kevin Spacey, and that did not stop Ridley Scott from completely erasing the actor who had recently been accused of sexual harassment by multiple young men from his film 'All the Money in the World.' The director replaced Spacey with Christopher Plummer in 400 new shots before the movie got released just a couple of days after the initially intended date. (It moved from December 22 to 25)
Netflix has been reluctant in making quick actions against the actors who have been accused of sexual assault in the past as well. Danny Masterson, the star of the Netflix series 'The Ranch' has also been accused of allegedly assaulting three women in the early 2000s. However, Netflix refused to actually take a stance against or be with him for a long time.
It wasn't until a Netflix executive Andy Yeatman got shamed on the Internet after he unwittingly told one of Masterson's accusers that "we don't believe them [the accusers]," that a strong action was taken on the matter. In December last year, he was written off the show, with Netflix announcing the news thus: "As a result of ongoing discussions, Netflix and the producers have written Danny Masterson out of 'The Ranch'. Yesterday was his last day on the show, and production will resume in early 2018 without him."
Masterson, meanwhile continues to claim that he is innocent and that none of the charges against him have been proven. Tambor, too has claimed the same amid all the allegations, with his 'Arrested Development' family also backing him. The show's team has vocally expressed their support for Tambor in defending the allegations and also affirmed that his scenes will be retained in the show.
In his first interview post the allegations, Tambor continued to claim innocence, while admitting he did have anger management issues, which he says is due to the "scary experience" that comes with being a cisgender man playing the role of Maura.
In another statement Tambor released, he had taken accountability for this volatile behavior. "I find myself accused of behavior that any civilized person would condemn unreservedly," it read. "I know I haven't always been the easiest person to work with. I can be volatile and ill-tempered, and too often I express my opinions harshly and without tact. But I have never been a predator — ever."
There are a few people even within 'Transparent' that believe his side of the story. According to The Hollywood Reporter, Faith Soloway, a producer on the show and the show creator Jill Soloway's older sister, mailed Tambor confirming the witch-hunt against him is part of a "coup".
"I can quote it verbatim because I've looked at it for five months," Tambor told THR (who has not seen the mail but had the content confirmed by a source). "It said, 'We are in a coup. You are f*****g fantastic. You have changed the world. We have changed the world. We will get through this. Love, love, love, Faith.'"
Faith also revealed that she did indeed send the mail, justifying her sentiments thus: "In the moment I felt that Jill and Jeffrey were under attack. I knew that some people disapproved of Jeffrey, a cisgender actor, playing Maura and I was upset that Jill, as the show's creator, hadn't had the opportunity to address the issue privately [before it went public]."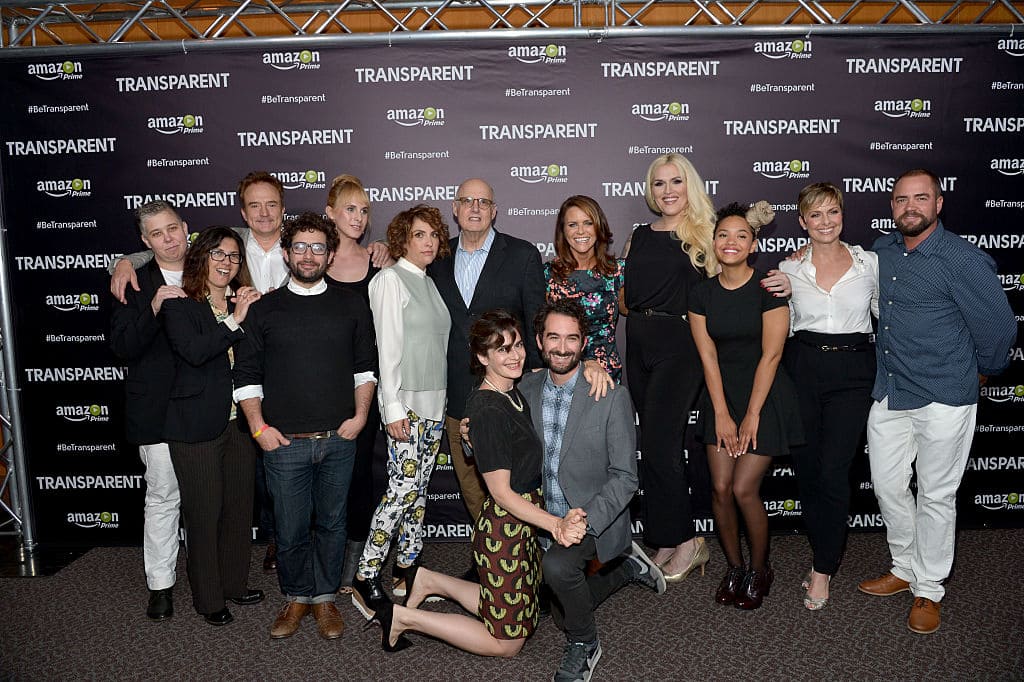 The show does mean quite a bit for a large group of the population, especially within the LGBT+ community. It is beyond shocking that the straight, white man, who was championed as a strong ally for the transgender community, used his position of power to allegedly exact sexual favors from two transgender women.
From the perspective of someone outside the glitz and glam of showbiz, 'Transparent' would be one of the most progressive and open-minded places to work, and Tambor would be the champion of inclusivity and representation. He did not let the fact that he was a cisgender man stop him from giving spectacular performances as Maura – even when the alt right shamed him for it and the alt left accused him of snatching the role that belonged to a trans woman.
As Tambor himself once put it during a 2016 NPR interview, "Everything is done with love. But there is not a day that goes by that I don't go to the set where I have that tap-tap-tap on my shoulder of: You are fortunate and you have a responsibility and do this right, not for 87 Rotten Tomatoes, not for the review in the Cleveland Plain Dealer ... but to do it right for the community because — some people eye roll when I say this — but because lives are at stake. And that's the truth."
Tambor, indeed, has a very liberal background. He also spoke about how he was okay with the show's creator Jill saying she would have cast a trans woman instead of Tambor if the show had cast Maura a few years after it actually did the casting. He said, "The revolution is here and my kids and their grandkids will not accept this. There are talented people out there. They need a chance. Someone has to write the stories and give them a chance." You do not come across very many 73-year-olds who is willing to reevaluate the fluidity of gender and not only want to be the voice of an underrepresented community but also use their platform to highlight transgender talent in general. At least, this is the outside perspective.
Raised in a liberal community in San Francisco, Tambor has spoken about accepting his masculinity and femininity after taking on the role of Maura. He embraced the character wholeheartedly and it is clear to every 'Transparent' fan, but the accusations against him are also very serious and the actions against him do not just speak to Tambor but also to his accusers. Even if these allegations prove to be true, Tambor is not a Harvey Weinstein or Brett Ratner–sized predator, but the accusers' experiences cannot be discredited based on the magnitude of predatory behavior.
For a long time, victims were told it was their fault, but now finally they are believed, they are told their lives, stories and experiences have value. That is what Amazon reiterated by firing Tambor – one of their most brilliant stars from one of their most successful shows. But, when Netflix fails to take any action against the likes of Tambor, they are driving home the point that their resources and their money is more important than the painful experiences these alleged victims had.