Jeffrey Epstein demanded orgasms 'three times a day' just like eating, reveal court documents Reports of Jeffrey Epstein's insatiable sexual appetite weren't exaggerated as court documents unsealed on August 9 revealed that his sex life included threesomes with "strap-on" dildos and demand for three orgasms a day.
Epstein, who was found dead in his Manhattan cell in apparent suicide on August 10, would allegedly make his Butler clean up after him once he was done with his victims. In a 2016 deposition unveiled among the plethora of documents related to a defamation suit filed against Epstein's alleged madam, Ghislaine Maxwell, the butler - John Alessi stated: "I would find things like a dildo," said John Alessi, additionally noting how Epstein's sex toy of choice was 'called a double.' "I find these things, put my gloves on, [take] it out and rinse it and put it in Ms. Maxwell's closet," Alessi told the lawyer for Epstein accuser Virginia Giuffre, who was the one to file the defamation suit, New York Post reported.
According to court papers, British socialite Maxwell helped Epstein, the accused serial rapist, recruit and groom underage girls to abuse. Giuffre was allegedly recruited at the age of 16, after which, she was abused for years. Testifying how she told him about those alleged threesomes she had with Epstein, Giuffre's former boyfriend mentioned the pair would have 'strap-ons and stuff like that.' "I remember her talking about, like, how they would always be using... tuff like that," Tony Figueroa, who was engaged to Giuffre at one point, said in his testimony. "I [was] obviously not happy about it," he added.
Another Epstein accuser Joanna Sjoberg said he told her how he needed to have 'three orgasms a day.' "It was biological, like eating," she said he told her. A third victim, who chose to stay unnamed, also claimed that the 66-year-old Epstein had a 'deformed' penis, which was 'egg-shaped'. As for Giuffre, she was made to sit back and watch as Epstein and Maxwell engaged in "in illegal sexual acts with dozens of underage girls," reveal the court documents.
These documents - a total of 2,000 pages - were unsealed in Manhattan federal court. They were all related o Giuffre's suit that had been filed in 2015 and was eventually settled out of court. After media pressure to release the document, it has been revealed that those papers also include testimony from various people who were close to Epstein, including Maxwell. "I can't testify to that because I have no idea what you are talking about," Maxwell told Giuffre's legal team, evading the question about whether Epstein sexually abused minors or not.
Depositions from others along with new photos that were unsealed offered a further glimpse into Epstein's sick life. An image collected during the execution of a search warrant on Epstein's Palm Beach estate in 2005, showed "the bare bottom of a girl who appears to be pre-pubescent," reveal court papers. Another photo was that of an Amazon receipt which listed sadomasochistic books Epstein had purchased under his own name. The titles were "SM 101: A Realistic Introduction," "SlaveCraft: Roadmaps for Erotic Servitude," and "Training with Miss Abernathy: A Workbook for Erotic Slaves and Their Owners."
There were also phone messages left for Epstein at his Palm Beach, Florida mansion. "I have a female for him,'' reads one of the messages, as reported by New York Post. Another says, "He just did a good one – 18 years – (She spoke to me & said "I love Jeffrey"). A search warrant had also uncovered bars of soap that were shaped like genitalia, said the papers. That is not the most disturbing bit of all, as a staffer for one of Estein's billionaire pals had testified in tears that Maxwell had forced a 15-year-old Swedish girl to have sex with him, after bringing her to his mansion. The teen was distressed and "sat in the stool exactly the way the girls that I mentioned to you sat at Jeffrey's house, with no expression and with their head down,'' Rinaldo Rizzo who was the "house manager'' for hedge funder Glenn Dubin and wife Eva Dubin, testified.
Eva was a former girlfriend of Epstein's, and Rizzo said that the girl told him how she had just been "on an island" and did not know how she got to the Dubin home. She mentioned Maxwell swiping her passport to hold her hostage. "She was shaking uncontrollably," Rizzo testified, describing the teen. Another victim alleged that Epstein claimed to have purchased an assistant from her family in Yugoslavia, so she could be his sex-slave. Epstein had also stooped to the levels of bragging about how he took a girl's virginity, to her friend. "You see that girl over there laying by the pool?" Epstein had asked the 19-year-old victim's friend. "He said, 'I just took her virginity.' And my friend... was mortified," the friend testified.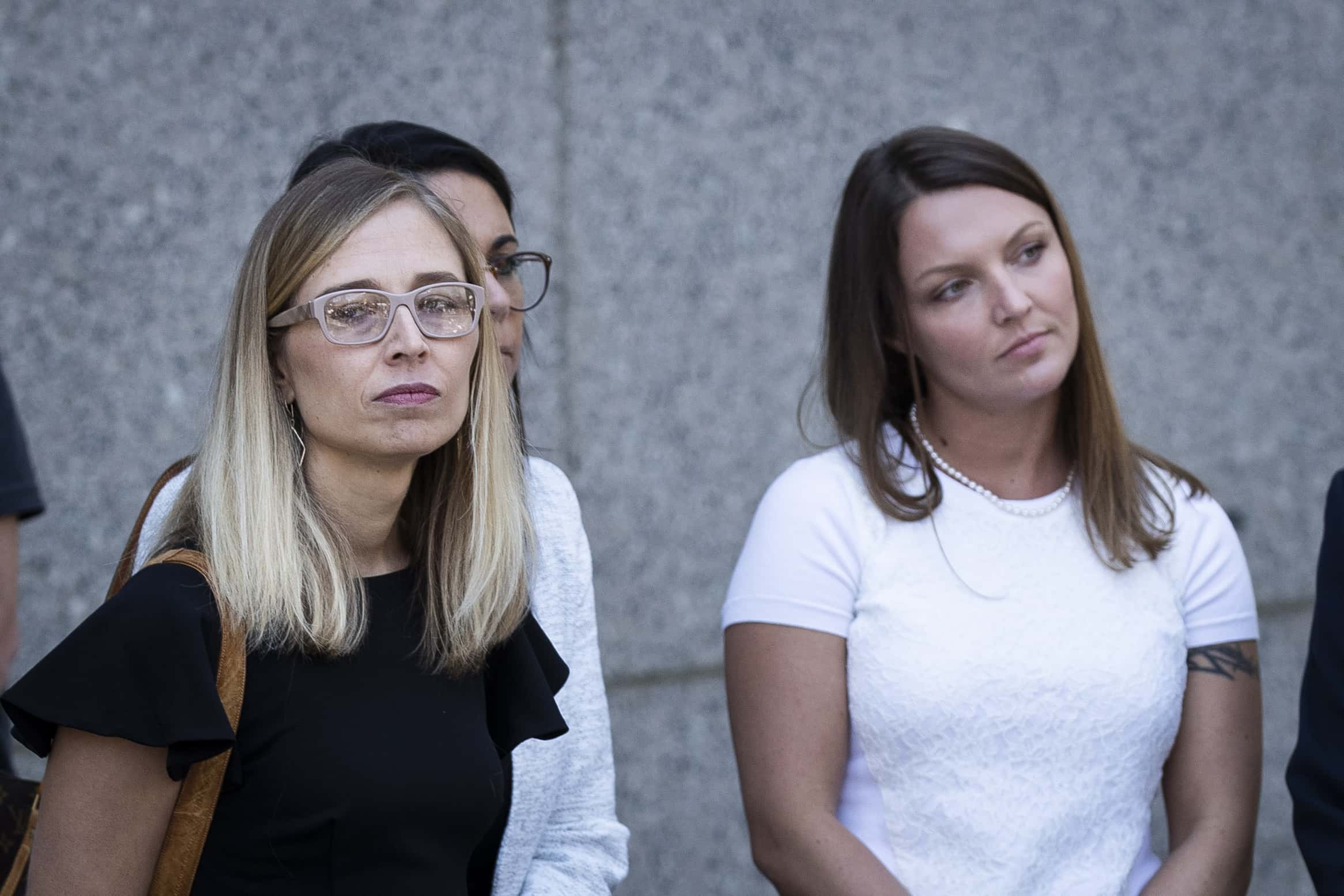 Epstein also groomed underage girls for erotic massages and a variety of sex acts, reported multiple people as revealed by authorities and the court documents. Maxwell "assisted in internationally trafficking" young girls for Epstein and his group of pedophile friends "for sexual purposes," according to the court papers. Giuffre claimed that she alone had been ordered to sleep with several powerful men, including Prince Andrew, former US Sen. George Mitchell, former Gov. of New Mexico Bill Richardson, Dubin and late longtime MIT professor Marvin Minsky. Several of those gentlemen have also been identified as Epstein's alleged cohorts in the past.
Epstein was busted last month with sex-trafficking charges in Manhattan and was facing up to 45 years in prison. He was facing charges in Florida in 2008 for soliciting an underage girl for sex, but the federal investigation was thrown out and Epstein was sentenced behind bars for just 13 months. Among the other powerful men accused of being on his list of pedo-buddies, Prince Andrew has denied the allegations, while Dubin, Brunel, and Richardson are yet to comment.
Former Sen. Mitchell said in a statement: "The allegation contained in the released documents is false." Giuffre has noted in the documents that President Trump, a onetime friend of Epstein's, "didn't partake in any sex with any of us.''
Share this article:
jeffrey epstein demanded orgasms three times a day just like eating reveal court documents pedophile