Jay Leno spotted in high spirits as he takes his car out for a spin despite burn marks from horrific fire
Jay Leno was spotted in three different cars and he even spoke to the photographers gathered, jokingly saying that he needed barbecue LOS ANGELES, CALIFORNIA: Former 'The Tonight Show' host Jay Leno was spotted behind the wheel in Los Angeles on Tuesday, November 22. Earlier, the comedian was badly injured in a fire that broke out in his garage while he was working on a vintage 1907 car that left him with burns on his face, chest and hands.
The comedian was taken to the Grossman Burn Center where he was treated in a hyperbaric oxygen chamber for 10 days. The 72-year-old was reportedly heading towards the studio as he will be performing on stage on Sunday, November 27, at 7 pm.
READ MORE
What is Jay Leno's net worth? Here's a look at TV host's whopping $52M car collection in his garage
How serious are Jay Leno's burn injuries? Comedian seen bandaged as he treats burns in hyperbaric chamber
According to the DailyMail, Leno's doctor, Dr Peter Grossman, warned that his scars from the accident may be permanent, on Monday, November 21. However, Grossman was "optimistic" that he "will make a full recovery," as he continues to be treated as an outpatient.
While he was on the road, Leno was seen driving three different cars. He first arrived in a 2002 Mercedes, which he claimed to be the newest car in his massive collection. A few hours later, the comedian was spotted in a light-blue two-door vintage Maserati. Finally, he made an appearance in a grey vintage Corvette while he drove around the neighborhood.
Leno reportedly said that he was "hanging in" and doing well. When asked if he would return to the stage, he reportedly replied, "Yeah, I'll be performing Sunday at Comedy and Magic club Sunday." Leno appeared to be in a good mood as he cracked a joke about his situation when photographers encouraged him to get some rest and recover. "Yeah, I need barbecue," he said.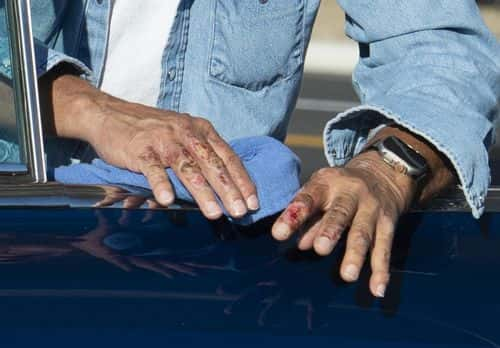 "Jay would like to let everyone know how thankful he is for the care he received and is very appreciative of all the well wishes. He is looking forward to spending Thanksgiving with his family and friends, and wishes everyone a wonderful holiday," stated the burn center, as reported by the DailyMail.
Leno was hospitalized on November 12, after the accident. He was then taken to a local emergency room by the Burbank Fire Department before being transferred to the Grossman Burn Center for further care.
Share this article:
Jay Leno spotted in high spirits as he takes his car out for a spin despite burn marks from horrific fire