Has Jason Biggs cleaned up his Twitter act? The 'Cherries Wild' host has made some questionable tweets before If you follow Jason Biggs on Instagram and Twitter, then you know for a fact that the former 'American Pie' star is pretty hilarious. His entire timeline is essentially him and his wife making fun jabs at each other and throwback photos with his former cast members.
His tweets are usually funny and lighthearted, such as this one: "After 2 weeks of multiple health screens and asking everyone to quarantine, I surprised my closest inner circle with a trip to a private island where we could pretend things were normal just for a brief moment in time."
---
After 2 weeks of multiple health screens and asking everyone to quarantine, I surprised my closest inner circle with a trip to a private island where we could pretend things were normal just for a brief moment in time. pic.twitter.com/Xkn1Jq2tB6

— Jason Biggs (@JasonBiggs) October 27, 2020
---
RELATED ARTICLES
'Cherries Wild': Release date, plot, cast, trailer and all you need to know about Fox's game show hosted by Jason Biggs
Jason Biggs' wife Jenny Mollen reveals she accidentally dropped her son on his head and fractured his skull
Or this random, but kind of funny quote retweet - "The guy in the pic isn't calling me back."
As sanitized as his Twitter is nowadays, it's a stark contrast to his tweets back in 2012, which were a combination of chaotic and problematic (and that's us putting it lightly). Biggs has definitely matured since then, with his emoji fuelled QRTS, but unfortunately what you put out on the Internet is seldom forgotten.
Here's a look at some of the questionable things he's said in the past that'll make you do a double-take and ask 'why?!'
Pent up emotions from 2012
The messages below convey that he had a lot to say about Ann Romney, Mitt Romney's wife and Janna Ryan, Paul Ryan's wife during the 2012 Republic National Convention.
His idea of 'weekend fun'
Then there was that time he had, what we can only describe as a seriously warped perception of a fun weekend. But each to their own, right?
He definitely had a lot of feeling about Season 18 of 'The Bachelor'
While we have to admit, Juan Pablo's season was an absolute nightmare, thanks to a PR mess that it turned out to be (No Juan, we haven't forgotten how you described gay couples as 'more pervert' when talking about a gay bachelor or the fact that it would be a bad example for children. And of course, there's the whole Clare scenario, where he got intimate with her, only to tell her that he didn't want people to find out, ultimately giving her the bad edit).
That being said, it still doesn't quite excuse all that Biggs had to say.
Speaking of the 18th season of 'The Bachelor'...
Andi Dorfman, who was the contestant then, went on to become Season 10's 'The Bachelorette' and her season wasn't without its own controversy, seeing that contestant Eric Hill passed in a paragliding accident shortly after being eliminated from the show. And like the 'true fan' that he is, Biggs had a few things to say about that as well.
There was also the tweet about Rihanna and Chris Brown
Where he joked about the abuse she'd endured. Honestly, this one was just in such poor taste.
And then, there are the tweets around the Malayasian Airlines Flight MH730...
While the world watched in horror as days passed with no news on the mysterious disappearance of the passenger fight, Biggs seemed to have gotten some comedy fodder out of it. And it was relentless. He did apologize later, but unfortunately, the damage was done.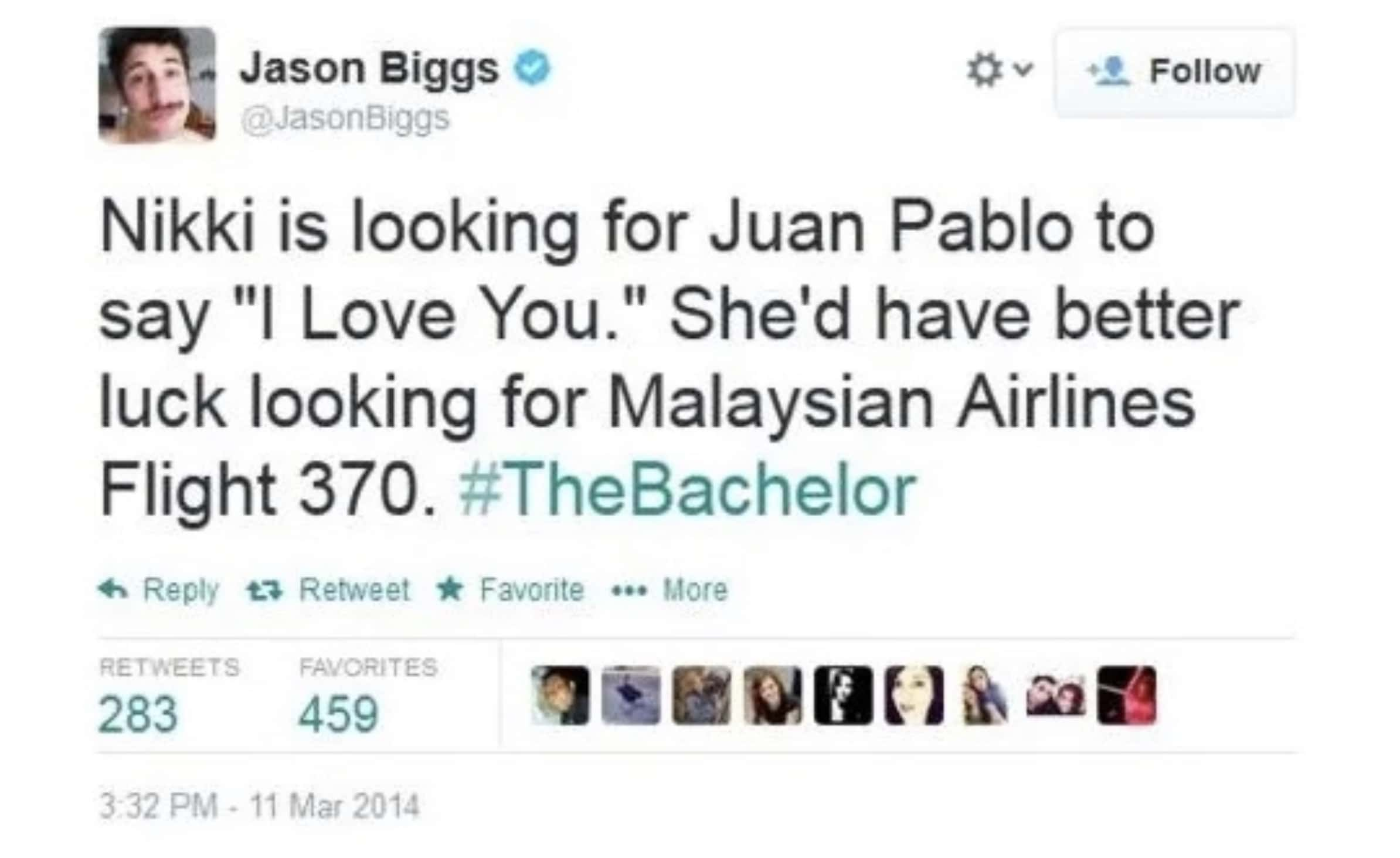 Biggs has cleared out his timelines between 2012 to 2018, save for a few retweets. He has issued apologies about the things he's said in the past, acknowledging that they were all made in poor taste. His social media presence is a lot more conscious and thought out now, and clearly, it's for the best.

For a slightly less controversial take on things, you can catch Biggs in his new show, 'Cherries Wild', on FOX.

As per the summary, it is 'created by Wes Kauble and hosted by Jason Biggs, this all-new, first-of-its-kind, high-stakes and fast-paced half-hour game show features two rounds of pop culture trivia gameplay, during which a team of two contestants tries to "solve the slots" in the hope of getting one step closer to winning the $250,000 jackpot. At the end of each episode, contestants spin the reels on the enormous, three-story-tall slot machine in an attempt to capture all five wild cherries and win the ultimate prize.'
You can catch the season premiere of 'Cherries Wild' on FOX on February 14 at 7 pm EST.
Share this article:
Jason Biggs Twitter act Cherries Wild tweeted Internet Malayasian airlines Rihanna Chris Brown