'Inhuman Resources' aka 'Dérapages' Review: Eric Cantona aces noir-nice guy in intense corporate thriller This story contains spoilers.
There's a raw desperation in the hurt ego of a man - especially when it is shoved in his face that he cannot provide for his loved ones. It is this very hurt pride and the determination to prove everyone around him wrong that drives 57-year-old Alain Delambre to sink to the lowest levels when he discovers a beacon of hope. But in noir tales of classic nice guys like Netflix's 'Inhuman Resources' aka 'Dérapages', no matter how far they sink, one can't help but root for them. And this is only aided by Eric Cantona playing a good guy gone rogue, and his need to make a respectable living after being unemployed and humiliated at petty, odd jobs for six years in a row.
We meet Alain in prison, and through a series of montages of him going about a regular day at the facility we are acquainted with his fall from grace. The first chapter details Alain's desperation to hold on to his fancy house and provide a nice life for his beloved, beautiful wife Nicole (Susant Clemente.) His daughters, successful young women, are close to him; his pain in the ass son-in-law is a condescending prick who can't help shoving money and expenses at Alain's face. But Alain, sweet and loving as he might be, doesn't hesitate to head butt people in confrontations; disgruntled and jaded by the way he has been treated by the world, Alain's story reeks of hurt pride and emasculation, over his wife earning the bread, and severe insecurity stemming from a lack of confidence.
So the first time he gets a job opportunity, Alain channels all his desperation into getting what he feels he deserves; despite performing poorly in the hiring test. The job is suspicious too; his work as an HR so far is utilized to hire executives for a megalomaniac by the name of Alexandre Dorfmann (Alex Lutz.) Dorfmann is one of those entrepreneurs who like to play god with his clients, his employees, and the world of business simply because he can. Lutz as the scheming, suave, evil power-hungry entrepreneur is unmissable. His charm only rivaled by Alain's failing stance as a man of integrity when he agrees to the job of simulating a hostage situation for the candidates being interviewed for a job that will see them in the midst of severe and violent chaos.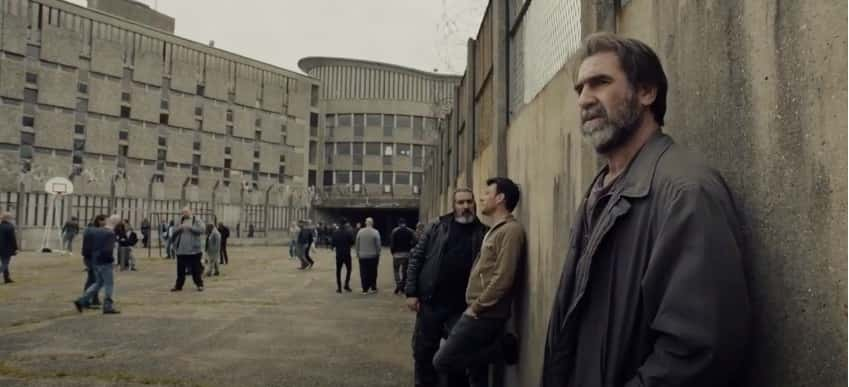 Dorfmann wants to uproot the world of business out of vengeance, by shutting down one of his offices and firing 1,250 employees. To survive the chaos they will unfurl, Dorfmann needs an executive who will be able to withstand panic and violence. So he stages a hostage situation, which Alain dives in headfirst to orchestrate, along with another candidate, who is also one of Dorfmann's employees' personal favorite.
Alain's determination to gain leverage over the fake-hostages sees him asking his good friend Charlie to hack into their personal systems and gather substantial intel.
But even for the manipulative father who blackmails his own pregnant daughter to lend him money, his wife's words of integrity pinpricks Alain's desperation to do well in the job. So he decides to rebel, and everything falls apart. From pulling a gun at Dorfmann to holding him hostage along with his employees - Alain falls from grace reasonably, and painfully. Even after holding his hostages at gunpoint and negotiating with the officers with skills that would put Money Heist's Professor to shame, Alain's turmoil wins his rational thought, and he surrenders.
Cantona's disgruntled man broken by capitalism and corporate greed is remarkable in itself, but also made even better with co-writers Pierre Lemaitre and Perrine Margaine expertly layered arc for the character. Ziad Doueiri's direction, constantly pairing intense, brooding darkness within Alain, with how easily he crumbles on the inside is also commendable. In the latter episodes of the series we see Alain's defensive acceptance of his true self, after a gripping trial where his crafty manipulative side is prosecuted, while his daughter argues he is the victim in this capitalist charade.
At one point in the story, Alain is compared to the Joker, explained further by his evolution into a Byronic Hero. His journey to prison, and its imminent aftermath is rich with trauma - much like the moments of confrontation where a hostage is humiliated for wearing women's underwear. All of these initial displays of Alain's general weariness towards the world around him are a set up for the life he endures in prison. His stay is ironic as he is stripped down further, to the bare bone, exactly the way he was prepared to do the hostages.
Throughout the narrative, excerpts of a bald and ripped Alain narrating the event offer an interesting respite from the plight of watching a senior with good intentions fall prey to corporate games. The other respite is the way Alain's consequences have an impact on Dorfmann's schemes, offering karmatic relief at witnessing his empire crumble, and his only respite becoming Alain himself.
The pieces of the puzzle finally fit together even though at first they might seem insignificant; but that said, never for a second does 'Inhuman Resources' fail to engross us, with Cantona's Alain holding our interest across its runtime.
'Inhuman Resources' aka 'Dérapages' premieres on Friday, May 15, only on Netflix.
Share this article:
inhuman resources derapages review netflix eric cantona noir nice guy corporate thriller spoilers