'Inhuman Resources' aka 'Dérapages': Alain's headbutts are a lot like Eric Cantona's famous 'kung-fu' kick at fan
Alain doesn't shy away from headbutting his boss for mistreating him in public or even his own son-in-law Spoilers for 'Inhuman Resources'
Netflix's 'Inhuman Resources' or 'Derapages' sees a disgruntled, unemployed man take up what looks like a lucrative job offer, only for him to realize that he is being used as a pawn in a sick, twisted corporate game. But before this man — Alain Delambre (Eric Cantona) can exact his revenge on the capitalist wolves and play them back in their own game, he is already confronting his critics and a**hole bosses with head butts and severe punches. And that only reminds us of the man playing the role's infamous kung-fu kick at a fan during one of his soccer matches for Manchester United.
Cantona's Alain isn't afraid to hold people at gunpoint to prove a message. He does not shy away from headbutting his boss for mistreating him in public, or his own condescending prick of a son-in-law who constantly makes fun of Alain's financial status. These straight-up headbutts aren't an isolated incident on the series. And we can definitely recall Cantona flying a kick at his critic Matthew Simmons during the 1995 soccer match between United and Crystal Palace.
Cantona was a former winger in the team when he became the perpetrator in what is arguably one of the most shocking and controversial episodes in the entire Premier League history. After being sent off the field for a brutal kick during the game, Cantona decided to take out his frustration on a fan of the opposing team — Simmons. He landed a kung-fu kick to the spectator's torso and was immediately suspended for the remainder of the season. He reportedly also served seven days in jail, and even had to pay a hefty fine for the attack.
Reflecting on the incident, former Manchester United defender Gary Pallister told BBC: "Eric had a fuse on him. There is no doubt about that. Ultimately he exploded." Former United director and solicitor Maurice Watkins has also said: "People have said this is the most famous common assault case in the history of the English legal system." Having secured United successive league titles after a barren 26 years, Cantona was pretty much a legend in Old Trafford at the time. And this violent attack, the outlet notes, only improved his icon status within the club's fanbase.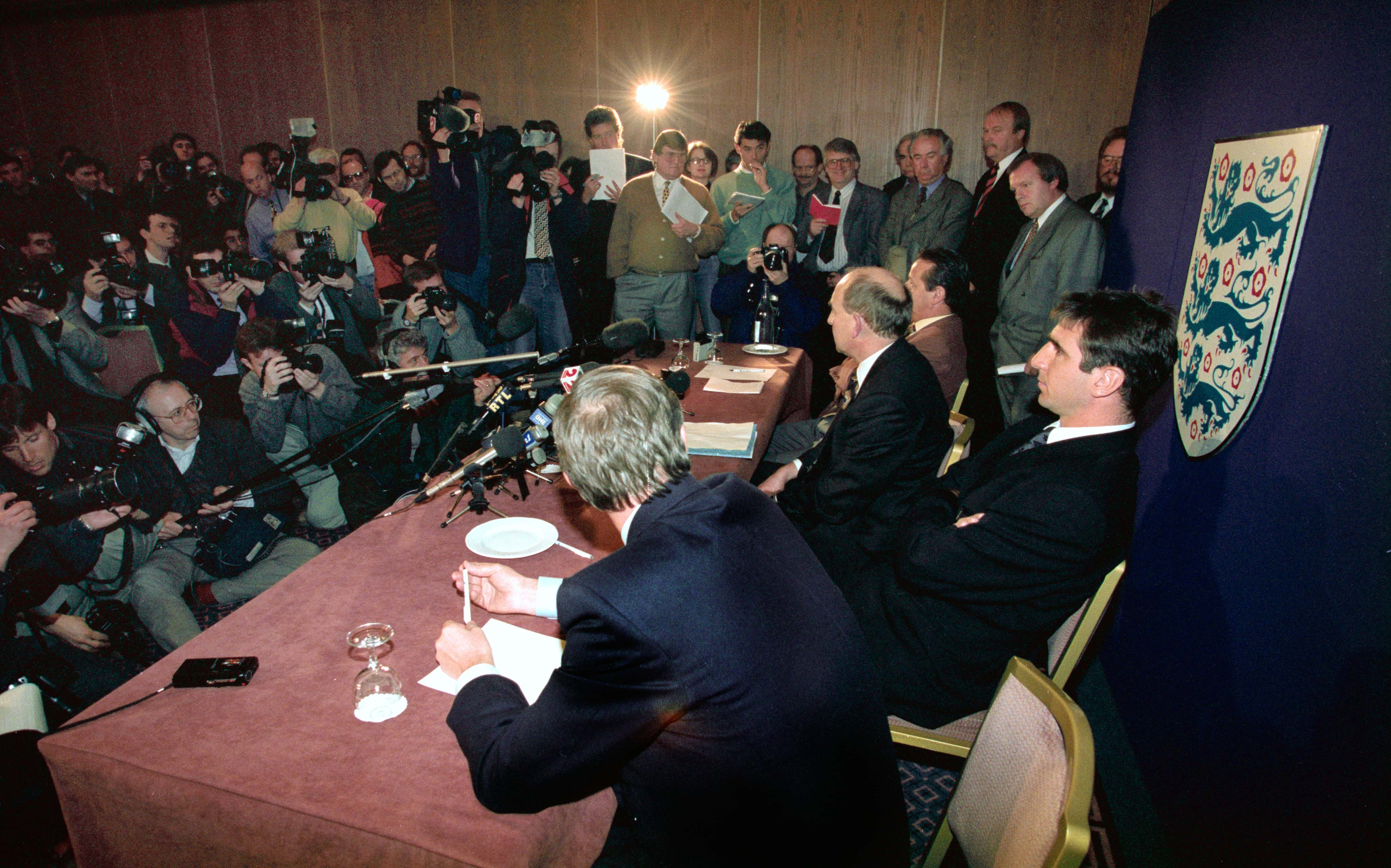 These days Cantona has been in the news for increasingly scandalous and bizarre reasons. Back in 2019, he shocked his Instagram followers and fans across social media for posting the strangest NSFW content on his Instagram account. The post from April 2019, which he was forced to delete later, saw the former footballer turned actor scrolling through a video of a man trying to smash an egg with his penis. Even though Cantona doesn't say anything in the video the camera then turns to his face looking confused and disappointed. The news became a giant uproar on social media, with one fan tweeting: "I saw Eric Cantona trending and thought he had died. But no. What died were my eyes when I saw the reason he was trending."
'Inhuman Resources' aka 'Derapages' premiered on Friday, May 15, only on Netflix.
Share this article:
'Inhuman Resources' aka 'Dérapages': Alain's headbutts are a lot like Eric Cantona's famous 'kung-fu' kick at fan