'Ida Red' Ending Explained: Will Darla break Wyatt out of jail? Spoilers for 'Ida Red'
'Ida Red' starts as we see Wyatt Walker (Josh Hartnett) and his crew search a truck which ends up with them shooting the drivers of the truck before leaving. He goes to visit a woman in jail who's revealed to be his mother, crime boss Ida Red (Melissa Leo) who seems to know things went wrong and enquires about his sister and her daughter Darla(Sofia Hublitz). After the visit, he goes to see his sister Jeanie (Deborah Ann Woll) where we meet his niece as well as her husband Bodie (Slaine) who is a cop. Bodie is standoff-ish and we see Wyatt clearly not welcome due to his criminal background. He hasn't been caught red-handed but Bodie has his suspicions. Wyatt adores his niece Darla who's a troubled child and has a close bond with her.
The following day Bodie and Special Agent Lawrence of the FBI pay him a visit and ask for Wyatt's alibi suspecting him of robbing the truck along with his uncle Dallas (Frank Grillo) but are turned away. One of the drivers from the truck survives but Dallas finishes him off in the hospital. We learn that Ida Walker is incarcerated for 25 years on account of murder, felony, and conspiracy. She was caught when her husband James died in a bank robbery and is currently being considered for parole and awaits a decision.
RELATED ARTICLES
Paramount announces two new Star Trek movies, Tarantino may direct one
'Guilty Party': Release date, spoilers and all about Paramount+ dark comedy series
Wyatt meets with Ida's lawyer Benson( Mark Boone Junior) who tells him her chances are thin. Meanwhile, Bodie and agent Lawrence visit a crime scene after Dallas kills the man who was involved in the truck robbery with him to erase evidence but fails to get Jay( Beau Knapp) who was hiding. Bodie had picked up Darla from school who reads the files on Wyatt, Dallas, and Ida which were left in the car while Bodie investigates. Next, we see Wyatt pick up Darla from home on fathers day as they go visit his father's grave where he tells her crime is in his blood after being asked why he does it all. On Wyatt's next visit with Ida she tells him to please let her not die in a cage as she's soon to die of an illness. Wyatt decides to get her out where she informs him of a huge heist that could rid him of his life of crime. She places her hand on the glass which has a world written on it to guide him to the correct person.
Darla too meets her grandmother for the first time as they connect. Jay on the other hand gets caught by the police and he spills the details confirming Wyatt and Dallas as suspects. Darla once again in trouble runs out and meets a boy who's quite clearly bad news. Dallas and Wyatt get details about the heist and plan how to go about the robbery.
The two also bribe a board member to approve Ida's parole as we see Darla come home crying after not being acknowledged by the boy. Jeanie tries to comfort her when Darla lashes out that she knows she's Ida's daughter and that Jeanie is her sister. Upset and angry she runs off after stealing Bodie's gun and holds the boy at gunpoint and robs him. Meanwhile, after leading her on, the board member denies Ida's parole after she cries and expresses regret. Dallas and Wyatt easily manage to rob the businessmen of their illegal cash as they rush off.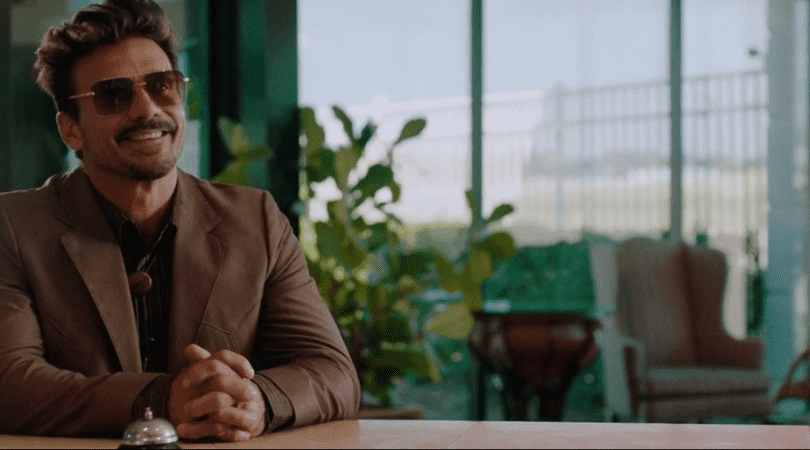 What happens at the end of 'Ida Red'?
Dallas and Wyatt have the police hot on their tail as they make their escape after successfully carrying out the heist. Bodie, Agent Lawrence, and a squad are about to catch up to them when the two decide that Wyatt will escape with the cash using the underground passage of a building. Dallas stays back and holds off the police shooting and killing several of them before being taken out by Agent Lawrence. Bodie who suspected where Wyatt could be moves quickly and confronts him. Wyat before making his getaway in the car shoots Bodie. As the officer lays incapacitated Wyatt escapes.
We next see him call his mother's lawyer Benson and ask about Dallas' situation and is informed that he died after killing many officers. Wyatt tells him he knows of a way to get Ida out, telling Benson to get the job done. Cutting to Wyatt waiting at the side of a road with a car, we see Benson arrive with Ida and the mother-son duo embrace. Before leaving Wyatt whispers to Benson to keep 20% of the cash and hold on to the rest telling him he'll let him know what to do with it when the time comes. As a free Ida drives off with her son, we see her happy to get her to wish of not dying in jail, before she passes away smiling with her eyes shut as Wyatt realizes she's gone. Next, we see Bodie and Agent Lawrence with police cars following him as Bodie says, "He'll pull over when he's ready".
Two years later Darla is seen visiting the graves of her mother, father, and uncle. As she gets into Dallas' car she opens up a bag full of cash which also contains a gun, before going to see Wyatt in jail. She enquires about him and says everyone misses him. Mirroring the same move as Ida we see the siblings lay their hands on the glass as the scene indicates a message is written on Wyatt's hand.

'Ida Red' is now available in select theaters, On Digital & On Demand on Paramount Movies.