'I got a lil secret I wanna tell u': Uvalde school shooter Salvador Ramos' CHILLING final message UVALDE, TEXAS: Teen shooter Salvador Ramos opened fire at a Texas elementary school on Tuesday, May 24, killing over a dozen kids and more than one adult. The death toll at present has risen to 21, with at least 19 children killed at Robb Elementary School. Other victims include one teacher and a second school employee.
Hours before carrying out the massacre, the shooter sent a chilling message to an acquaintance on Instagram, saying, "I'm about to". Born in North Dakota, Ramos lived in Uvalde. He was a student at Uvalde High School before he found work at a Wendy's. So far, four victims of the deadly shooting have been identified. The deceased include students Xavier Lopez, Nevaeh Bravo and Uziyah Garcia, as well as teachers Irma Garcia and Eva Mireles.
READ MORE
SYSTEMIC FAILURE: Oxford school knew Ethan Crumbley brought bullets to class day BEFORE shooting
Ethan Crumbley: Suspect recorded videos about killing students night before attack
Texas State Sen Roland Gutierrez reportedly said that the two assault rifles used in the massacre were bought by the shooter on his 18th birthday. Under a new Texan law passed in September, people aged 18-21 could buy guns if they had a protective order for being at risk of family violence, stalking, prostitution or sex trafficking. Under the law, the requirement for a permit for a handgun was removed. Rifles were already permitted in Texas without the need for licenses.
On May 12, Ramos tagged an LA-based woman he knew on Instagram, in a photo of guns, according to the Daily Mail. "What your guns gotta do with me," she replied, to which Ramos responded, "Just wanted to tag you."
At 5.43 am on Tuesday, May 24, Ramos (@salv8dor_) messaged the woman, "I'm about to". When the woman asked him what he was about to do, he said, "I'll tell you before 11." He then said that he would text her in an hour, adding, "But you HAVE TO RESPOND". In another message, Ramos wrote, "I got a lil secret I wanna tell u."
"Be grateful I tagged you," Ramos wrote in one of the messages, referring to the gun photos. "No it's just scary,' adding: 'I barely know you and you tag me in a picture with some guns?" the woman replied. His last message, sent at 9.16 am on Tuesday, said, "Ima air out". The shooting began at about 11.32 am.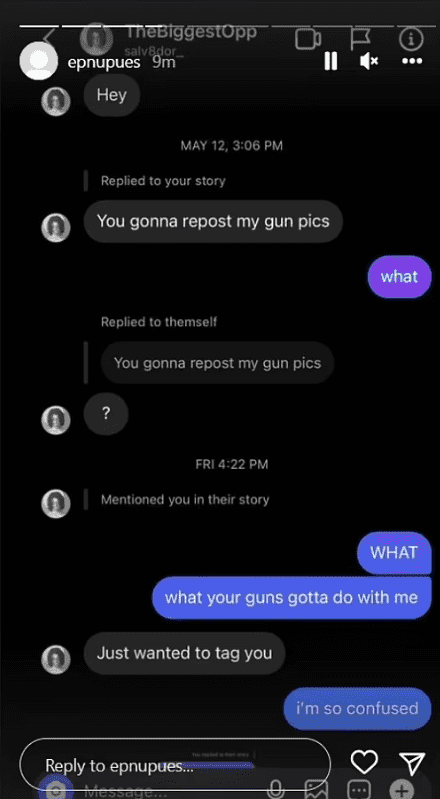 After learning of the massacre, the woman wrote, "He's a stranger I know nothing about him he decided to tag me in his gun post. I'm so sorry for the victims and their families I really don't know what to say". She added, "The only reason I responded to him was because I was afraid of him I wish I stayed awake to at least try to convince him to not commit his crime. I didn't know."
A school friend of Ramos said that he sent him pictures of his guns too. "He would message me here and there, and four days ago he sent me a picture of the AR he was using … and a backpack full of 5.56 rounds, probably like seven mags," the friend told CNN. "I was like, 'bro, why do you have this?' and he was like, 'Don't worry about it." "He proceeded to text me, 'I look very different now. You wouldn't recognize me'," the friend added.
Police officials from the Texas Department of Public Safety, US Customs and Border Protection and various other local agencies responded to the deadly shooting in the small town located about 60 miles east of the Mexico border. "Texans across the state are grieving for the victims of this senseless crime and for the community of Uvalde," Gov Greg Abbott said in a statement. "Cecilia and I mourn this horrific loss and we urge all Texans to come together to show our unwavering support to all who are suffering. We thank the courageous first responders who worked to finally secure Robb Elementary School."
Tuesday's shooting was one of the deadliest school massacres in US history. The incident brings to mind two other similar shootings: one at Sandy Hook Elementary School in Connecticut where 20 first-graders and six educators were killed in 2012, and another where 32 people were killed at Virginia Tech in 2007. This shooting also comes just days after 10 people were shot dead by a gunman at a supermarket in Buffalo.