TNT's 'I am the Night', helmed by Patty Jenkins, is one of the most anticipated shows of the year and it is by no sheer accident that the 'Wonder Woman' director got this opportunity. Fauna Hodel, the woman on whom the heart-wrenchingly twisted tale is centered on, knew she wanted Jenkins to tell her story, according to her daughters Yvette Gentile and Rasha Pecoraro.
Both women vouch that their mother was a fairy, who sprinkled her fairy dust wherever she went, and everything going on in their lives – including 'I am the Night' and the companion podcast 'Root of Evil', which they are co-hosting – is all thanks to her.
"Patty Jenkins was mom's Wonder Woman. They had been friends for years. Patty was really fascinated with mom's story but she was like, 'I gotta go, I gotta go do Wonder Woman', and mom is like, 'I'm waiting. You're going to do Wonder Woman, you are going to be a huge success, and then you are going to do my story'," says Pecoraro, adding, "And, she knew, it was supposed to be Patty. It was supposed to be Chris [Pine, actor]. It was supposed to be Sam [Sheridan, EP]. It was supposed to be TNT." 
Gentile and Pecoraro, both believe that only Patty, Sam and Chris could have told this story – and everyone else associated with the project, simply because it was not just another project for any of them. Gentile explains, "It's not just a TV show to them. They take so much care in taking care of our mom's legacy and her memory and us. It's beyond our wildest dreams."
Fauna Hodel's story is indeed one that needs to be told with quite a bit of care. She was the biological granddaughter of George Hodel, who is believed to be the man behind many disturbing murders that took place in the '50s in LA, including that of Elizabeth Short aka the Black Dahlia.
Fauna, who was given up for adoption as an infant, accidentally comes upon the disturbing truth about her family during her search for her birth mother. Only someone as detail-oriented as Jenkins could have done this compelling story justice. 
Jefferson Mays, who plays the notorious George Hodel, says Jenkins, who is a joy to work with, "brings a sense of play to the whole enterprise and has that rare, necessary quality of being deeply interested in every aspect of her creation — from the emotional coloring of a line of dialogue to the color of your character's socks."
Seeing as he got the call for the audition just as he was returning from a screening of 'Wonder Woman', Mays says he was ecstatic about the opportunity to work with Jenkins and see what sort of magic she would weave into the story of Fauna Hodel. "I confess that I was dragged there rather grudgingly (not being a fan of the superhero genre) but about 15 minutes in, I was openly weeping and found the whole film strangely emotional, joyful and ultimately inspiring. Patty and company cast a spell on me," he admits.
Having gone through the process of making 'I am the Night' and embodying this evil character for as long as he did, Mays has only great things to say about working with Jenkins, Pine and the rest of the cast and crew. "They are preternaturally talented! I so loved working with this cast and crew. Initially, on set, everyone kind of treats you like you're really your character, which is a bit off-putting at first, but kind of fun," says Mays, who has the most beautifully articulate description for the show, "If you love Hitchcockian noir thrillers, you'll love 'I Am The Night'. But I think through honoring the tropes of its genre, it also reawakens them in a fresh, compelling way. It will truly get into your psyche, and under your skin."
Mays adds, "I often find that there is much more joy and levity working on serious subject matter than on comedy. Comedy is like brain surgery. Generally, if you're rehearsing Ibsen like it's Feydeau and Feydeau like it's Ibsen, you're probably on the right track! I would start giggling uncontrollably in scenes with India [Eisley, actor], but she was very forgiving. All in all, the atmosphere was generous and playful. Patty set the tone from the very beginning and Chris infused the air with his anarchic spirit."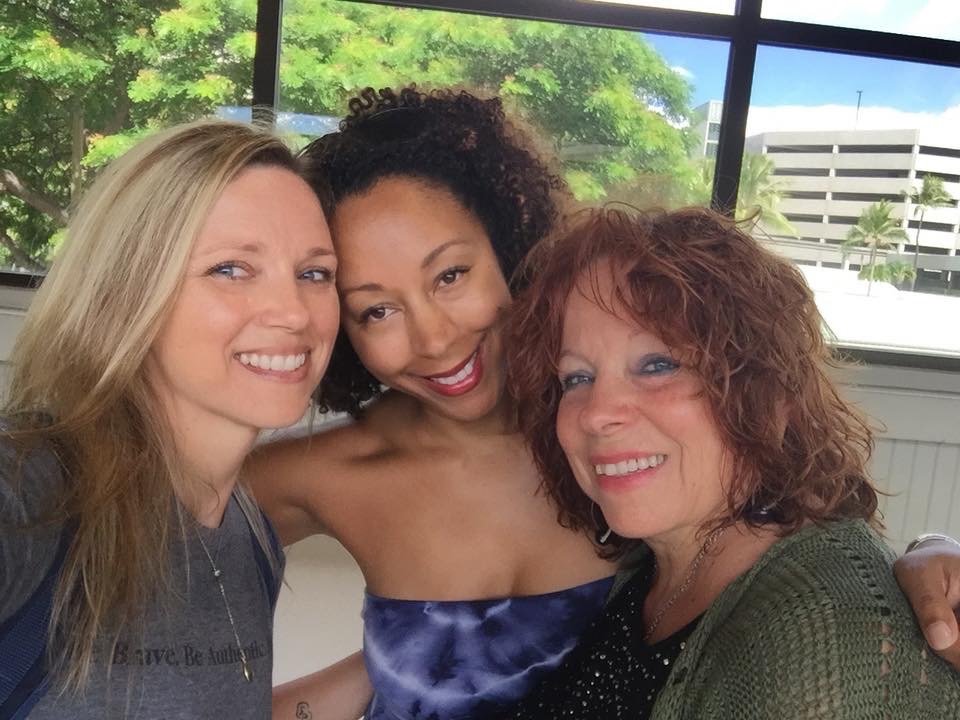 As for Gentile and Pecoraro, the process of having their mother's story told, as evil as its roots may be, was humbling. "TNT was so kind to us. For us going on set, we are so grateful, because we got to see... they can't bring our mother back to life for us. But, we had just lost her, and a few months later we were on set — and it was her dream, for which she had worked her whole, entire life coming to fruition... So you can imagine its several, million different emotions going through Rasha and I. It's so much of our mom. It was meant to be," says Gentile, adding that everyone who worked on the show is a part of their family for life. 
'I am the Night' will premiere on TNT on Monday, January 28, 2019, while the companion podcast, 'Root of Evil', will premiere via Cadence 13 on February 13 on Apple Podcasts and other podcasting platforms.
Share this article:
i am the night director patty jenkins fauna hodel wonder woman claim daughters exclusive