Hunter Biden's scandalous love life: From Kathleen Buble split to Beau's widow Hallie and an illegitimate child Hunter Biden is at the center of several allegations stating he sent "thousands of dollars" to people who may have been involved in Eastern European prostitution and sex trafficking rings, a report released on Wednesday, September 23, 2020, by Senate Republicans claims. The same set of reports by New York Post and Daily Mail claim his company Rosemont Seneca Thornton received a $3.5 million wire from Elena Baturina — a Russian billionaire and the widow of former Moscow Mayor Yuri Luzhkov — on Valentine's Day in 2014.
Amid all the fiasco, many people on the Internet couldn't stop wondering where he was. Born on February 4, 1970, Hunter was raised by Neilia Biden (née Hunter) and Joe in Wilmington, Delaware. His life and career have been dredged with a number of upheavals involving his company of which he was a founding member and his role in the board of Burisma Holdings, as a major Ukrainian natural gas producer from 2014 to 2019.
As we take a look at his scandalous past, here's a glimpse of his personal life and relationships. Suffice to say, it has not been short of controversies too.
Kathleen Buhle Biden
After his graduation from Georgetown University in 1992, he volunteered at a church in Portland, Oregon, where he fell in love with Kathleen Buhle and got hitched to her a year later in 1993. The couple has three children together: Naomi, Finnegan, and Maisy. Through their 22 years of marriage, Hunter struggled with his alcohol addiction and drug abuse as Kathleen supported him.
However, it came to the point that by 2015, Kathleen decided to go for a split. In a plea for divorce in 2016, she filed a motion to stop Hunter from spending the couple's remaining assets as per an AP report. "Throughout the parties' separation, Mr. Biden has created financial concerns for the family by spending extravagantly on his own interests (including drugs, alcohol, prostitutes, strip clubs, and gifts for women with whom he has sexual relations) while leaving the family with no funds to pay legitimate bills," wrote Rebekah Sullivan, a lawyer for Kathleen.
If reports are to be believed, she is quite close to former first lady Michelle Obama as they go to SoulCycle together and her daughter Maisy is good friends with Sasha Obama.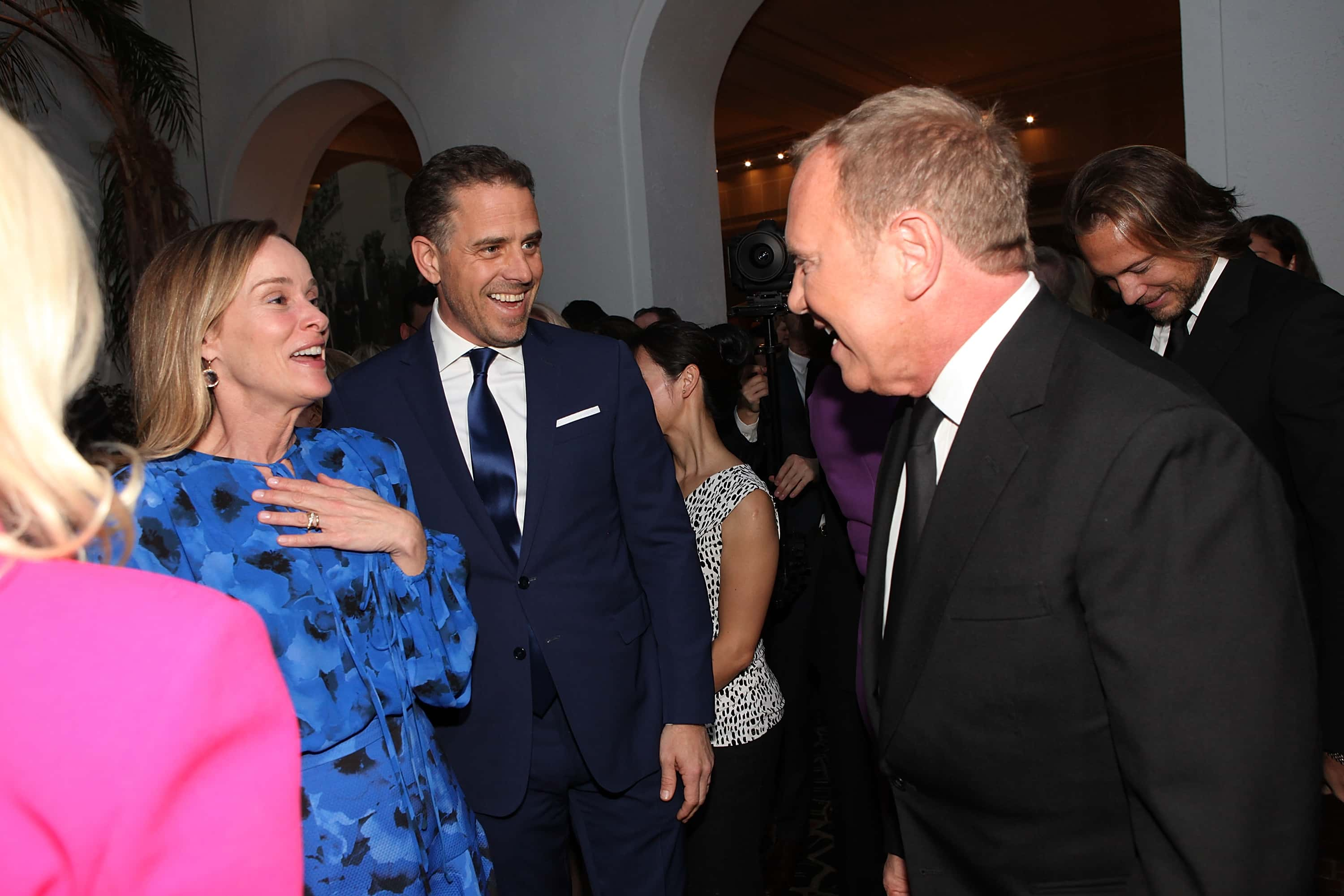 Hallie Biden
After Hunter's split with his wife, he had a relationship with his brother Beau's widow, Hallie. Confirming the relationship in a statement to the Post, Hunter said, "Hallie and I are incredibly lucky to have found the love and support we have for each other in such a difficult time, and that's been obvious to the people who love us most. We've been so lucky to have family and friends who have supported us every step of the way."
At that time, the affair attracted gossip mills but their families supported the two. Hallie's father Ron Olivere told The News Journal, a Delaware newspaper, that he "stands with the Bidens" in his support of his daughter's relationship, as per a People report. "I'm in total support of the family and what they've gone through and what they continue to go through," he said.
Joe and Jill Biden echoed the same sentiment in a statement to the New York Post: "We are all lucky that Hunter and Hallie found each other as they were putting their lives together again after such sadness. They have mine and Jill's full and complete support and we are happy for them." The two got together as they were sharing the same grief but broke up later that same year. "All we got was shit from everybody, all the time," Hunter told The New Yorker. "It was really hard. And I realized that I'm not helping anybody by sticking around."
Lunden Alexis Roberts
Hunter was caught in another scandal when several reports claimed that was the father of a child born to Lunden Alexis Roberts in Arkansas in August 2018. She sued him for ignoring the baby and not paying child support. While he "initially den[ied] the existence of a previous sexual relationship," DNA results showed "with near scientific certainty" that he fathered the child, according to an 'Order Establishing Paternity'.
As per Arkansas News, Circuit Judge Holly Meyer declared in an order that he is the "biological and legal father" of Baby Doe, the child of an Independence County woman. Born in August 2018, a birth certificate was issued by the Arkansas Department of Health that listed Robert Hunter Biden as the father and Lunden Alexis Roberts as the mother of the child.
The actual name of the toddler — referred to as "Baby Doe" — would remain sealed in court documents and would be called by his or her initials: NJR. The primary and legal custody was awarded to Roberts. Meanwhile, as the non-custodial parent, Hunter "shall have visitation with the child as agreed between the parties," Meyer wrote in the separate 'Order on Custody and Visitation'.
Melissa Cohen
In May 2019, Hunter found love again in the arms of a 32-year-old filmmaker from South Africa, Melissa Cohen. The two went on a date and less than a week later, he went down on his knees and popped the question. The pair got married on the roof of her LA apartment and exchanged "the simplest gold wedding bands he could find."
Although the Bidens did not attend the wedding, Hunter told The New Yorker that his father lent all his support. "I called my dad and said that we just got married. He was on speaker, and he said to her, 'Thank you for giving my son the courage to love again.'" he said. "And he said to me, 'Honey, I knew that when you found love again that I'd get you back ... And my reply was, I said, 'Dad, I always had love. And the only thing that allowed me to see it was the fact that you never gave up on me, you always believed in me.'"
On March 28, 2020, the couple welcomed a baby boy amid the coronavirus pandemic, The Post revealed. Melissa's brother Garyn Cohen told The Post a "beautiful and healthy baby boy" was born in Los Angeles. He added: "We are ecstatic about the baby. We actually feel that like a time like this, with the whole world in crisis, bringing a beautiful baby into the world is an opportunity to focus on the good, instead of this virus that is ravaging the world and causing a pandemic."



Share this article:
Hunter Biden Joe love life marriage Kathleen Buhle split 22 years child wedlock Hallie Melissa Cohen