Hunter Biden-Hallie Olivere relationship timeline: How he 'cheated' on Beau's widow with her sister Elizabeth The entire country was left shocked in March 2017 when the news of Hunter Biden's relationship with his brother's widow Hallie Olivere (aka Hallie Biden) made headlines. Hallie, the wife of Joe Biden's late son Beau Biden, got romantically involved with her former brother-in-law Hunter, who at that time, was recently divorced from his wife Kathleen Biden. The duo split in 2019 on an amicable note.
However, a more scandalous piece of information has surfaced of late — that Hunter Biden was apparently carrying on an affair with Hallie's elder sister Elizabeth Secundy, all the while sharing a home with Hallie. The DailyMail report that revealed the shocking news added that at that time, Secundy was recently separated from his husband of 15 years.
RELATED ARTICLES
Did Hunter Biden have sex with Beau's widow day after he died? 'Dad and Aunt Hallie were f**king', claims note
Who is Elizabeth Secundy's ex-husband Joel? Delaware recruiting executive was appointed by Barack Obama
Hunter Biden and Hallie Olivere's relationship
30 May 2015: Joe Biden's eldest son Beau Biden tragically passed away at 46 from brain cancer, survived by his two children — Natalie and Robert and his wife of 13 years — Hallie Biden aka Hallie Olivere.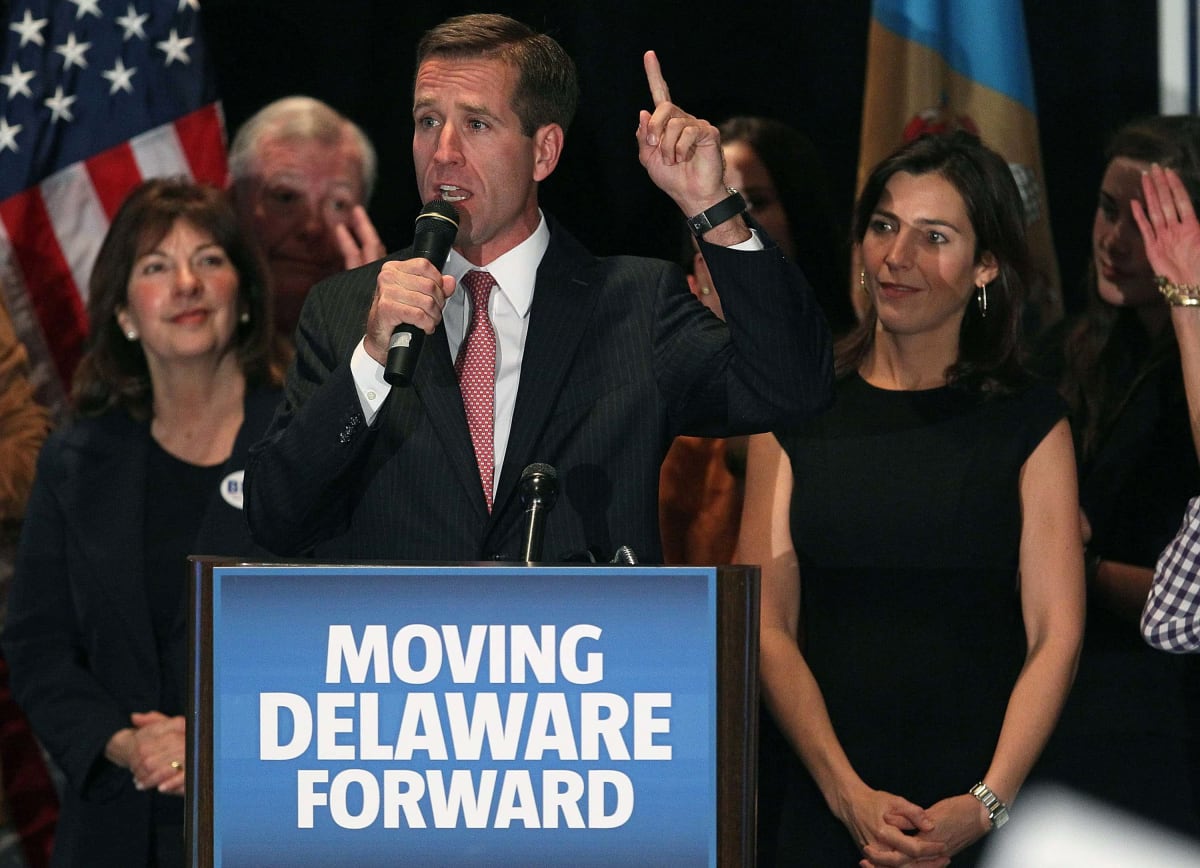 31 May 2015: Hunter Biden's wife Kathleen Biden accused him of 'f***ing* Hallie Biden just a day after her husband's death, reveals an undated note found on Hunter Biden's laptop where he mentions this accusation. It is unclear whether this fact is true or not.
July 2015: Hunter, who had struggled with alcohol and substance abuse for many years, fell into the vicious cycle once again around this time, and moved out of his home.
October 2015: Hunter Biden separated from Kathleen Biden, his wife of 23 years and mother to the pair's three daughters.
May 17, 2016: A day before he was slated to appear at his father's rally in Philadelphia, Hunter Biden was named as a suspect in a narcotics case by Prescott Police in Arizona.
July 18, 2016: An email from Hallie Biden on this date accuse Hunter of 'cheating on her'.
"You continued to cheat on me while I worked with [redacted] etc to get you help. Not only did you cheat on me, Viagra and Cialis, you actually bought her expensive gifts. I am stronger than you think. I'm not standing by while you treat me like dirt" — reads an excerpt from the email, where Hallie hinted at Hunter's affair with another woman. It is unclear, however, whether this woman is her sister or not. The email proves that Hallie and Hunter were in a relationship at that time, though he later stated that they did not start dating until the fall of 2016.
July 27, 2016: An old laptop of Hunter's, abandoned at a Delaware shop, unveiled sordid secrets about his alleged affair with Hallie's sister Elizabeth Secundy from 2016, parallel to the time when he was dating Hallie. A text message from this date shows Hunter asking Elizabeth "Where are you you little sh*t. I miss you".
August 4, 2016: Hunter advises Elizabeth to be with her sister at the moment and 'search your conscience'. He also reminded Elizabeth not to tell Hallie that he was texting her.
August 2016: Hunter reportedly became close with Hallie during a trip with her and her kids to the Hamptons, where both of them grieved over Beau's death. After that, he started to spend most nights at Hallie's house, he shared in an interview with New Yorker. He admittedly found comfort in her company while both of them were still reeling from Beau's tragic demise.
Text messages from Elizabeth around this time show her asking Hunter for financial help quite a few times. In one text, she mentions "Hey...can you send me more money? sorry to ask. i promise it won't be much longer. Joel took that job." Joel Secundy was Elizabeth's former husband whom she split in 2015 with and divorced in 2019.
September 2016: Another text message from Elizabeth confirms that the money transfer from him has gone through, but she indicates that she is still not in a viable financial position. She writes "love you" at the end of a text, adding "love you both", possibly hinting at Hallie as well.
September 8, 2016: Hunter sent a very sexual message to Elizabeth, saying "We should shower together by FT [FaceTime] every morning or night when we're up at 3- stress relief - I'll teach you how to masturbate," reports DailyMail.
September 17, 2016: It is quite evident that Elizabeth probably had feelings for Hunter, as she frequently told him that she loved him. The messages on this day indicate that they also called each other quite often.
In another message thread from the same day, Elizabeth calls him 'her only prince', adding "I'm totally coming back for you." She also adds that she and Hallie were always there for him.
An insider source close to Hunter told DailyMail that around this time Hunter, Hallie and Elizabeth would often spend time partying at Beau's old house, and often 'sit out on the patio like crackheads almost'.
December 9, 2016: Kathleen Biden officially filed for divorce from Hunter, citing his drug addiction and habit of sleeping with prostitutes as the reasons.
March 1, 2017: After months of speculation and probing reports by the media, Joe Biden finally acknowledged Hunter and Hallie's relationship in public, and gave the couple his blessings.
April 10, 2017: Elizabeth messages Hunter asking him to send $500.
April 26, 2017: A group conversation among Hunter, Hallie, and Elizabeth dated April 26, sees her asking Hunter and Hallie to hire her. "hunt/hallie can you please hire me now .....so i can get my life together and then i will find my own job and unburden both of you."
Hunter replied - "Hallie its called leverage"
Elizabeth added - "so is that a yes? i hate asking for money everyday. it's the worst feeling."
December 2017: Hunter reportedly conceived a child with Lunden Roberts, who was earlier working as a stripper at a club in Washington DC where he was a regular visitor. Roberts reportedly chased him to the court to convince him for a DNA test, that proved her daughter Navy's father in Hunter indeed.
July 3, 2018: Hunter signs a rental agreement on a house in Greenville, Delaware together with Elizabeth. The agreement listed the two as tenants from August 2018 to July 2019.
As evident from emails exchanged between Hallie and Hunter around this time, they had probably ended their relationship.
August 2, 2018: Hunter writes to Hallie "'I need you as a friend Hallie- you can love romantically whomever you want."
"But I have no friends that I need like I need you. I thought we agreed that we would never part ways and certainly that we would never forbid access to my family, that we would ignore and not speak to one another - that we would never make decisions unilaterally that cause harm."
April 30, 2019: Hunter and Hallie's split became public.
May 10, 2019: Hunter meets Melissa Cohen, a South African model.
May 16, 2019: After a whirlwind romance of just six days, Hunter and Melissa get married.