'Houses with History': How the team transformed worn-out home to a deal worth $650K 'Houses with History' is a 2021 home renovation series. The show stars historian Mike Lemieux, professional carpenter Rich Soares, and designer Jennifer Macdonald; a dedicated trio who takes up the challenge to rescue stunning vintage houses in Plymouth. Their primary mission is to save old properties in the area. The series is all about more than just renovating. Its key focus is on preservation and helping restore the legacy of some of America's oldest historic homes.
The team scan through Plymouth County and its surrounding wooded areas, south of Boston. They come across and transform 18th and 19th-century homes into brand new ones, all while preserving their natural history. For this motivated team, saving a home means saving a piece of history. What's more, they share all of that homes' origins and renovation stories with us!
RELATED ARTICLES
'House In A Hurry' Season 2 on HGTV: Release date, cast, plot and all you need to know about the house-hunting show
'Help! I Wrecked My House' Season 2: Release date, spoilers, and all about HGTV show

The star attraction of 'Houses with History' undoubtedly is the minute details in finishing, renovation, and refurbishing. While home renovation shows are not new to us, there is something very different about this show, that makes it stand out, a class apart!
In the recent episode of 'Houses with History', Mike, Rich, and Jennifer take a look at Wapping Road, located in Kingston, MA. It used to be the residence of the Faunce family, and they were some of the original members of the Plymouth Colony, arriving on the ship "Anne", in 1623.
The house has a ton of cool details and is spread across over about 13 acres of land. We're also made to understand that if the selling price of the house is high, the budget for renovation costs will be on the low.
Here's a first glance at the houses before the team stepped in with their finesse.
Due to the lack of maintenance and climate changes, the house was quite worn out as a whole. Every inch needed detailed looking into, and professional repairing.
As mentioned before, the team left no stones unturned! Jennifer's eye for detail was well used to convert this vintage, brown table to a kitchen cabinet, to stock up on spices and edibles. Creativity is her middle name, no doubt!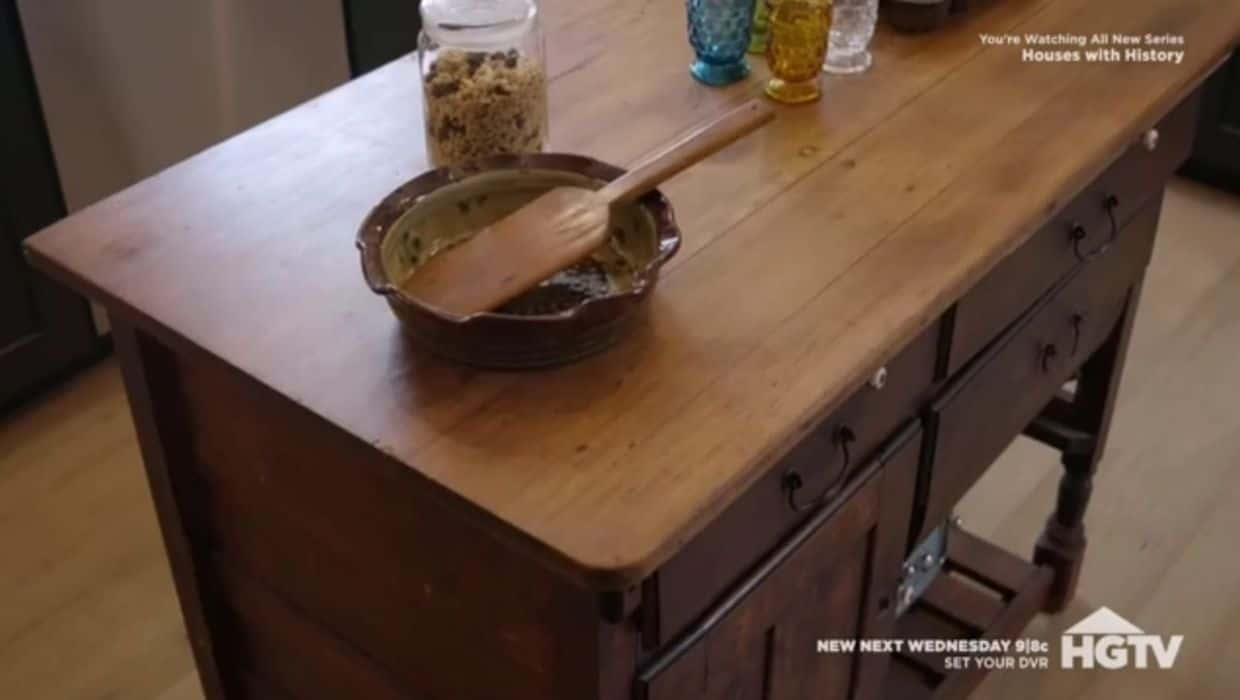 After working on Wapping Road, the numbers come into the picture. The purchase price was about $229,000, with renovation costs coming up to $350,000. The house was listed at $585, 000 and was sold at $650, 000!
To get a better idea of the complete work done on the house, here's a small clip shared by Jennifer on her Instagram page, "jennyatfullcirclehomes".
'Houses with History' airs every Wednesday, at 9 pm ET/PT only on HGTV.