'Hell's Kitchen' Season 19: Meet Kori Sutton, Cody Candelario and rest of the contestants on Gordon Ramsay's show
'Hell's Kitchen' premieres on January 7, Thursday, on Fox. Here are all the contestants this season Gordon Ramsay is back with a brand new season of 'Hell's Kitchen', which is scheduled to premiere on January 7 on Fox Channel. As it sets foot into its 19th season, we take a look at the chefs who will be competing for the big prize. This year, the winner gets to be the head chef at the mentor's Lake Tahoe restaurant that goes by the same name as the show.
Adam Pawlak
Growing up in Bay View, Milwaukee, Adam had no idea he would running a restaurant business, much less competing in Gordon's sought after reality TV show. By 2019 end, he had two outlets of Egg and Flour, an Italian cafe he runs in the neighborhood. Money was never his concern, passion for food and to be able to do something it was. He began working at restaurants when he was going to school, which is when he picked an interest in the field. He started out as a dishwasher and is now quite the business owner.
Nicole Hanna
This New Hampshire native from Wolfeboro loves to spend time in the kitchen but that's not the only part of her's that she wants to be known for. She is also launching a clothing line dedicated to "lady chefs" and is called Yellow Jacket chef wear. It has an Instagram page where the admins share regular updates about the products.
Lauren Lawless
She's a lot of things at once — a chef, author, caterer, and a TV personality. Lauren has so far presented her "unique global cooking style" on 'Masterchef' and 'Supermarket Stakeout', where she won the grand prize and the champion's title. Her book is titled 'Flawless Cuisine: Inspiring The World One Plate at a Time', which documents recipes and the many stories behind them.
Syann Williams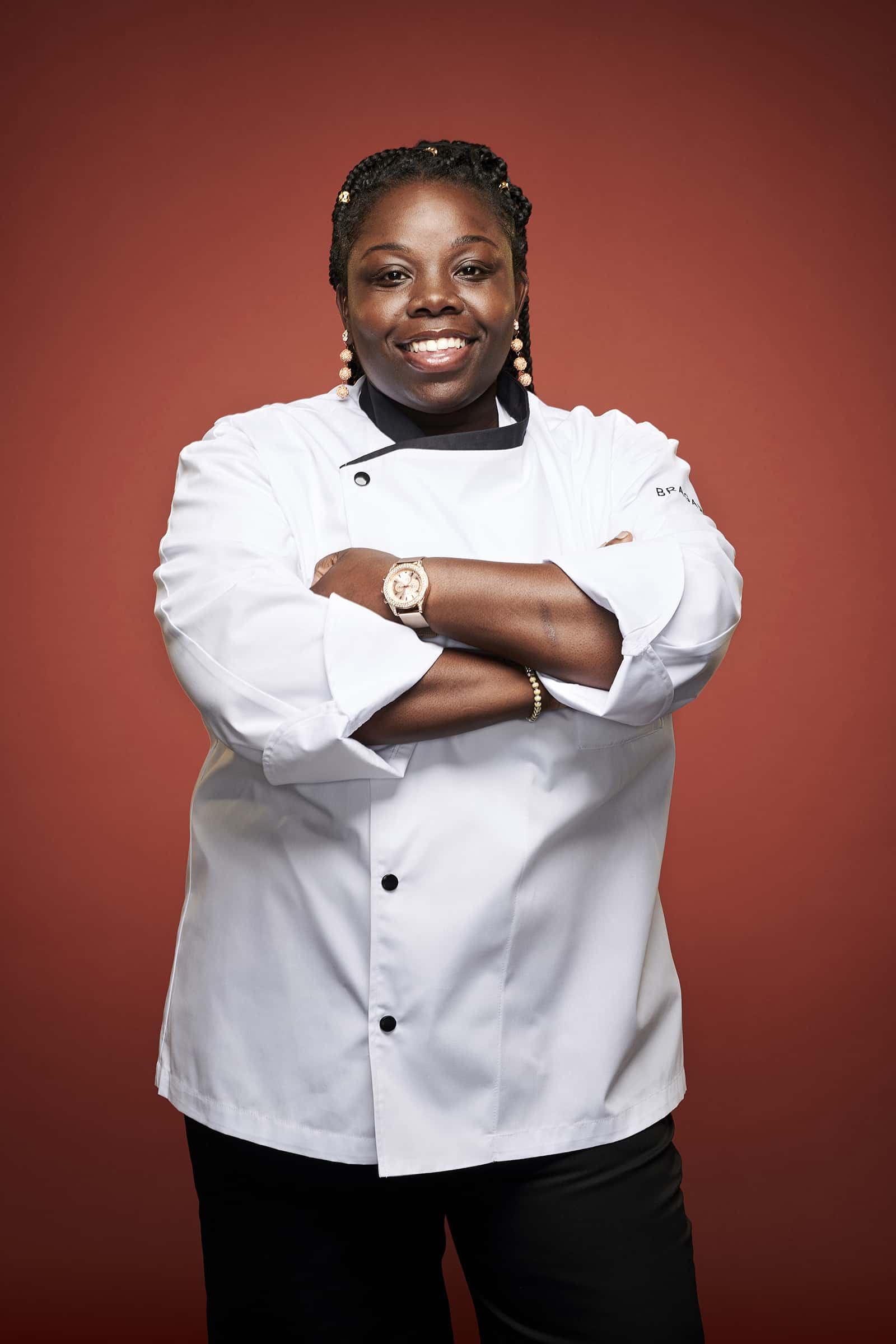 Cooking came easy to this chef. Growing up, she saw her family cook and eat together, which piqued her interest and there's been no looking back since. Syann comes from a family of chefs but they are all self-taught.
"I'm the only one who went to Culinary school. I enrolled at The Art Institute Of Atlanta at the age of 17, right after I graduated high school. While in culinary school, I got my first job in the industry working for one of the best catering companies in Atlanta," she told VoyageATL, and added that even though she landed gigs at fancy places, deep down she wanted to be her own boss and that was when Kravee Kitchenz! happened and became a growing catering business.
Mary Lou Davis
Anime, cosplay, and cooking — this chef is colorful, quite literally. With her hard-to-miss lilac hair and geeky approach to food, Mary is set to bring the house down under Gordon's watch. She graduated from the Culinary Institute of America, San Antonio, and has been a chef-partner at Whiskey Cake Kitchen & Bar for the past three years.
Josh Oakley
Josh's 12-year-long career began with him landing a job as a pantry cook. Years later, he accepted a position as a line cook with the Pullman and within months was promoted to sous chef. He not only helped the executive chef man the kitchen but also created menus and trained a line team. In 2015, he moved to France briefly to study pastry and cooking at the Gastronomicom Cooking School of Agde. He is currently employed as the executive chef of Avelina.
Fabiola Fuentes
She is apparently one of the finalists this season. A fan even commented on the show's Facebook page: "Since women are so much better than men in hells kitchen, I was thinking maybe it's time to listen to Gordon Ramsey and to cut the fat meaning season 20 should be an all-female edition of 'hells kitchen'. Why even invite men when they have no chance of winning. Also, an all-female edition would be the highest-rated season in hell's kitchen history."
Drew Tingley
Harrisburg native answered the 'Hell's Kitchen' casting call on a whim, reported Pennlive. He never thought he would get through despite the fact that he has 15 years of experience in the field. In this time, he worked at both Ted's Bar & Grill and Gilligan's Bar & Grill, and is now appointed as a line cook at Ard's Farm in Lewisburg.
Declan Horgan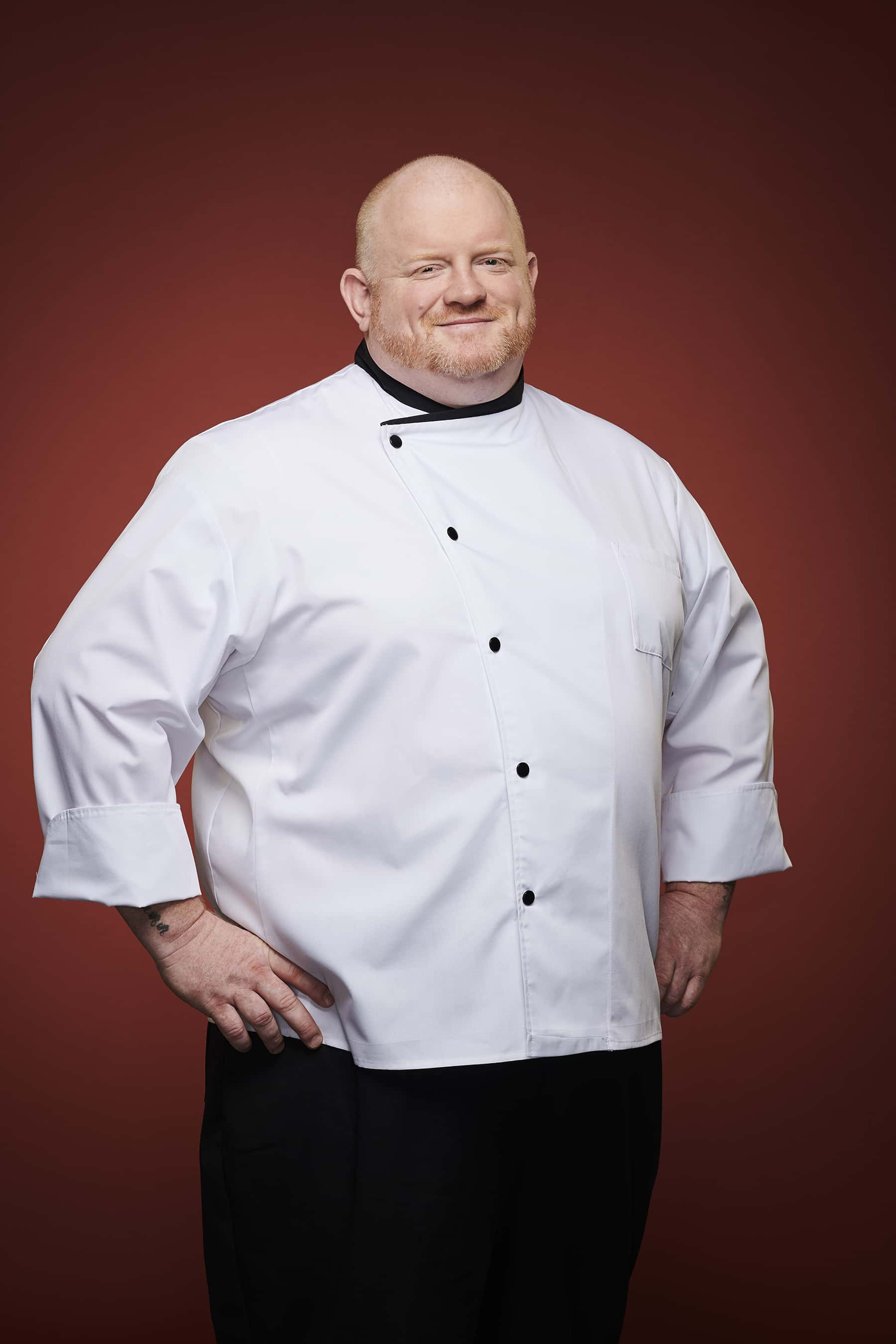 This 41-year-old chef, employed as Executive Chef at Kirwan's Irish Pub, is not what he looks like right now. He underwent a massive transformation in a year, shed nearly 15 pounds, and beat type 2 diabetes, Washingtonian reported. Talking to the publication, Declan shared what inspired him to take that tough route. "Wanting to live the American dream and look good doing it. I'm a single Irish man who is easy on the eyes now, and can cook as well, with a voice like a lullaby," he said.
Amber Lancaster
She recently joined New Jersey's Aparium Hotel Group as the Executive Chef for The MC Hotel, a boutique property. Amber brings with her a decade of experience in the culinary industry, which she gathered working in Paris and Chicago. She has held positions in Michelin star restaurants such as Guy Savoy and Hotel De Crillon in Paris. She is a Le Cordon Bleu graduate.
Brittani Ratcliff
Not much is known about Brittani except she supports the LGBTQ community and is really thrilled about being a part of the show. Her Instagram handle is proof that she is looking forward to what's in store when 'Hell's Kitchen' airs.
Cody Candelario
You may know him from Food Network's 'Cutthroat Kitchen' where he beat several experienced chefs to win the championship. It was unexpected because, at the time, he was a college kid, studying luxury hospitality operations at Niagara University. At just 22, Cody was able to bulldoze his competition like a piece of cake and that was the beginning of all things awesome for this chef. Let's hope he continues his dream run on 'Hell's Kitchen' as well.
Eliott Sanchez
"Family, friends and great food" are the three things that tie Eliot with his culinary adventures. He started pretty young. "I have been working in restaurants since the age of 15, and since then, I've studied at one of the top culinary schools in the nation, and have cooked at the professional level in several great restaurants including the world-famous three Michelin starred flagship restaurant Jean-Georges in NYC," the chef's website reads. He now runs a catering business.
Jordan Savell
Not much is known about her background but a fan page says apparently, on the show, Gordon compared Jordan to a soldier. It further read that she was very particular about the challenges and would often lose her temper when the teammates would get something wrong.
Kori Sutton
At age 16, she completed a two-year apprenticeship at Café des Artiste's French Bistro in Puerto Vallarta, Mexico, her IMDb bio reads. She has 18 years of experience behind her and now serves as a private chef to celebrities and high-profile clients.
Peter Martinez
He's an executive chef, a food curator, and owner of the Digital Food Truck. He enjoys a decent social media following but unfortunately, his Instagram account - @chefpeterxmartinez - is private, and therefore, not much information is available.
Kenneth McDuffie
Again, one of those chefs, who knew his calling from a very young age. He learned all about food the science of it first hand and from the best — his grandmothers. Kenneth cooked for American singer-songwriter Patti Labelle. When not putting together meals in the kitchen, he serves as President of the National Black Chefs Association and is also the brand ambassador of My Gay Philly.
Marc Quinones
He's a household name and has featured in numerous publications but not because of his stint on 'Chopped' and 'Cutthroat Kitchen'. Marc brings an interesting flavor to cooking that is unique and closer to his roots.
'Hell's Kitchen' was shot in Las Vegas this year and will premiere on Fox on January 7.
Share this article:
'Hell's Kitchen' Season 19: Meet Kori Sutton, Cody Candelario and rest of the contestants on Gordon Ramsay's show