'Ice on Fire': Release date, plot, trailer and everything you need to know about Leonardo DiCaprio's climate change documentary With the world racing to curb climate change, it is only fitting that actors like Leonardo DiCaprio raise the issue and help combat the rampant destruction of the planet. Known for his work not only in the film industry but also as an environmentalist, DiCaprio presents an all-new documentary — 'Ice on Fire'.
The film is directed by Leila Conners, narrated by Leonardo DiCaprio and has him, Mathew Schmid and Leila Conners as producers and George DiCaprio and Roee Sharon Peled as executive producers with cinematography by Harun Mehmedinovic. Unlike other documentaries, 'Ice on Fire' brings to light the efforts of thousands of scientists who are doing their best all over the world to come up with innovative methods to further the cause.
"My partners and I made 'Ice on Fire' to give a voice to the scientists and researchers who work tirelessly every day on the front lines of climate change. We wanted to make a film that depicts the beauty of our planet while highlighting much-needed solutions across renewable energy and carbon sequestration. This film does more than show what is at stake if we continue on a course of inaction and complacency — it shows how, with the help of dedicated scientists, we can all fight back. I hope audiences will be inspired to take action to protect our beautiful planet," DiCaprio said in a recent statement.
DiCaprio has been a vocal environmental activist for years through the Leonardo DiCaprio Foundation, which partners with projects that protect vulnerable wildlife from extinction. He's produced several documentaries on climate change and animal rights, including 'The 11th hour', 'Sea of Shadows', 'Cowspiracy', 'Catching the Sun', 'Before the Flood', 'The Ivory Game', 'A Plastic Ocean' and 'Virunga'.
Release date
'Ice and Fire' premiered on Wednesday, May 22, at the Cannes Film Festival and debuts on HBO on June 11 at 8 pm.
Plot
In the new trailer, he touches upon the devastating impact of melting ice caps and how the effects of climate change in the Arctic will fuel flooding, droughts and more around the world. But rather than harping on the dire dangers of climate change, the trailer quickly shifts focus to the myriad efforts to fight it, such as giant solar power arrays, underwater kelp farms and even machines that can pull carbon out of the air and permanently remove it by pumping it underground and turning it into a rock.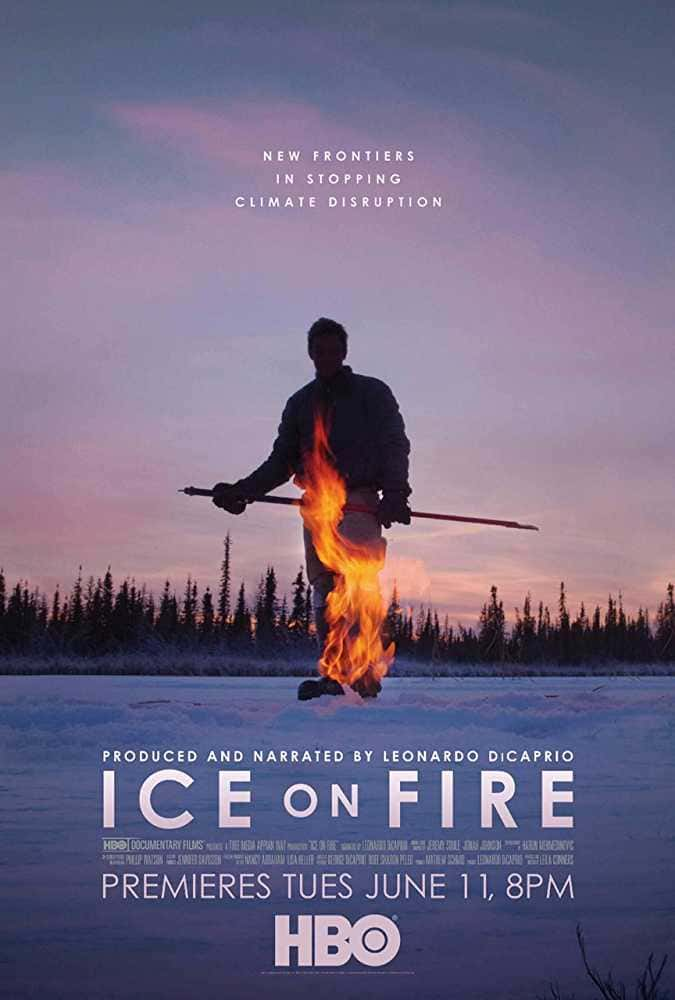 With sweeping cinematography of a world worth saving, 'Ice and Fire' was filmed across the globe, from Norway to Alaska, Iceland to Colorado, Switzerland to Costa Rica to Connecticut. The film highlights firsthand accounts of people at the forefront of the climate crisis, with insights from scientists, farmers, innovators, and others. The film visits places such as the Usal Redwood Forrest Foundation in Northern California, highlighting a carbon-storage project that focuses on reforestation and creates "biochar" to put CO2 back into the soil.
The film also showcases Ron Finley's urban farm in Los Angeles, where members of the community grow food that takes carbon out of the air and is nutritious. Climeworks' nimble direct air capture machine in Zurich and the Thimble Island Ocean Farm off the coast of Connecticut, where owner Bren Smith grows shellfish and seaweed that soak up more carbon than land-based plants that can be used for food, animal feed and fertilizer, also feature in the documentary.
'Ice and Fire' finds that while the risks and urgency may be higher than ever today, there are also greater opportunities for innovative solutions, offering a realistic but hopeful perspective on a key global issue that demands our attention.
Cast
Leonardo DiCaprio
Leonardo DiCaprio is the narrator and the producer of 'Ice and Fire'. Very few actors have had a career as diverse as DiCaprio. He has has gone from relatively humble beginnings, as a supporting cast member of the sitcom 'Growing Pains' (1985) and low budget horror movies, such as 'Critters 3' (1991), to a major teenage heartthrob in the 1990s, as the hunky lead actor in movies such as 'Romeo + Juliet' (1996) and 'Titanic' (1997), to then become a leading man in Hollywood blockbusters, made by internationally renowned directors such as Martin Scorsese and Christopher Nolan.
He shot to fame on the big screen for his leading roles in 'Catch Me If You Can' (2002) and 'Gangs of New York' (2002). DiCaprio continued to defy conventions about the types of roles he would accept, and with his career now seeing him leading all-star casts in action thrillers such as 'The Departed' (2006), 'Shutter Island' (2010) and Christopher Nolan's 'Inception' (2010), DiCaprio continues to wow audiences by refusing to conform to any cliché about actors. In 2012, he played a mustache-twirling villain in 'Django Unchained' (2012), and then the tragic literary character Jay Gatsby in 'The Great Gatsby' (2013) and Jordan Belfort in 'The Wolf of Wall Street' (2013). His most recent feature is in Quentin Tarantino's 'Once upon a time in Hollywood' which premiered during the Cannes Film Festival on May 21 which also stars Brad Pitt and Margot Robbie.
Director
Leila Conners
Leila Conners is a director and writer, known for 'The 11th Hour' (2007) and 'We the People 2.0' (2017).
Trailers
HBO released the trailer for Leonardo DiCaprio's upcoming environmental documentary on May 22, which also coincided with International Biodiversity Day. While the film captures the urgency of the planet's current climate situation, filmmakers hope that audiences come away from the documentary feeling like there are more opportunities for solutions than ever before. "I hope audiences will be inspired to take action to protect our beautiful planet," DiCaprio said.
Where to watch
The documentary will also be available on HBO On Demand, HBO NOW, HBO GO and partners' streaming platforms.
If you liked this, you'll love these
'The 11th hour', 'Sea of Shadows', 'Cowspiracy' and 'Catching the Sun'
If you have an entertainment scoop or a story for us, please reach out to us on (323) 421-7515
Share this article:
hbo ice and fire release plot trailer leonardo dicaprio leila conners climate change documentary