'Glass Onion' helmer Rian Johnson on 'whodunnits' being popular again and working with idols Stephen Sondheim, Angela Lansbury LONDON, UNITED KINGDOM: Filmmaker Rian Johnson stunned the world in 2019 with a classic whodunit 'Knives Out' that revived the genre in the most epic way possible. The movie, which saw Daniel Craig playing the role of a renowned private investigator Benoit Blanc, turned out to be a blockbuster hit and earned more than $312.9 million globally. So, it doesn't come as a shock that a sequel named 'Glass Onion: A Knives Out Mysetry' will soon be available for streaming on Netflix.

The second movie in the 'Knives Out' franchise will see Blanc heading to Greece with a group of friends as they travel to a remote island to meet a man named Miles Bron (Edward Norton) who has invited the group to the private island to celebrate his murder. Yeah, you heard it right. However, things turn wild when a real murder takes place during the celebrations, and Blanc is forced to investigate the crime. Johnson has been a massive fan of murder mysteries and he feels really happy that the whodunits are once again gaining popularity among fans.
RELATED ARTICLES
EXCLUSIVE| 'Glass Onion' star Kate Hudson on her 'tone deaf' character Birdie Jay and why watching movie with audience made her 'sweat'
'Glass Onion: A Knives Out Mystery' Review: Rian Johnson brings the house down in a spell-binding sequel
When asked why whodunits are becoming so popular in every medium, Johnson, while present at the 'Glass Onion' press conference at the BFI London Film Festival, noted that he is "thrilled" to see people are "rediscovering" the genre that has something to like about.

"I mean, for me, as a murder mystery junkie, I'm just so thrilled that there's this new kind of crop… I feel like we kind of like cut a nice wave of people rediscovering the joys of the genre. I mean, what's not to love? You get a great mystery, you get an ensemble cast with really interesting characters all trying to kill each other, I mean that's the heard of the drama," Johnson said during the press conference.

Apart from the engrossing murder mystery, the film is filled with a lot of interesting cameos. The movie sees greats like Stephen Sondheim and Angela Lansbury making an appearance in the movie for an important scene. The aforementioned celebrities feature in a scene where Blanc can be seen playing 'Among Us' with some of his online friends.
Johnson was so thrilled to have both Sondheim and Lansbury in the movie and noted that they were really "generous" because he thought they will "never" say yes to the movie. He added, "Both of them were so cool. Angela was so fun, I remember I went to her house with my laptop to film her little bit and she was like, 'I don't what any of this means so just tell me if I'm saying it right and I'm like you're dizzy. For both of them, um besides just the honor of having them in the movie, for me, personally, just being able to have 10 minutes with each of them, to tell them what their work has meant to me was really, really special."

The second film in the franchise has opened to universal acclaim and received praise from critics as well as audiences. In a positive review of the movie, MEAWW wrote that 'Glass Onion' is "bigger and better in every way possible, 'Glass Onion: A Knives Out Mystery' is another classic whodunnit from Rian Johnson." It currently holds a rating of 93% on the review site Rotten Tomatoes.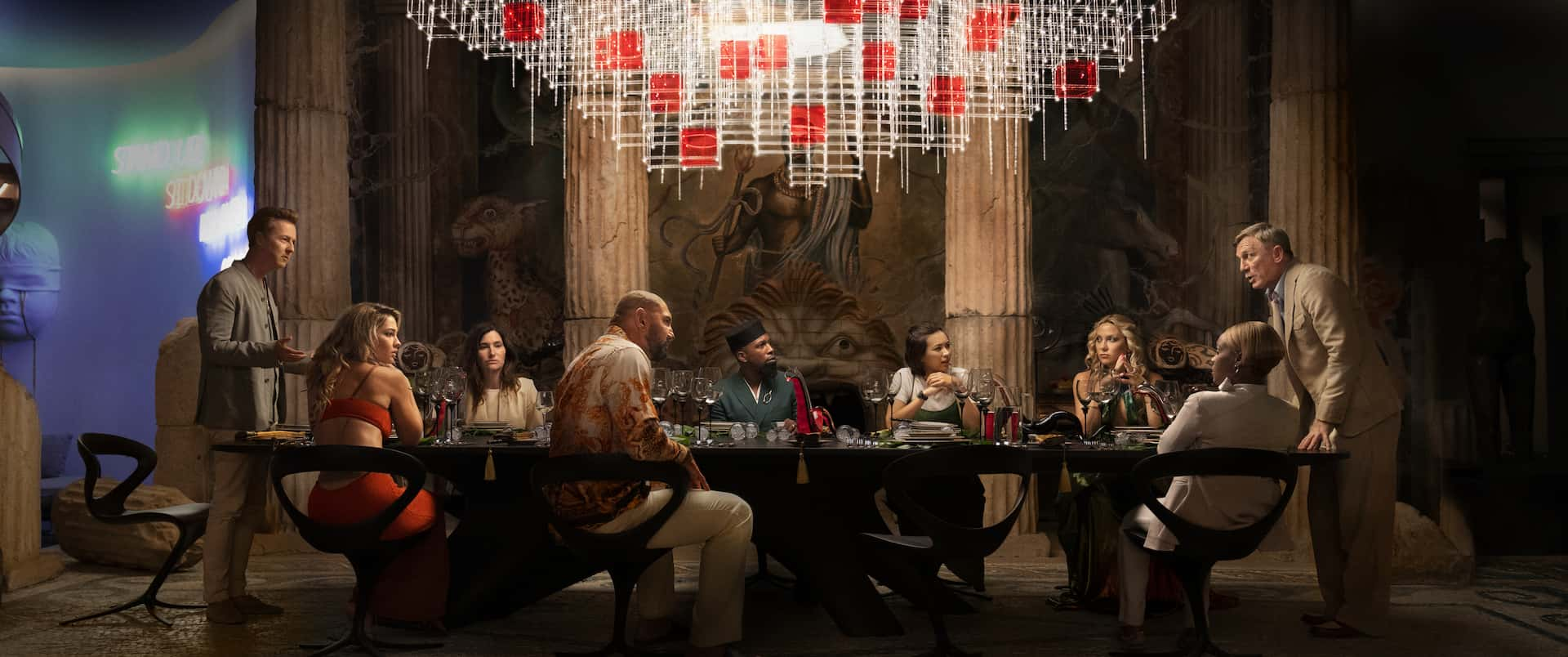 The movie also stars Edward Norton, Janelle Monáe, Kathryn Hahn, Leslie Odom Jr, Jessica Henwick, Madelyn Cline with Kate Hudson, and Dave Bautista in pivotal roles.

'Glass Onion: A Knives Out Mystery' will be streaming exclusively on Netflix on December 23.
Share this article:
'Glass Onion' helmer Rian Johnson on 'whodunnits' being popular again and working with idols Stephen Sondheim, Angela Lansbury