Who are George Floyd's brothers? How Philonise Floyd and Terrence Floyd's lives changed after his brutal death George Floyd's death sparked a worldwide Black Lives Matter movement and the justice for racial equality became the center of attention. In multiple videos released and circulated online, Chauvin is seen kneeling on Floyd's neck for reportedly 9 minutes when he was arrested last year on May 25. Chauvin's trial is reportedly expected to go on for one month. The publication reported that the panel has 15 jurors – "twelve will deliberate, with two alternates".

This past Sunday, a vigil was held by civil rights leader and Reverend Al Sharpton at a Greater Friendship Missionary Baptist Church in Minneapolis. George Floyd is survived by his siblings, which include two brothers named Terrence Floyd and Philonise Floyd. Philonise was recently reported to have said that he will kneel for 8 minutes and 46 seconds in front of the courthouse. The call for rightful justice continued as The Daily Mail reported that protestors were there with signs in front of the courthouse on Sunday. While addressing the crowd at the vigil, Sharpton asked, "Is America prepared to hold police accountable and make them pay when they are wrong?"

RELATED ARTICLES

George Floyd's traumatized brother Philonise watches 'murder video' every day, fears cops will kill him
George Floyd funeral: Brothers break down near casket, say he would've sacrificed himself to unite the world
George was the oldest of five children which also include sister LaTonya and brothers, Philonise and Terrence. Here's how their lives changed after the tragedy.
Philonise Floyd
Philonise has spoken out more about the taboo topic of police brutality. On June 10 of last year, Philonise testified in front of Congress, saying, "I'm tired of the pain I'm feeling now and I'm tired of the pain I feel every time another Black person is killed for no reason. I'm here today to ask you to make it stop. Stop the pain. Stop us from being tired."
Floyd family attorney Benjamin Crump said, "They're going to attack his character so much they're going to try to hope you forget what you saw in that video." The lawyer reportedly who "secured a $27million civil settlement" for the family added, "Have said until we get justice for George Floyd we cannot breathe. Perhaps at the end of this trial, we can all exhale together." At the vigil, Philonise added, "I have a big hole in my heart. It can't be patched up with money. We need a conviction. I have faith that he will get convicted."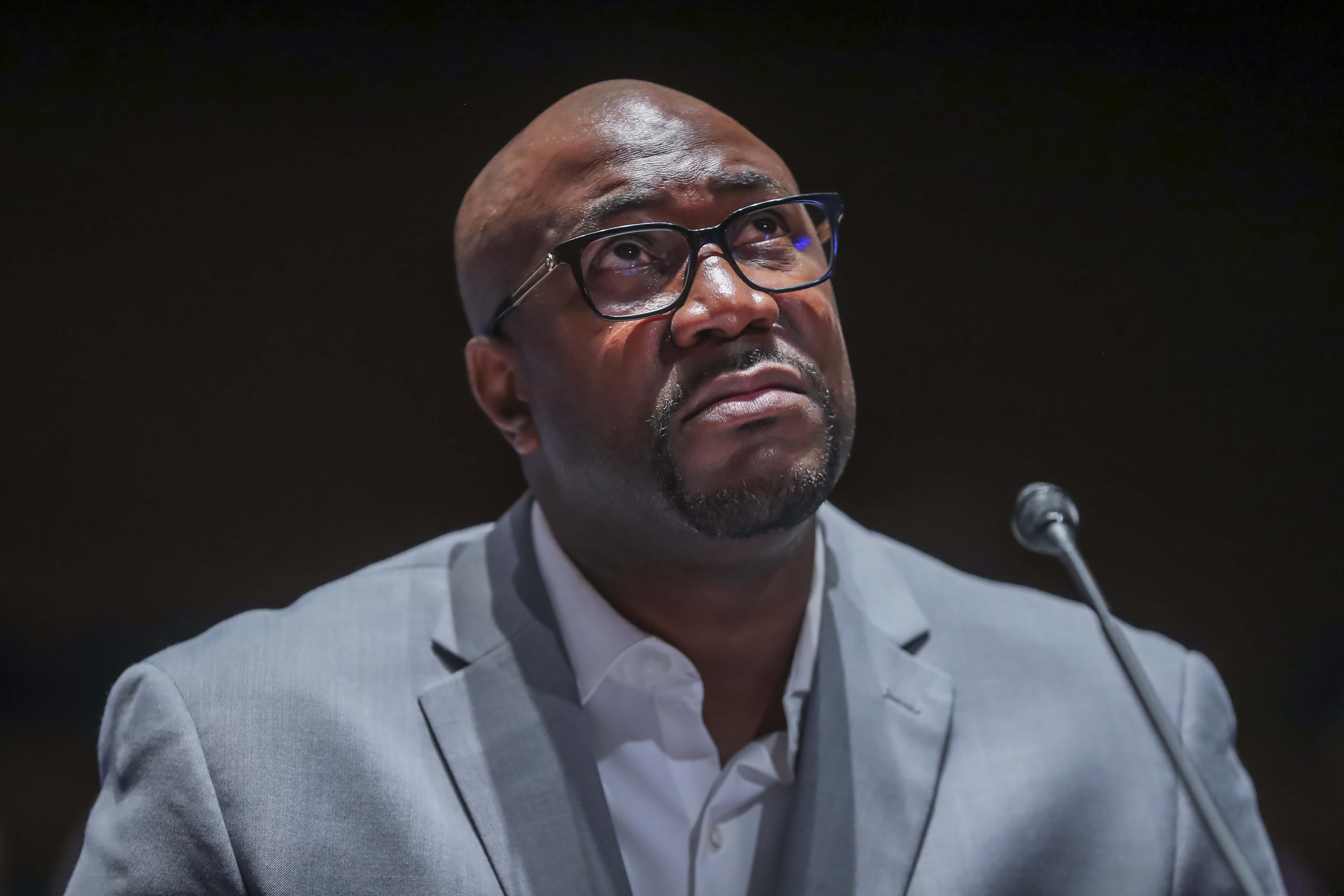 Terrence Floyd
During the recent vigil, Terrence collapsed when he was at the podium and was comforted by Sharpton. "We're asking the system for justice but this gathering we're doing right now is what's needed," he said. "We're gonna ask God for justice. We need justice, we need it now!" According to reports, Philonise said that he would kneel in front of Hennepin County Government Center, which is the location at which Chauvin's trial is being held this Monday morning. He's kneeling for the same amount of time that Chauvin reportedly had his knee on their brother's neck.
Back in June 2020, Terrence visited the Minneapolis intersection where his brother had died crying and kneeling in prayer. He was reportedly so emotional that he had people on either side of him so he couldn't fall. The Floyds, a religious Texan family took to prayer among the tributes present at the intersection. "First of all, first of all. If I'm not over here wilin' out, if I'm not over here blowing up stuff, if I'm not over here messing up my community — then what are y'all doing? Nothing, because that's not going to bring my brother back at all," Terrence had said.
He added, "So let's do this another way. Let's stop thinking that our voice don't matter and vote…because it's a lot of us and we still going to do this peacefully."
The brothers seem to be a close-knit family with both Terrence and Philonise reminiscing old days when their brother was alive. Back on June 4, 2020, at a Minneapolis memorial service, Philonise said, "It was just amazing. Everywhere you'd go and see people, how they'd cling to him [George Floyd). They wanted to be around him. George, he was like the general. Every day he walks outside, and there's a line of people. They wanted to greet him and wanted to have fun with him."
The gut-wrenching video of the incident, where Floyd was repeatedly heard telling the officers 'I can't breathe' and calling out to his mother as he breathed his last, surfaced on social media and circulated all across the globe. After the incident, Americans took to the streets in thousands protesting against police brutality, systemic racism and simultaneously demanding justice for Floyd.
Share this article:
George Floyd brothers Philonise kneel 8 minutes 46 seconds courthouse Monday Derek Chauvin trial