Arya and the Hound could join forces to kill the Mountain in 'Game of Thrones' season 8 *Spoilers for season 8, episode 4*
One of the highlights of the recently aired fourth episode of Game of Thrones season 8 came right at the end of the episode as we saw Hound and Arya riding away from Winterfell and towards King's Landing.
While Cersei is definitely on their kill list, some believe that it is the good ol' Mountain who runs a bigger risk of being executed by his brother, The Hound, and the faceless assassin, Arya Stark.
Is it possible that Arya (Maisie Williams) and The Hound aka Sandor Clegane (Rory McCann) could make The Mountain their next target? The Hound has already indicated that he might be headed to the capital to confront his brother.
The said confrontation will be about the Mountain holding the Hound's face against a fire back in their childhood which resulted in the significant scar we see on one half of Hound's face.
So, it's quite possible that, as he and Arya resume their journey, they are actually marching towards King's Landing to take down the Mountain.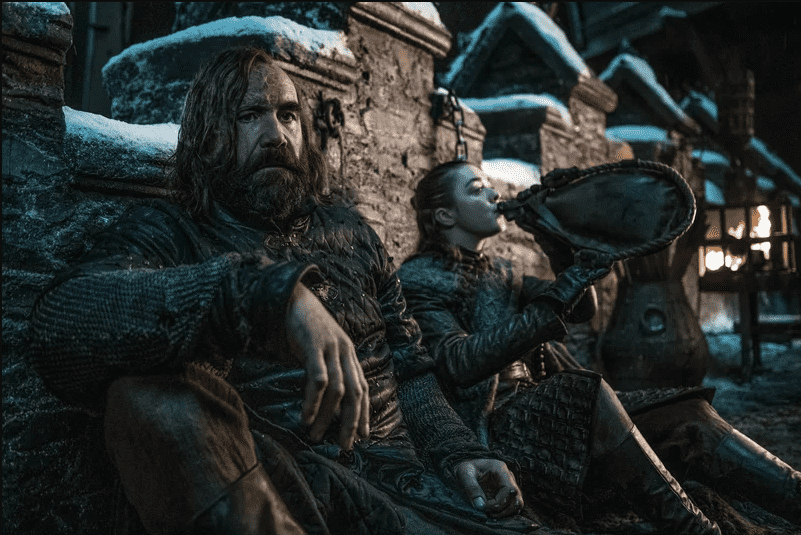 In the last episode, Arya and Hound shared a sweet moment where the Hound says "I don't plan on coming back," to which Arya responds "Neither do I."
He asks her if she would leave him to die once again, like she had in the past after he got injured the first time they were traveling together. This further establishes that they are planning to go on this journey together and vouch for each others' safety. The fact that the Mountain is on Arya's kill list too only makes us think that maybe their next mission is indeed the death of the humongous killing machine.
Arya has had her kill list right from the beginning of the show, ever since she watched her father getting beheaded by the Lannisters in season 1.
Over the years, names of traitors who betrayed her parents were added to the list so, of course, the Mountain — who happens to be one of Cersei's most loyal guards — made it to the list.
Arya has delivered on her promise to take out the traitors, with Walder Fray and Petyr Baelish being two of the most recent murders she committed as part of her promise. Considering that she was the big hero of Winterfell who vanquished the Night King too, it only makes sense for her to focus on the Mountain instead of Cersei as her next target.
For all we know, the Hound might end up dying in his pursuit to confront his colossal brother.
It is also possible that Arya ends up killing the Mountain and then uses his face to kill Cersei — thus making her kill list come full circle. Only the coming episode will tell how far the two travelers are able to make it before whatever lies on their path greets them.
'Game of Thrones' airs on Sundays at 9 pm, only on HBO.