Gabby Petito merchandise sold for profit, sparks outrage: 'What's wrong with people?' Merchandise relating to Gabby Petito being sold on e-commerce websites hours after an autopsy confirmed that the human remains found in the Grand Teton National park in Wyoming belonged to the vlogger, has sent the internet into a frenzy. 22-year-old Petito's death was ruled homicide. "Teton County Coroner Dr Brent Blue confirmed the remains are those of Gabrielle Venora Petito, date of birth March 19, 1999. Coroner Blue's initial determination for the manner of death is homicide, " a statement from the FBI said Tuesday, September 21.
Hunt for Petito's boyfriend, Brian Laundrie, 23, goes on as he was named a 'person of interest' in the case and has been missing from his home in Florida since Tuesday, September 14 when he told his parents he was going hiking in a nature reserve near Venice, Florida but never returned. Independent sellers on e-commerce websites like Amazon and Etsy are now found to be hosting sellers peddling Gabby Petito-branded merchandise and are facing the Internet's wrath for cashing in on a tragedy like this.
RELATED ARTICLES
'Stan': Did Gabby Petito use code for danger? Internet links last text to Eminem song
Gabby Petito was 'a smiley, really sweet girl', says her hometown surf shop owner
A search for Petito's name on Amazon brings up at least four items related to the case. Three of which are listed by a seller named SHANZEI, a third-party apparel merchant, that seems either to be based in or linked to China. SHANZEI is selling black cotton t-shirts for both men and women for $12.98. The t-shirts in question can be seen in a range of prints, including images of Gabby from her Instagram page and the words "#FindGabby" or "Praying for Gabby Petito" emblazoned across them. Reportedly, the clothing was first listed for sale on Monday, September 20 the day after Gabby's remains were found.
The fourth item listed for sale on Amazon related to the Gabby Petito case is a self-published book titled, 'Gabby Petito: Everything You Need To Know About The Missing Travel Influencer', by Victor Micah. The book is being sold on Amazon's Kindle Store for $2.99. In a description of the book, the writer pledges to tell readers "Who Gabby Petito really is; [about] Gabby's disappearance; Where and how her dead body was found; and proof that Brain Laundrie - Gabby's boyfriend - killed her."
On the other hand, t-shirts and hats memorializing Petito are being sold on Etsy for between $21 and $33.60. "In Loving Memory of Gabby Petito" , "Justice for Gabby Petito" or "#GabbyPetito Never Forgotten" can be seen written across the vast majority of the items. No comment from either Etsy or Amazon were available at the moment over the items.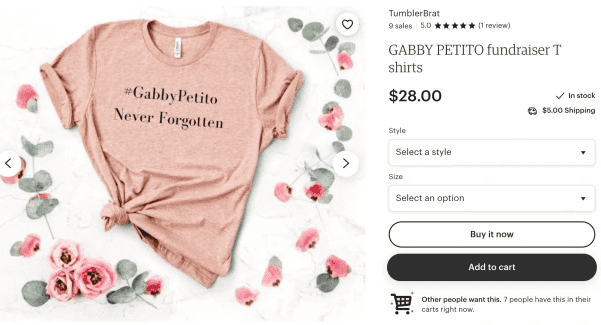 Social media outraged
People on social media were outraged that the sellers are profiting off of Gabby's death on both Etsy and Amazon. One person tweeted, "People are actually selling Gabby Petito merch online. What is wrong with people? I want to call their parents and tattle on them" Another person wrote, "What is wrong with some people?! #GabbyPetito" One tweet read, "How the FU*K do you write an ENTIRE BOOK about a case that is still underway?"
---
People are actually selling Gabby Petito merch online. What is wrong with people? I want to call their parents and tattle on them.

— danielle starry (@DanielleStarry) September 22, 2021
---
---
How the FU*K do you write an ENTIRE BOOK about a case that is still underway?

— Dani is fully vaxxed as of Oct 1st 🏳️‍🌈♿ (@RealDaniHensley) September 21, 2021
---
Share this article:
Gabby Petito merchandise sold profit e commerce websites Amazon Etsy internet reactions