'Floribama Shore' Season 5: Gus Smyrnios storms off after argument with Candace Rice If you're a fan of team drama, gossip and want some chill vibes, 'Floribama Shore' is your go-to reality show, that airs once a week on MTV. The weekly show has it all, from drunken shenanigans to high school level drama, to even unreasonably petty fights but all to end in a friendship of a lifetime.
The newly aired episode of October 28 starred our regular gang of a still heavily pregnant Nilsa Prowant who is fed up with morning sickness, Jeremiah Buoni, Kirk Medas, Candace Rice, Codi Butts, Aimee Hall, Gus Smyrinos, and Candace's friend, Bethany.
RELATED ARTICLES
Is Codi Butts secretly gay? 'Floribama Shore' fans think pursuing Candace Rice might have been a 'plotline'
How did Gus Smyrnios get a scar on his face? 'Floribama Shore' star claims his explanation was edited out
On the episode of 'Floribama Shore' that aired on October 28, Candace and Gus have a small tiff and that eventually turns into a full-blown argument. At first, Candace, with her friend, Bethany's help, was just trying to put her point across to Gus that his sister calling Candace up to threaten her was not cool. Her intention was for Gus to understand, accept and basically just apologize for the same, which he did in due course of time.
Now Candace could've just sat this one out but she made the mistake of blurting out that Gus doesn't like her as a person and doesn't talk to her like he does to Nilsa and Aimee. In addition, both she and Bethany talk about how difficult it is to be accepted as a Black woman. A classic 0 to a 100 real quick.
A very worked-up Gus says that Candace is just making up assumptions as to why he doesn't like her but gets all the more stressed in the process of explaining that he just storms out of the house, with Candace following him, demanding he to finish their conversation.
The next morning, the gang decided to have a slip and slide party with a soapy mat, a water hose, and just some solid good vibes. Since Gus can't get his foot wet since the injury's still healing, he sits and watches the rest have a ball.
Midway into the summer fun, Candace walks up to him to straighten things out, saying that she doesn't like it when there's clearly an elephant in the room, and she and Gus have to pretend as nothing happened. Candace apologizes for what she said earlier, while Gus promises to take care of his sister's situation. The two hug it out as friends would! And what's more, Candace even whips up a plate of strawberry shortcakes by midnight, in time for Gus's birthday! All's well that ends well.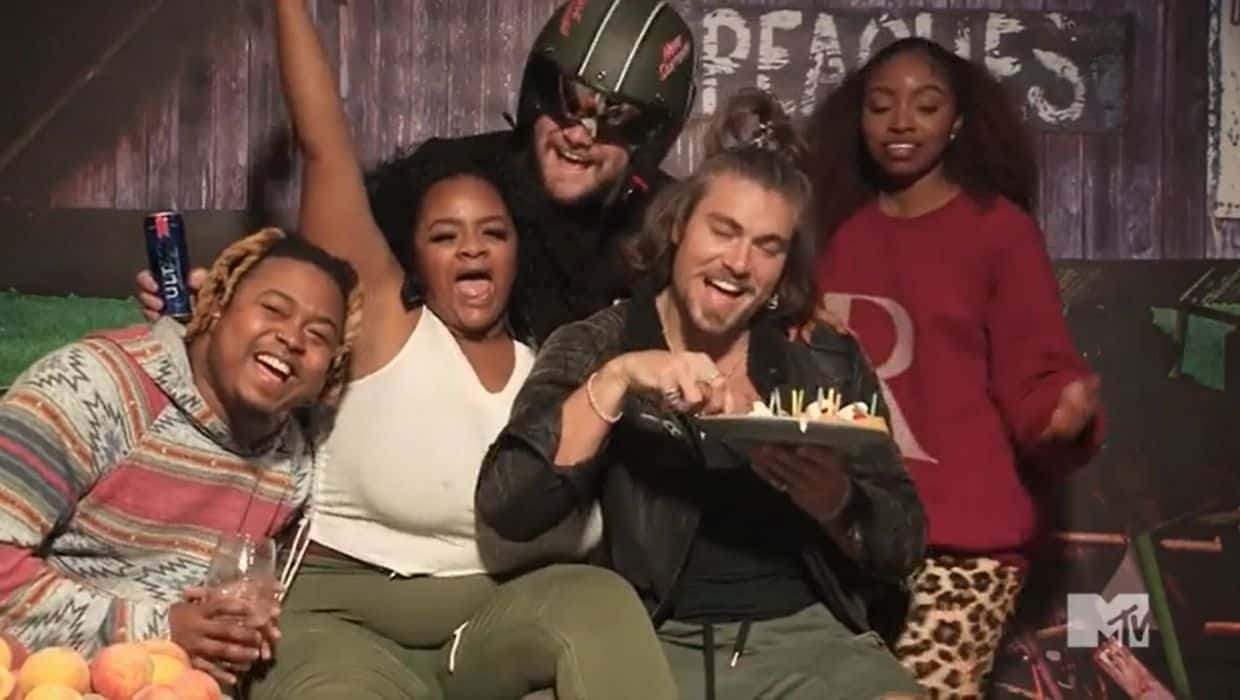 'Floribama Shore' airs every Thursday at 8/7c on MTV.