'Finch' Review: Tom Hanks' post-apocalyptic drama is heartening and makes you misty
With this bittersweet drama, Emmy-winning director Miguel Sapochnik just proves that he's an ace when it comes to tugging the heartstrings A still from 'Finch' (Apple TV+)
If 'Finch', then 'BIOS' were to have been released in theatres during the time we so much hadn't heard a whisper about the COVID-19 pandemic, there sure would have been misty eyes by the time the credits rolled. That's not to say there won't be any of those joyful tears breaking out when it releases on Apple TV+ on Friday. It's a big day really, what with Marvel showcasing the latest superheroes on the block with 'Eternals', and the Giants taking on the Raiders over the weekend. Idris Elba's 'The Harder They Fall' is already more than just a conversation starter and will surely have some eyeballs.
But this drama deserves a watch. Not for Tom Hanks, not for the lovable, scruffy-looking adorable tyke of a dog, or a robot that looks downright funny, but a clever one at that. This one's to make the heart feel lighter. 'Finch' is more than a man surviving an apocalypse, it's about whether the survival was worth it even if there was no solar flare that ravaged the earth and killed billions. The storyline is simple — a dying robotics engineer creates a robot in his likeness (at least the mental part) to take care of his dog, Goodyear when he's gone.
RELATED ARTICLES
'Finch': Where was the Tom Hanks post-apocalyptic flick filmed?
'Finch': 5 things about Apple TV+ sci-fi flick starring Oscar-winner Tom Hanks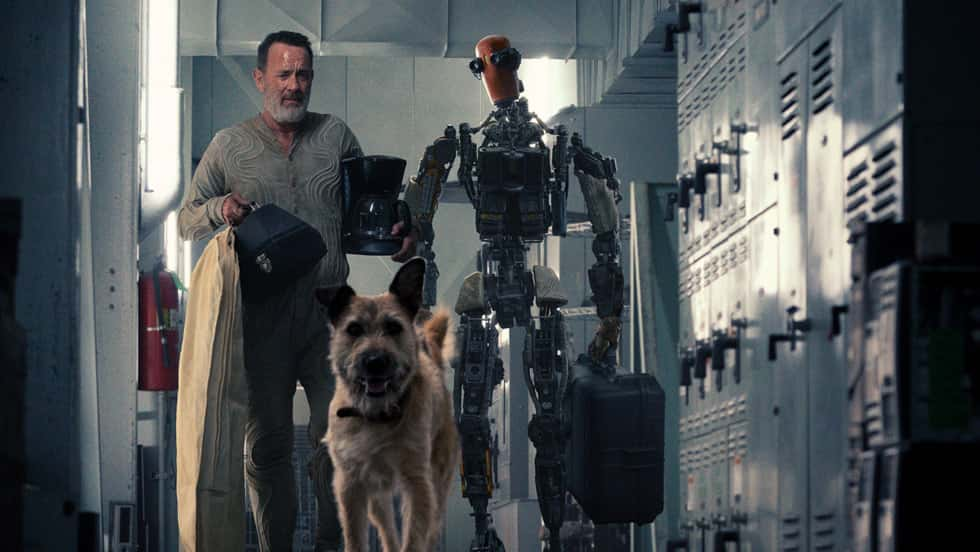 The tone is pretty much the same as most post-apocalyptic movies. The world's pretty much damned with sweeping and sweltering winds that can kill you before the scorching heat does. There's a lone survivor on Weinberg Finch (Hanks) as he wears a suit to prevent the UV radiation from taking its toll, he uses a modified mud-cross helmet fitted in with oxygen and a coolant, and when he's not in his secure silo, gears up and heads out scavenging for supplies for him and Goodyear.
Emmy-winning director Miguel Sapochnik just proves that he's an ace when it comes to tugging the heartstrings. After 'Game of Thrones', this movie is pretty much an ambitious project that may have tanked had there been elements of violence or fantasy, but Sapochnik keeps it simple. The concept is part novel and part futuristic, but believable. It's a decent comparison to Matt Damon's 'The Martian', another tearjerker, except that this one's not set on Mars. The world, with people, can make you feel desolate at times, this one sees Finch with just a couple of robots and a dog for company.
So there's Finch, having a daily routine, and all the while coughing and wheezing with some dangerous nose bleeds that are the effects of being exposed to the harsh radiation. He's dying one day at a time and things don't help his case when a super-storm is looming making sure he won't make the cut, and neither will his beloved companion. This leads to him creating a human-shaped robot that is designed to help Finch on what would be his final journey, all the way to San Francisco.
The robot, Jeff comes to life (voiced by Caleb Landry Jones and motion captured as well) is an apt sidekick. He's funny, cute and a fast learner, for a guy who was born just yesterday. It takes a yelling or two for Jeff to build a better relationship with Finch and Goodyear and the question is can he get there before it's too late? There's a lot of sentiment, but the movie justifies it. It shows a man who is more than just responsible or duty-bound. Hanks delivers a great performance as an at-times-funny, at-times-grumpy grandpa. He's still got great spirits for a man running out of time in a toxic (literally) world.
'Finch' is just what some Fridays need.
'Finch' releases on November 5 on Apple TV+