EXCLUSIVE | BugAboo share future plans, Ryan Jhun's words of wisdom and spooky TMIs The latest K-pop girl group to debut happens to be none other than bugAboo. Under Ryan Jhun's label Ateam Entertainment, the girl group consists of multi-national members hailing from South Korea, Taiwan and Japan. Their much-awaited debut created a storm as the music video for 'bugAboo' crossed 5 million views in 5 days and currently has 10 million YouTube views. They entered the top 20 of MelOn's female group chart and Bugs Music Chart.
The lead single 'bugAboo' is a fun dance-pop song with a spooky and campy concept. Being introduced in 2019, bugAboo debuted on October 25, 2021. And it seems that the girl group has exciting things in store for fans. MEAWW had a chance to ask bugAboo about their goals, fun TMIs and their future projects. Well, in an exclusive interview with MEAWW, the six girls talk about the challenges they faced, what got them into K-pop and fun behind-the-stories of the spooky music video.
READ MORE
EXCLUSIVE | Kingdom share plans of their fantasy series and 'History Of Kingdom Ivan'
EXCLUSIVE | DreamNote talks about band's diverse colors in 'Dreams Alive' album
MEAWW: First off, congratulations on debuting and the release of 'bugAboo'! Your fans will absolutely love the songs. What was your first thought when you heard the final version of 'bugAboo'?
Cyan: It felt fresh that the title of the song was the same as our group name. The melody felt addictive and lively, so I liked it.
Zin: The climax part of the melody felt cute. I thought it matched well with the cute and yet powerful image of our members.
Yoona: I was touched by listening to bugAboo's various vocal sounds and its musical tone.
Eunchae: Thinking about our music hitting the world made me feel excited, and I also enjoyed the addictive hook.
Choyeon: Finally having our own song made me think I should be more responsible as an artist. I also felt touched as it reminded me of the times when we were trainees and doing covers of other artists' songs.
Rainie: The first time listening to it felt new and fresh. Also, it made me question how would I be able to express the song with full potential, but overall I think we managed well through practising hard.
MEAWW: What would you say is the killing part of 'bugAboo'?
Choyeon: The part where it repeats "bugAboo," which is the chorus. It's the most addictive part of the song, and it has a melody that makes you feel excited.
Rainie: I agree with what Choyeon said. It's the chorus where it repeats "bugAboo." Also, the dance moves make an impact!
Eunchae: In my opinion, the moment where Zin is on the top of the pyramid is the killing part! Not only are the lyrics good, but also the scene we create by making a pyramid seems epic!
Zin: I also think the bridge part was the killing part. It is a moment that connects our identity with our boldness. Also, it exhibits well how the song builds up gradually!
MEAWW: How have you girls been preparing for the debut? Did Ryan Jhun have any words of wisdom for you?
Zin: We've been pushing forward, not looking back. Ryan advised not to be afraid and enjoy the stage.
Rainie: Sometimes we practised singing and dancing overnight. Ryan said to focus on working hard, preparing for the debut, and communicating with each other.
Eunchae: He gave us lots of wise words, but one thing he said which I cannot forget is "Think as if today is the last day you can perform when you're on stage." Those words encouraged me a lot.
Yoona: All the members have been focusing on debuting! "Becoming a K-Pop idol artist is not an easy thing to pursue, but with hard work you [bugAboo] can make it happen," is what Ryan said to us. It helped us not to give up and finally, we are here.
Cyan: We all worked hard, thinking as if our debut was happening the next day. At one point, I felt like we were able to dance even if someone woke us up from sleeping. Ryan tells us to get crazy with whatever we are doing at the time.
Choyeon: I've been leaning on our members and coworkers, whether things were going good or bad during the preparation of our debut. One of the things Ryan taught us was to work hard, but still enjoy doing the work and be relaxed while doing it.
MEAWW: How would you describe bugAboo in one word? What message are you trying to convey with the song?
Yoona: I would choose the word 'protein.' Protein is necessary for making muscles and generating energy! I want our music to make people confident and brave.
Choyeon: My choice would be 'bad girls.' Each member's personalities come together and form bugAboo, which has a 'bad girl' vibe to it. I want to tell the people that they have potential, and I want to make that happen through our music.
Eunchae: 'Endless potential' is my choice of word. bugAboo is a representation of making something impossible possible because six ordinary girls came together and reached their dreams. And I hope people look at our journey and believe in the big potential that they have.
Rainie: 'Special' is the word that describes bugAboo the best. We want to introduce the universe of bugAboo to the world through our unique music.
Cyan: I think my choice is 'hope'. With our music, we want to send out a message that everyone has endless potential in them and we can overcome the fear in our minds.
Zin: BugAboo means 'overcoming.' I hope we can tell everybody that they can overcome their trauma and weaknesses within their minds, and also awaken their endless potential.
MEAWW: The music video is so spooky and still cute. How did you all react when you were told the concept for the music video would be scary?
Eunchae: I was surprised at first. Because I get scared easily and it made me worried if I would be able to fit in such a concept while filming for the music video, or performing on stage.
Rainie: It felt fresh and new, and being able to picture what bugAboo's universe would look like made me feel so excited during the production!
Cyan: I really like Halloween, so I was the happiest one of the members when we heard about our concept the first time. I actually set a d-day counter on my calendar for the shooting of the music video.
Zin: It was something new, and I liked it. Watching the music video actually felt like we were watching a movie.
Yoona: Rather than being scared, we tried to show the powerful, bold side of ourselves. We actually look very natural in the music video.
Choyeon: Because bugAboo's universe is about fighting and defeating our own traumas, I had this thought from the beginning that it would be great if our concept was something scary. "With a scary and spooky concept, wouldn't it be easier to express our universe and its details?" was one of the ideas I had.
MEAWW: Are there any fun behind-the-stories while filming for the 'bugAboo' music video?
Yoona: The shooting for the music video happened at dawn, in the woods. So when we came back to our place, all of the members had at least 10 bugs on our bodies and somebody got surprised and screamed.
Choyeon: There was a scene where we had to run through the woods, and there were a lot of mosquitoes. But since it was our first time shooting a music video, we were having so much fun forgetting about those mosquitoes which bit us more than 10 times.
Eunchae: The running scene in the subways is what I remember the most. It took us about 48 hours to finish the shooting. It was the last part we had to film that day. We were very tired and exhausted but knowing that was the last part of the day we just got into it and ran as quick as we could.
Rainie: Once we had to shoot our video in an arboretum. Suddenly rain started to pour so we got worried if it would ruin the filming process. However, looking at the results, the rain made the music video come out more pretty so I was happy.
Cyan: While shooting for the music video, there was a scene where I had to look like I was reaching my hands out to touch a ghost. But actually, there was nothing there, so it felt difficult to me to make it seem real.
Zin: I was the only member who got on a horse for the music video. The horse I had to ride was lazy and it was asleep, so one of the staff had to spank the horse's butt to wake it up.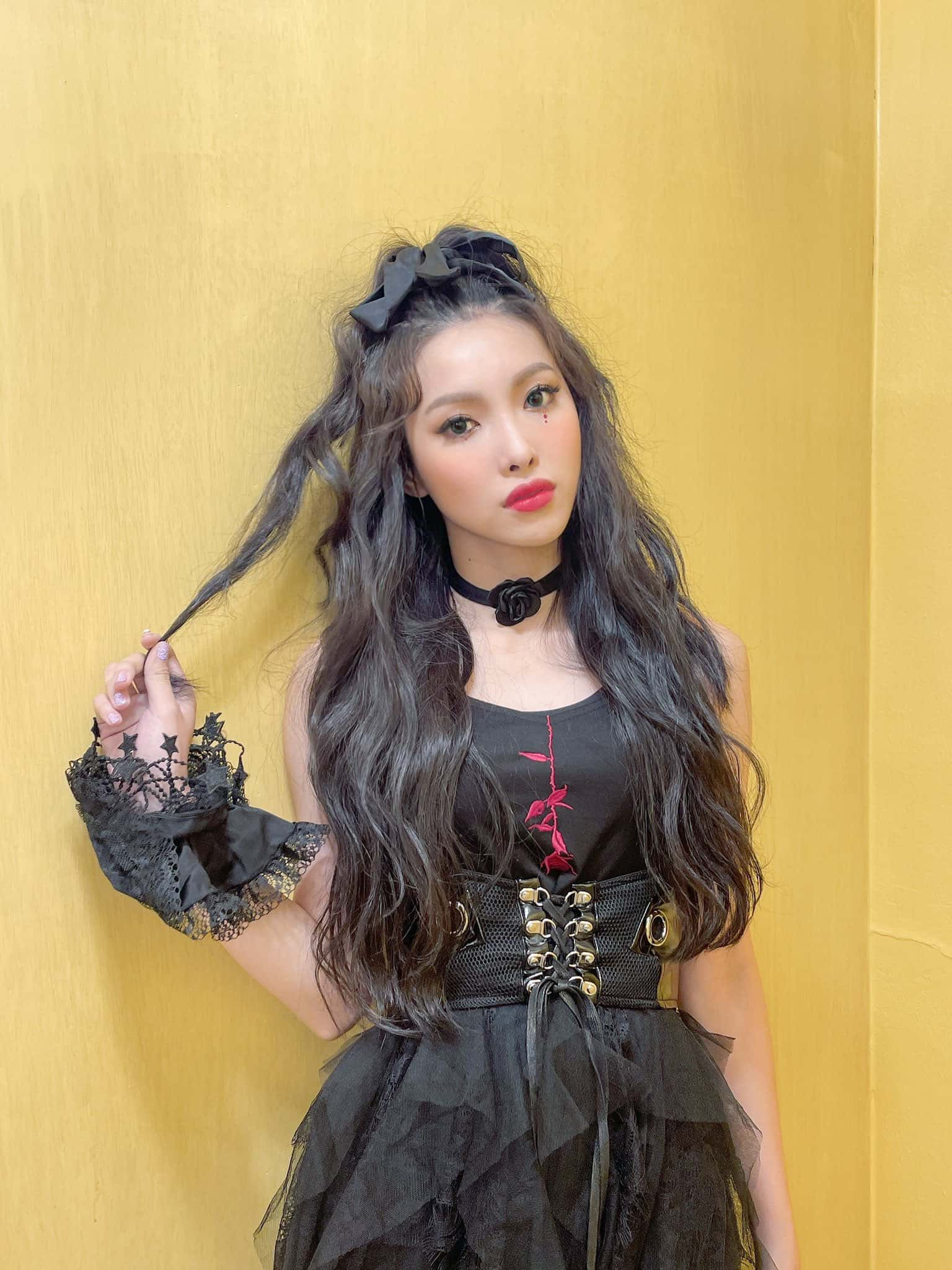 MEAWW: I know it's too soon to ask, but what concepts would you like to try for your future comebacks?
Choyeon: I want to try a high-teen concept with a pure girly vibe. Working with each member and observing them, I was able to find that all of them have fresh personalities and charm that fit a high-teen concept.
Eunchae: A hip-hop concept. One of the genres I like is hip-hop. We can express sort of a neutral charm, and also I am confident in hip-hop style dancing!
Yoona: I would like to try something magical. A concept that we use magic and express something beautiful and dim.
Cyan: A concept with a pure, dreamlike atmosphere would be my pick. Something like 'Secret Garden' from Oh My Girls, or 'Dreams Come True' from WJSN.
Zin: I want to try something fresh and cool! For example, something like SHINee's 'View'.
Rainie: I believe that we are capable of handling any concepts that we are given. I want to try everything, and I hope we can convey our unique colors through them.
MEAWW: Can each of the girls share one fun TMI for your fans?
Cyan: Actually I am the only lefty in the group. I was a right-hander before, but I hurt my hand by falling off a chair when I was young and since then I have been using my left hand mostly.
Zin: I have thousands of audio files on my phone which have piled up from practice!
Choyeon: I am weak against the cold. When it starts to get windy, I usually start shaking right away.
Eunchae: I enjoy taking a shower because I start my own concert every time I'm in the shower.
Yoona: Like our fans are always excited for us and waiting on us through Twitter and fan-based cafes, we are also waiting for their voices!
Rainie: I am learning English so that I can communicate with our fans. I've thought it would be great to meet our fans and have conversations with them.
MEAWW: You are a multi-national group! Yoona and Rainie, was it difficult to sing or record in a different language?
Rainie: Pronouncing the lyrics correctly while recording the music is the most difficult thing for me. It was a bit stressful, however, I kept working on it and it got better.
Yoona: There were a lot of small details that I had to pay attention to during recording the songs, such as speaking the words in the right way and managing my accent to sound natural. But I tried to overcome my concerns, as these were all things I was able to experience being an artist in South Korea.
MEAWW: Choyeon it looks like you are interested in hosting. If you could, what kind of show would you like to be an MC for?
Choyeon: I want to try hosting a music tv program! For example, Korean music shows like 'Inkigayo' or 'Show! Music Core.' And also shows like 'Simply Kpop', which uses English. I am sure that I can be a great host!
MEAWW: Zin, you can play several instruments and produce songs! If you could make a song for bugAboo, what kind of song would it be?
Zin: A song that is related to lightning. I would like to express our energy through electric sound effects.
MEAWW: Cyan, you had pretty different dreams from being a diplomat to being an accomplished reporter. What got you into K-pop?
Cyan: Since I was a child I always enjoyed listening to K-pop, as well as dancing and singing. But my parents used to tell me that I am not good at doing such things because they thought my life would be hard being a singer. In high school, I was dancing and singing with my friends, and I happened to look at myself in the mirror and I looked so happy. After that moment I started to work on becoming a K-pop artist.
MEAWW: Everyone in the group is an all-rounder like Eunchae who can rap, dance and even compose songs! Eunchae, do you have any tips for fans who want to get into music or become an idol like you?
Eunchae: I believe there is only one thing you should have, which is passion and persistence. All the people around me including my family used to disagree with me becoming a singer because when I was young I was not good at dancing nor confident. Even compared to the other members I am not that pretty or tall. But I did not give up. I continuously studied my strengths and my character for hours and hours, which brought me here today. I do have a long path in front of me, but I believe in myself so I am excited about the future. My tip could sound easy but at the same time difficult - I want to tell those who are dreaming to become an idol to love music and keep pushing themselves with passion!
MEAWW: This is just the beginning of an amazing journey, have you girls talked about what kinds of things you want to try in the near future?
Choyeon: We talked about spreading our name bugAboo out there. Also about receiving the rookie award. Becoming a role model of someone is another goal of ours.
Eunchae: Our music will play in the streets of the world. As a trainee, listening to the music played from the stores while walking the streets always made me wish that our song could be one of those! And I hope COVID-19 disappears soon so that we can meet our fans in many countries.
Yoona: I want our group to have lots of activities overseas. I think it is an amazing thing to be able to perform not only in South Korea but outside of it, so I want to visit other countries as much as possible!
Zin: We want to have a world tour and communicate with our fans in many countries! And I want our name bugAboo to become a brand!
MEAWW: Finally, any last words for your fans who have been waiting for you?
Choyeon: BugAboo was able to happen because of all the fans that were waiting for us. As we have received so much love and interest from them since before our debut, we will perform with more passion! Please love us more!
Eunchae: Thank you all for starting a journey with us. I hope we can all come together as a whole, like one fine piece of art! We will always deliver bright, positive energy! Thank you and love you!
Yoona: We will not make you regret all the time we spend together! Please root for us!
Rainie: We waited for a long time for this day to come. I thank our fans so much for rooting for us. We will practice hard to show great performance, as well as many charms of us bugAboo! Please love us more! Thank you!
Cyan: Thank you for waiting for us for so long. We will pay back our fans with love two, three times more. Because of our fans, we were able to walk through hard times and work hard every day. Sincerely, thank you.
Zin: We finally debuted with six members. As everyone showed us so much love, we want to pay the love back and grow as a great Kpop artist. Please love bugAboo a lot! Thank you!
Watch the music video for 'bugAboo' below.
Share this article:
EXCLUSIVE interview K-pop bugAboo share future plans, Ryan Jhun's words of wisdom and spooky TMIs